Currently, hundreds of media player apps are available for Windows 10 computers. Media Player apps like VLC media player, GOM Player, etc., can easily handle all types of media files. However, sometimes we need to convert a media file format to another.
Few video file formats like MKV might not work in your video player of choice. Even if your media player supports MKV file format, you will face specific issues like no sound, video lags, etc., while watching the video. To deal with such things, it's always best to convert MKV videos to something more usable, like MP4.
Steps to Convert MKV Videos to MP4 Format
Also Read: How to Convert 4K Video to MP4
On Windows 10, it's relatively easy to convert an MKV video into MP4. You can use any video converter tool to convert the video into MP4 format. Below, we have shared a working guide on converting MKV Videos to MP4.
Using Avidemux for Windows 10
To convert MKV videos to MP4, we will use the Avidemux video editor. For those who don't know, Avidemux is open-source software for video editing and transcoding multimedia files.
Compared to other video converters, Avidemux is pretty fast. The tool can convert your MKV videos into MP4 in just a few seconds. Additionally, it uses re-muxing instead of re-encoding to convert videos, so there's nearly zero quality loss. Here's how you can use Avidemux to convert MKV into MP4.
1. First of all, download & install Avidemux on your Windows 10 computer.
2. Once downloaded, open the tool on your computer.
3. You need to drag and drop the MKV file you want to convert.
4. Now, on the 'Output Format' select the 'MP4 Muxer' option.
5. Next, click on the 'File' and select 'Save'.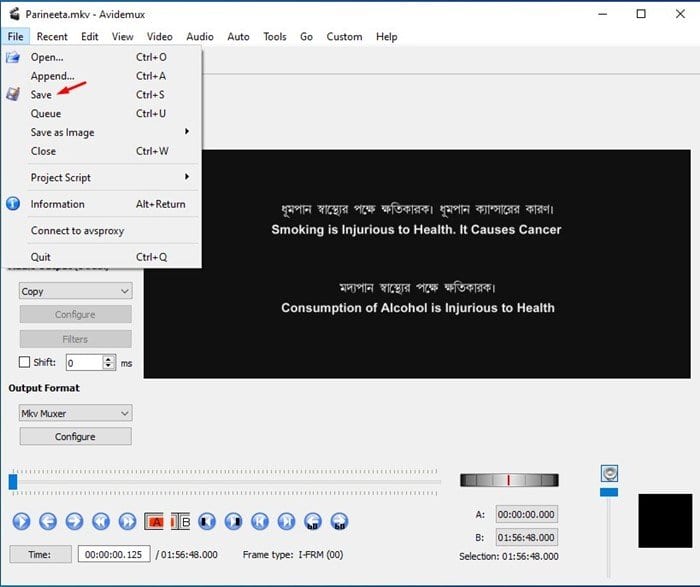 6. Choose the location where you want to save the output file.
7. Once done, the video file will be instantly converted. It takes less than 15 seconds to get 150+ minutes of MKV video converted into MP4 format on my computer.
That's it! You are done. This is how you can convert MKV videos into MP4 in easy steps.
Use Other MKV Converters
Well, if you don't want to go with the fastest option, you can use other MKV converters for PC to convert your MKV video files into MP4 format.
On Windows 10, you get plenty of choices when it comes to the MKV Converters. You can install a dedicated MKV converter app on your PC to convert the videos. Alternatively, you can use MKV players for Windows 10 to enjoy the MKV files without conversion.
So, this article is about converting MKV videos into MP4 in no time. Other video converters are available for Windows, but Avidemux seems to be the fastest. It relies on a different technique to convert your MKV videos to MP4. If you have any doubts related to this, let us know in the comment box below.