Sometimes we want to extract texts from images, scanned documents, or PDF files; to do that, we usually start to type the entire text. You can easily remove text from any image or printed materials using an Android device.
Many Android apps on the Play Store allow you to extract text from any image. Not only images, but these apps can also remove text from a textbook, newspapers, magazines, products, etc. To extract text from an image, you need to use OCR apps.
Also read: How To Remove Background from any Image in Android
Best Ways to Extract and Copy Text From an Image On Android
So, in this article, we have decided to share some of the best methods to extract and copy text from any images on Android.
Using Text Fairy
Text Fairy is one of the best OCR scanner apps on the Play Store. You can use the app to extract and copy text from an image. Here's how to use it.
1. First, download and install an Android app, Text Fairy (OCR Text Scanner).
2. After installing the app, launch it on your device. You need permission to access Photos, media, and files on your device.
3. You will have two options: click image to scan or select from the gallery.
4. You need to choose the language you want to scan.
5. Now, you have the image with text. Tap on the Start Text recognition button, and the app will scan the complete picture. Wait for a few moments until the app scans for the text. Once done, it will display the plain text you can copy.
6. Now, after reading the text. The app will display a success message, "That Went Well". Now you will get the option to "Share", "Copy," and Save as "PDF."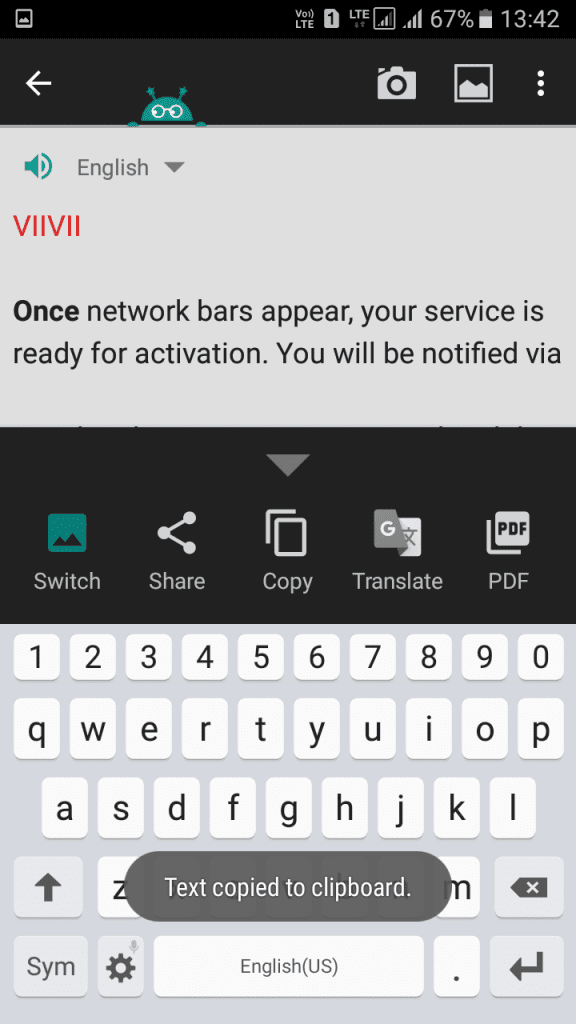 That's it! This is how you can extract text from the images using this app.
Copy Text From Image using other OCR Apps
Like Text Fairy, plenty of others are available on the Google Play Store for extracting text from an image on Android. Here are the best apps you can use.
Text Scanner is one of the best and top-rated OCR scanner apps for Android smartphones. It can easily record the text from any image or handwritten notes.
The app is known for its great text detecting and accuracy. Also, the app supports over 50 languages and can grab text written in supported languages.
It is one of the simple OCR apps you can use on your Android smartphone. OCR Text Scanner supports over 55 languages and features a simplified interface. The great thing about that it works fine on documents, notepads, etc.
The app store listing for OCR Text Scanner claims that the app can recognize characters from an image with 99% accuracy. We found the app very accurate in our testing, but the text extract speed is pretty low.
Microsoft's Office Lens is another best OCR app that you should have on your Android device. The app is available in two versions – Free and Paid. The paid version brings some fantastic features, and users can save the extracted texts directly on OneDrive storage.
Apart from regular text extracting and OCR features, the app can trim, enhance, and take pictures of the whiteboard and make documents readable. The premium version can even convert images to PDF, Word, and PowerPoint files.
Docfy is one of the best and most powerful document scanner apps you can use today. The great thing about Docfy Scanner is that it lets you export the text in PDF format.
Besides that, Docufy Scanner also has some image enhancement features like auto-detection of scan edges, auto-cropping, smart image resize, etc.
Well, TurboScan is another best free document and image scanner app you can use on your Android smartphone.
The great thing about TurboScan is that it uses advanced fast algorithms to detect document edges, and it's known for its ultra-fast processing.
Also read: 10 Best Android Apps to Remove Unwanted Objects From Images
So, this article is all about how to extract and copy text from an image on Android. If you know any other ways to extract and copy text from an image on Android, let us know in the comments.