Now you can create a Bootable Clone of your Mac that will make your system files portable, and you can easily switch to another device to boot up all your files with a single click. So follow the tutorial below to proceed.
[dropcap]W[/dropcap]orking with the computer or Mac devices while doing up the necessary tasks, you could feel like insecure of your complete data as you know that due to any immediate problem in your device whole of your data and projects could be ruined (That's not Impossible). For the safety of your data you probably might be creating the backup that could be done simply through using any excellent tools, but still, your workflow also gets affected as this could take you time to return working on your data after fixing the issue with your device. This step could not be the best option while creating up the bootable clone of your system could be a superb way to remain working on your projects or data without any overrides. Other devices could access the bootable clone, and you could hence run up your full clone system with all that data. Here in this article, we are going to discuss the method by which the bootable clone of the Mac could be created and hence utilized for running your Mac OS over another device by simple plug and play option. Just go and read the article to know about the method from the article!
Also Read: Top 6 Best Emulators To Run Android Apps On MAC OS X
How to Create a Bootable Clone of your MAC
The method is quite straightforward and easy, and you just need to follow the simple step by step guide that we had discussed just right below.
Also Read: How to Print to a Windows Connected Printer from MAC
Steps to Create a Bootable Clone of your MAC:
1. First of all download software named Carbon Copy Cloner from its official website. The download would be providing you with the ZIP file that you would need to unpack. First, this could be simply done through any Zip extracting tool like Winzip so you could use that.
2. Double click on the Carbon Copy Cloner app that you have recently obtained in the above step. You could find that app in the same location at where you have extracted it before using the above step.
3. The app would prompt you, just click on the "Move to Applications Folder" option and finally, the Carbon Copy app should get installed on your device. The app would also open up automatically on your device; you don't have to stop the app.
4. Now click on the "Source" pane inside the app and then from there select your desirable boot drive. By default it would be there named as Macintosh HD, just select it up and go to further steps after that.
5. Choose the destination pane now and then select up the destination hard drive that you wish to use for creating up the bootable clone of your Mac. In this case, we would be using up the external USB drive for your knowledge, but you could use any other form of external storage option. To prevent any errors or issues, you should use the formatted storage like a hard drive or USB drive, etc.
6. After you have finally set up the source as well as the destination drive, therefore, you are all established to start up the cloning process. To start up the cloning of your Mac just press the Clone button inside the app and wait for it to respond. If using the app for the first time it would ask you to install the Carbon Copy helper tool, just choose that and then fill up the administrative password when asked. At last click on the Install, Helper button to start installing the add-on.
7. The Cloning process would then execute, after finishing you could remove your storage drive and also close up the Carbon Copy Clone app. The drive would then be used as the prominent Mac clone drive.
8. To boot from the Cloned drive connect it to your Mac computer and then reboot it up.Press and hold the Option key while your Mac is restarting, this would show you the option to choose from the operating system as well as your bootable drive. Select the bootable clone from that menu, and it would run on that device!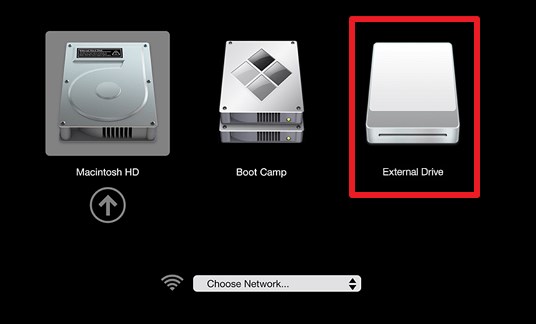 So this was all about the method by which you could create up the bootable clone of your Mac and hence use up that clone to run your Mac OS with all those data and files etc. on the other devices by just connecting that boot clone media. You should know that the bootable clone although an excellent option but none of your changes after making the bootable Mac would be included in the clone version. Hopefully, you might like this article and would have got all your required information that you need to make your bootable clone for Mac!