Over the years, Discord has served as a great platform for gamers. It's a client that connects gamers worldwide and provides them the voice, video, and text chat options.
Discord itself is very feature-rich, but many new users don't know how to use it. For example, many users often ask us how to create a discord server and invite friends.
It's an easy process, but due to its complicated user interface, some options can get out of vision.
Steps to Create Discord Server and Invite Your Friends
Hence, if you are new to discord and want to create a Discord server and invite friends, you may find this guide helpful. Below, we have shared some easy steps to create Discord Server and invite friends. Let's check out.
1. First of all, download & install the Discord desktop client and log in to your account.
2. Once logged in, click the (+) button to Add a server.
3. On the Create a server screen, select a template. Or else, select Create my Own and create your own template.
4. On the next prompt, select 'For me and my friends'. If you create a server for a club or community, select the first option.
5. Create a name for your server and click on Create.
6. You can modify your Discord server by right-clicking on the server icon.
7. If you want to invite friends, right-click on the server icon and select invite people.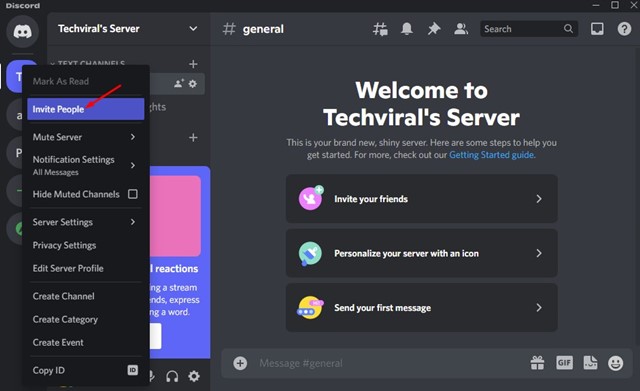 8. Now, you will get a shareable link. You need to copy and share this link with people you want to invite.
That's it! This is how you can create a Discord server and invite friends.
So, these are some easy steps to create Discord server and invite your friends. If you need more help creating a discord server or inviting friends, let us know in the comments below.