Learn How To Create WiFi Hotspot In Windows 10: The wireless option in windows 8, 8.1 and in windows 10 is removed. But what if your using windows 8, 8.1 or Windows 10 ? then there comes a problem. As our site's moto is to solve your technology related problem so, Here i'm giving you the simple popular method to create a wifihotspot on windows 8, 8.1 and windows 10.
A
wireless ad hoc network is a decentralized type of wireless network. The network is ad hoc because it does not rely on a pre existing infrastructure, such as routers in wired networks or access points in managed (infrastructure) wireless networks. The wireless networks are in great need today not only to for fire sharing but also for playing games using LAN network for example ( Counter Strike, NFSMW etc ).
Also Read: How To Unlock Windows Computer from Android/iPhone
How To Create WiFi Hotspot In Windows 10
Also Read: How To Record Screen In Windows 10 Without Any Software
NOTE: Before you begin, you should make sure that you've got a laptop or desktop with a wireless card that isn't currently connected if your laptop is connected to the wired network, your wireless card should be free, and you can use it to allow access to the internet.
Also Read: How To Update Windows 10 Offline
Create WiFi Hotspot In Windows 10 Using Windows Command Prompt
1. First, you need to open the command prompt with administrator privileges. Press the Windows + X key on your keyboard and select Command Prompt (Admin) from the pop-up menu.
2. Now we will create the hotspot. Simply enter the following command and press the Enter key:
netsh wlan set hostednetwork mode=allow ssid=techviral key=password

3. The SSID is the name of the WiFi connection and can be changed to anything you want. The KEY is the password and can be changed, also but bear in mind that it has to be at least eight characters.
4. Next you need to start the following command to start the WiFi hotspot:
netsh wlan start hostednetwork
5. Your WiFi hotspot should be activated and usable. You can check its status in the network and sharing center of your control panel.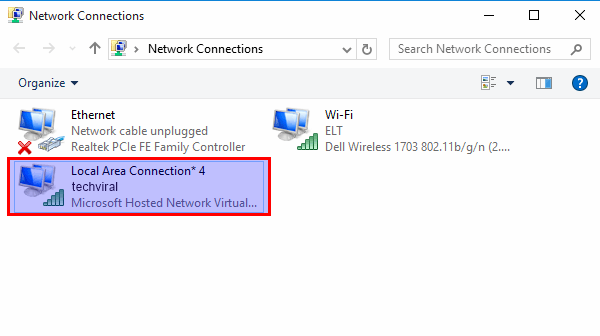 6. You can now connect your devices to the hotspot and use the same WiFi connection without using third-party tools.
7. You can turn off the hotspot when not in use with the following command:
netsh wlan stop hostednetwork
Also Read: Best Free Antivirus For Windows 10
So above are the two methods of create wifi hotspot methods, by using these methods you would be able to create wifi hotspot in windows 10. And If you face any problem feel free to discuss in below comments, don't forget to share with your friends.
COMMENTS
AUTHOR