How To Delete Useless Photos In WhatsApp Automatically: In WhatsApp, we all know that everyone can carry on the conversation through text messages, share the short videos, send and receive images etc.  Now it is time to delete all the useless photos in seconds from your device.
[dropcap]B[/dropcap]ecause of all these functions in WhatsApp, the users get a really excellent communication with other people on the network of the social media those who are added to them. But still, in some of the groups, users get in many useless photos which could also start to be downloaded to your phone automatically if you have set it before in the functions. If you do not want to keep all these photos you may have to delete all these individually or by selecting them all by multiple selection features. This could be a very easy task to do if the number of received photos are large, and to solve this you can actually set up your WhatsApp to delete up to the useless Photos automatically. To know how you can also set that functional behavior in your WhatsApp just read up the below article.
Also Read: How Hackers Hack WhatsApp Account
How to Delete Useless Photos in WhatsApp Automatically
The method is quite simple and easy and you just need to follow the simple step by step guide discuss below to proceed with this.
Also Read: How to Make WhatsApp and FB Messenger Online All the time In Android
Stop The Automatic Downloading
Well, for those who struggle with low internal storage capacity due to WhatsApp media files can always disable the automatic downloading from settings. By Default, WhatsApp automatically downloads all the media files on your phone's internal storage. The idea is to stop Whatsapp from saving the media files on your phone's internal storage which will skip the manual deletion process.
Step 1. First of all, open the WhatsApp app on your Android smartphone and then click on settings from three dotted icons located on the top right corner.
Step 2. Now from the settings, tap on "Data and Storage usage"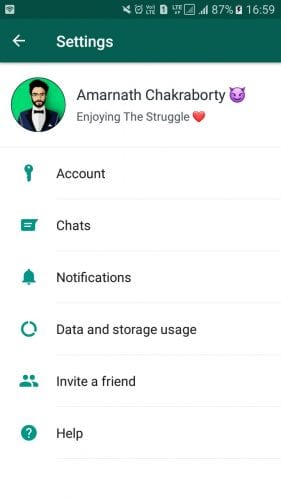 Step 3. Now you need to tap on "When using mobile data".
Step 4. Here you need to unselect Photos, Audios, Videos, and Documents.
Step 5. Now repeat the same thing for WiFi and Roaming.
That's it, you are done! now WhatsApp will not save any media files on your phone's gallery.
Steps to Delete Useless Photos in WhatsApp Automatically:
Step 1. For the process of deleting up the useless Photos in the WhatsApp automatically, there's been a great app made namely "Magic Cleaner". By using this app, the user can very easily and accurately delete all those good mornings or good night junk photos and all of the others like that which you shall not need for any purposes.
[appbox googleplay com.siftr.whatsappcleaner]
Step 2. The only thing that you will have to do is install this app on your Android phone (app for iOS is under development) and then open it on your device and then tap on the clean button. It will automatically delete all those junk image files generated from the WhatsApp.
Step 3. To use this app, you will require an active internet connection on your device unless this app won't perform its task. This app actually works by comparing up the images on your phone with that on the network databases and then conclude it to be junk or not very intelligently.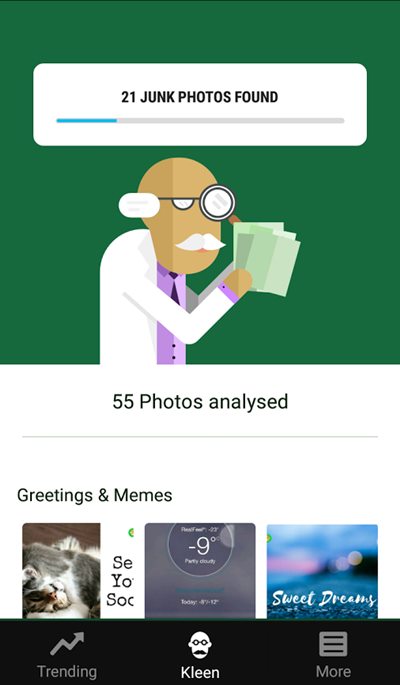 You might be thinking that this process may take up much time but let me tell you that this app can easily detect and delete WhatsApp junk images from your device within a minute or so.
Also Read: How to Keep Your WhatsApp Data Safe With Google Drive
Using Gallery Doctor
Clean up your phone and free up valuable storage with Gallery Doctor, the fastest growing photo cleaner that instantly identifies the bad & similar photos in your Android gallery
Step 1. First of all, download and install Gallery Doctor on your Android smartphone.
[appbox googleplay com.flayvr.doctor]
Step 2. Once downloaded open the app you will see the screen like below. Here just press the skip button to continue
Step 3. Now wait for few seconds, the app will automatically scan for all the unwanted images.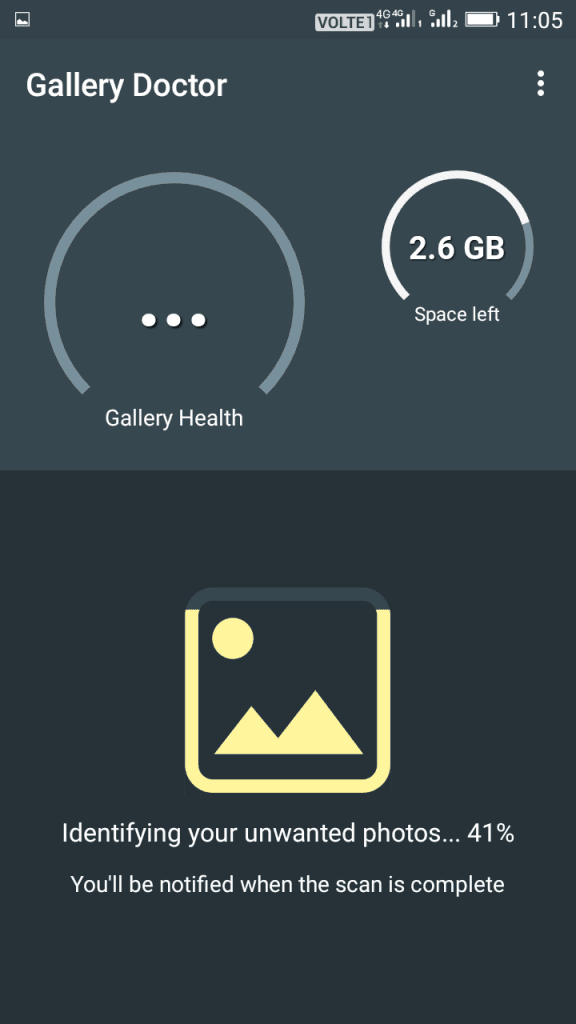 Step 4. After the analyzation, you will see the screen like below.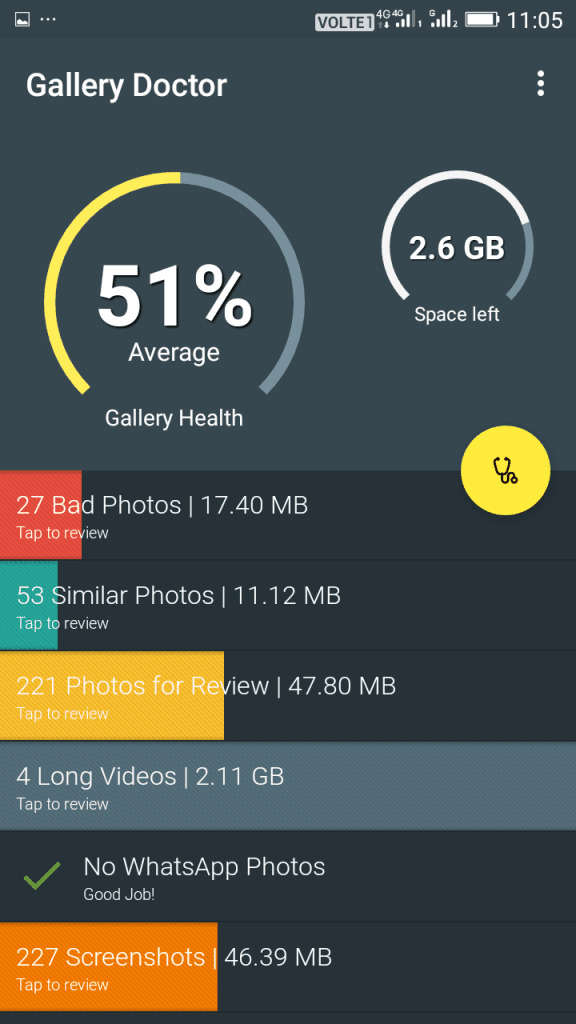 Step 5. Now look for the Bad photos, Similar photos, and WhatsApp photos. You can delete them according to your wish.
And that was the very simple way through which you can actually setup your WhatsApp account to delete any of the useless photos that you have received or either you had sent before. All the processes will be automatic and once you have this function active on your account, you have to note that all your useless pics may be deleted automatically every time, but if you would like to store any photos and don't want to delete them then you can turn out the function Off that you have set through the above method in the article.