Compared to other web browsers, Chrome offers more features, but, apart from all those features, it has a feature which is enabled by default that prevents us from having to press the login button on certain websites.
Chrome automatically logs on to websites where it has stored credentials. Of course, we all know very well that this clearly seems to be an advantage since it avoids having to log in manually.
Disable Chrome's Auto Sign-in For Apps & Websites On Android
But, the fact is that sometimes Chrome logs in to websites we are not interested to access, or want to access from another account. Hence, to overcome this situation, below we have explained how to disable Chrome's automatic login.
Step 1. First of all, open Google Chrome on your Android device. Next, tap on the three dots and select the 'Settings' option.
Step 2. On the Settings page, find and tap on the option "Passwords".
Step 3. Under the Passwords, you need to uncheck the 'Auto Sign-in' option. Once done, Chrome will stop logging into the websites automatically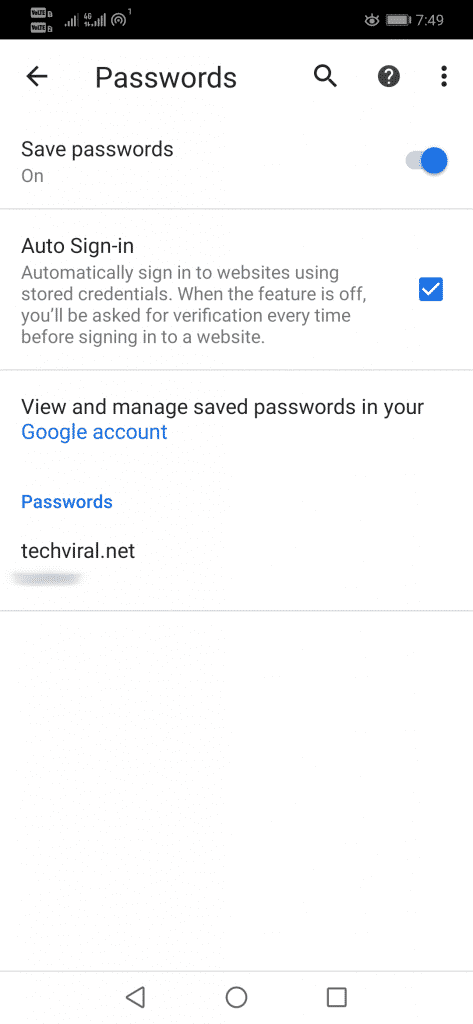 Step 4. In that same section, we can also see that we can also deactivate the password saving, and at the bottom, we can see the saved passwords as well.
That's it now you are done, as like this you can simply turn off the tech giant Google's well-known and most used web browser, of course, Chrome's automatic login feature.
So, this guide is all about how to disable auto-sign in Google Chrome. I hope this article helped you! Please share it with your friends also. If you have any doubts related to this, let us know in the comment box below.