There are many types of genres in the mobile gaming world. Some popular gaming genres are Action, RPG, Adventure, Strategy, Simulation, Racing, etc.
Today, we will discuss a game already dominating the strategy section. The game we will discuss is Clash of Clans, and you may already know about it.
Also Read: Angry Birds 2 For PC Download
What is Clash of Clans?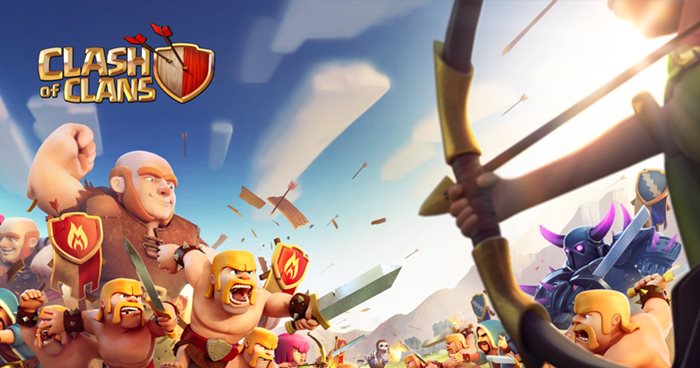 Clash of Clans is one of the most addictive mobile strategy games ever developed for Android and iOS. It was launched in 2012 for mobile devices, and the game is still downloaded from the iPhone and Android app stores.
Soon after the launch, the game became a viral sensation overnight. Gamers worldwide have started to install and play the game on their Android smartphones and iPhones.
The game was one of its kind; it introduced a concept that was never seen before. Moreover, the game was challenging as well as addictive at the same time. What's more important is that the strategy game for Android allowed users to be social.
Users can either battle with other online players or join clans to participate in the Clan wars.
Clash of Clans Gameplay
The gameplay of Clash of Clans is extremely simple, but it's full of fun. Even in the era of battle royale games like Free Fire, Pubg, and COD: Mobile, the strategy game still has the potential to keep you hooked for hours.
Since the game falls under the Strategy section, the gameplay includes strategy-making and destroying the village or others to gain loot, like gold, elixir, and dark elixir.
The sole focus of the player in this game is to build the village base and make the defense system as strong as possible.
Other aspects of COC include training the troops, raiding other's villages, and earning resources for upgrading the troops & defense system.
Is Clash of Clans available for PC?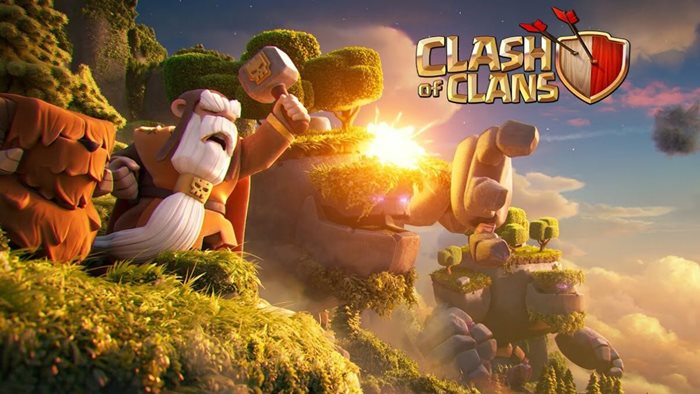 Clash of Clans is a mobile-specific game, and it's available only for Android and iPhone. Unfortunately, the developer of the game, Supercell, hasn't yet created the desktop version of the popular mobile strategy game.
You will come across many websites claiming to provide the download Clash of Clans for PC latest version. Avoiding those sites is recommended, as no official COC desktop app has ever been made.
Download Clash of Clans for PC Latest Version
Even though there's no official Clash of Clan desktop app available, this doesn't mean you can't play it on your computer.
If you are a hardcore gamer like me, you will find a way to play your favorite strategy-making game on your PC. Below, we have shared some working methods to download & install Clash of Clans for PC.
---
Clash of Clans Download for PC – Using BlueStacks
The best and easiest method to download Clash of Clans for PC is using the BlueStacks emulator.
If you don't know, BlueStacks is the leading Android emulator available for PC. You can use it to play almost all mobile apps and games on your PC, including the COC.
1. First, download & install the BlueStacks Android emulator on your PC.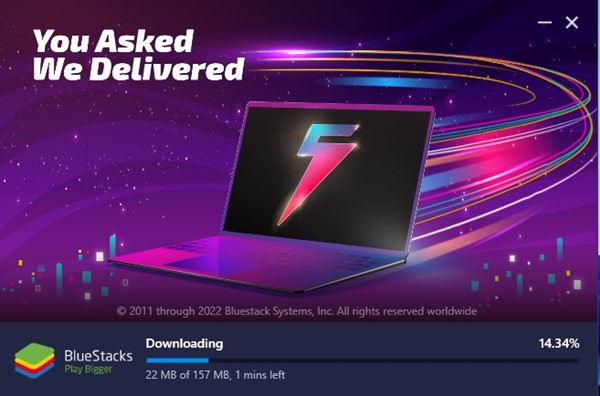 2. Once installed, open the BlueStacks emulator and click on the Google Play Store icon.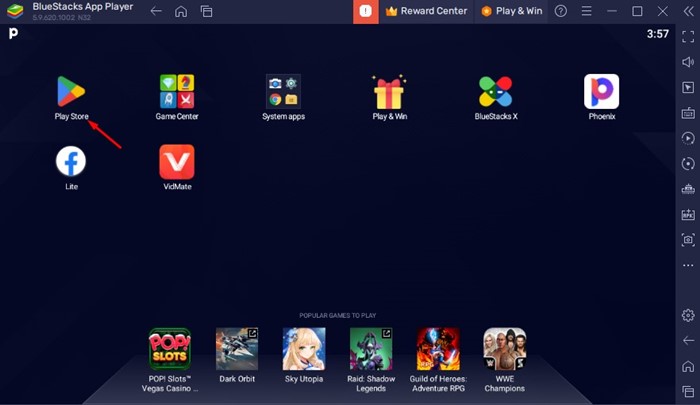 3. When the Google Play Store opens, sign in to your Google Account.
4. Search for Clash of Clans on the Google Play Store and open the relevant listing.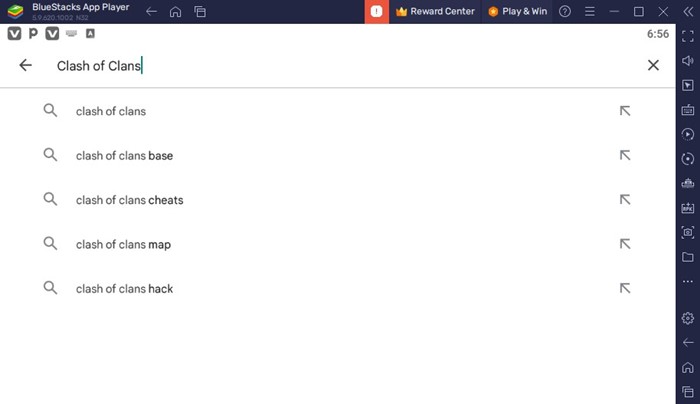 5. Click the 'Install' button on the Clash of Clans installation page.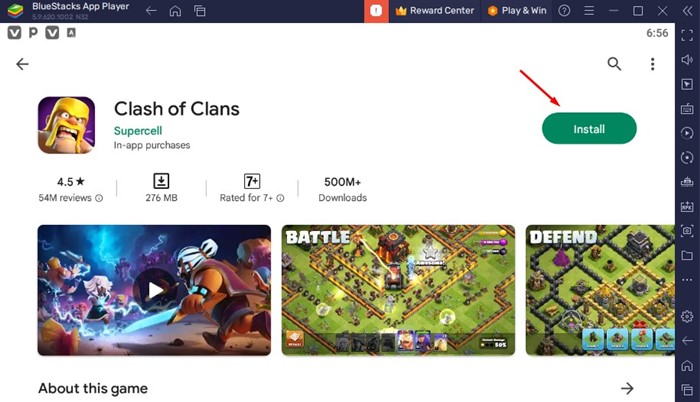 6. Now wait until Clash of Clans installs on your emulator. Once installed, you can play it directly from the emulator.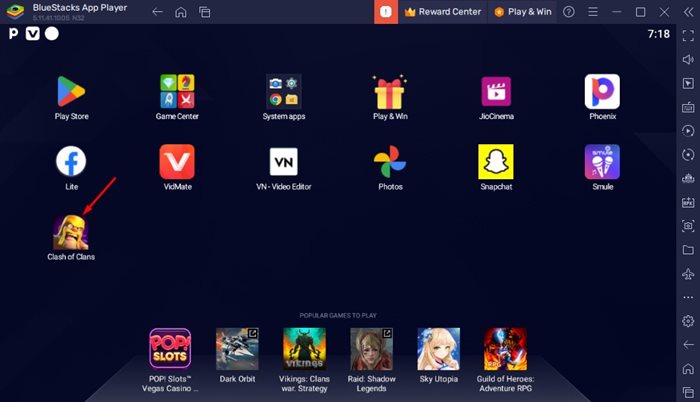 That's it! That's how easy it is to download Clash of Clans for PC using the Bluestacks emulator.
---
Download Clash of Clans PC App without BlueStacks
BlueStacks is not the only emulator available for Windows/Mac. Several other emulators are available for desktop operating systems, like NoxPlayer, LD Player, etc.
These emulators allow you to download and play mobile games on PC. In addition, some emulators, such as LDPlayer, provide more gaming features than BlueStacks.
Similarly, you can also use NoxPlayer, which is feature-rich and can handle almost all popular Android apps and games easily. Check out our list of best Android emulators.
---
How to Play Clash of Clans on a PC Without emulator?
A workaround lets you play Clash of Clans on PC without using any emulator. You need to use a screen mirroring app to mirror your Android/iPhone screen to PC.
Technically, this won't let you play Clash of Clans on PC, as you will be controlling the game from your mobile, but you will get to experience the strategy game on a big screen, which will be great fun.
If you don't know how to mirror an Android screen to PC, check out our guide – Mirror Android mobile screen to Windows PC. This is the only option to play clash o clans on PC without emulators.
Clash of Clans is a great game, and if you haven't yet played it, it's time for you to dive into the game. The strategic gameplay of COC will keep you entertained for hours for sure. Let us know in the comments if you need more help with the Clash of Clans desktop download. Also, if the article helped you, please share it with your friends.