Let's admit that we all use Google services in our daily life. Some of the Google services were useful, like Google Maps, Gmail, Google Drive, and more.
You can access all those services free if you have a Google Account. Even on Android & iOS, you will find dedicated apps for every different Google service.
If you use the latest version of Windows 10, you might know that the operating system adds a separate and distinct shortcut for OneDrive on File Explorer. The shortcut allows you to access OneDrive from Windows 10's file explorer.
The same thing can be done with Google Drive also. However, you need to download and install Google Drive on your Windows 10 computer.
What is Google Drive?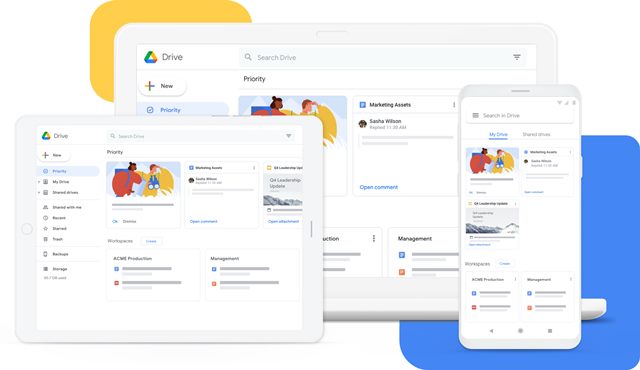 Google Drive is a file storage and synchronization service developed by Google. The cloud storage service was launched on April 24, 2012, and allows every user with a Google Account to store files in the cloud.
Using cloud storage services like Google Drive has plenty of advantages. It not only makes the file sharing process easy, but it also serves as a secure way to store your most important files.
You can upload and save almost every file type on Google Drive, like documents, photos, videos, audio, and more, to the Google servers.
Another thing that users should note is that Google Drive is cross-platform supported, which means you can access all your saved files on iPhone, iPad, Android, MAC, and any other internet-connected devices.
Is Google Drive Free?
Although Google Drive is known as a free cloud storage solution, it's not entirely free. By default, Google gives you 15 GB of free storage space across Gmail, Google Drive, and Google Photos.
That means you will get 15 GB of free storage with Google Drive. 15GB is enough for storing important documents and images, but if you ever hit that limit, you can always pay for more space by upgrading to a Google One Account.
Features of Google Drive
Now that you know Google Drive, you might be interested to know its features. Below, we have highlighted some of the best parts of Google Drive.
Google Drive has the best user interface when it comes to cloud storage. You're greeted with your most recent documents as soon as you log in. It also creates folders to differentiate files.
The cloud storage service is fully compatible with Microsoft Office. That means that you can open Microsoft Word, Microsoft Excel, etc., directly on Google Drive.
Every file or folder you upload to Google Drive has its sharing link. In addition, you can create a custom sharing link to share your files with anyone.
Google Drive is also compatible with dozens of apps. You can connect apps to convert your doc files, read PDF files, and more.
Download Google Drive for Desktop
Now that you are fully aware of Google Drive, you might want to install Google Drive on your PC. You can use the Google Drive web version if you don't want to install any app.
However, if you want to install Google Drive on your Windows 10 PC, you need to install the app. So, if you are interested in downloading Google Drive on your desktop, use the download links below.
Below, we have shared the latest version of Google Drive. These are the standalone installer files; hence it requires no internet connection. However, you would need to connect your Google Account to use the app, which would need an internet connection.
How to Install Google Drive on PC?
Installing Google Drive is pretty easy on Windows 10. As soon as you install and set up Google Drive on your PC, you will find a separate drive for Google Drive on your File Explorer.
To install Google Drive on Windows 10, follow the guide How to Add Google Drive to File Explorer in Windows 10. The article shows a step-by-step guide on how to add Google Drive to File Explorer on Windows 10.
So, this article is all about downloading Google Drive for Windows 10/11. I hope this article helped you! Please share it with your friends also. If you have any doubts about this, let us know in the comment box below.