Well, if you have been using Windows 10 for a while, you might know that the operating system offers a built-in photo viewer known as Photos. Microsoft Photos is introduced as a Photo Viewer application, but it does offer few editing features.
However, the major drawback of Microsoft Photos is that it takes its own sweet time to load. Also, it can handle a few image file formats. So, at times Windows 10 users look for third-party photo viewer applications.
As of now, there are hundreds of Photo Viewer applications available for Windows 10. Out of all those, only a few, like Irfanview, and PhotoScape, stands out. So, in this article, we will talk about one of the best Photo Viewers for Windows 10. Let's check out.
What is IrfanView?
IrfanView is one of the best and most simple image viewers available for the Windows 10 operating system. Created way back in 1996, IrfanView has swiftly become one of the top-rated image viewer applications for PC.
The great thing about IrfanView is its lightweight nature. Compared to other photo viewer applications for PC, IrfanView is pretty lightweight, and it requires fewer resources to run on your computer. In addition, it's available for both 32-bit and 64-bit versions of the Windows operating system.
Apart from viewing image files, IrfanView offers a plethora of features. For example, you can watch images as a slideshow, edit photos, convert images into any other format, and more.
Features of IrfanView for PC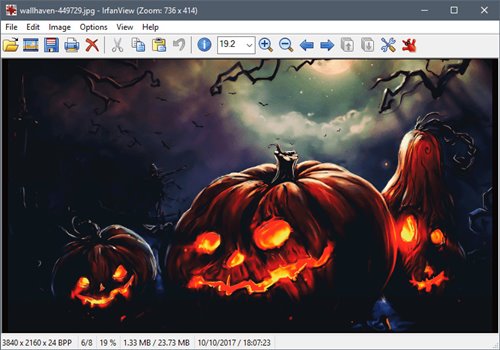 Now that you are aware of IrfanView, you might be interested to know its features. Below, we have highlighted some of the best features of IrfanView for PC. Let's check out.
Free
While other photo management applications for Windows comes with a premium tagline, IrfanView is available for free. IrfanView is entirely free to download & use. It's also free for non-commercial use.
Fast and Compact
Guess what? IrfanView is right now the fastest and most lightweight photo management app available for PC. You won't believe that IrfanView requires less than 10MB of space to install on your system. It also doesn't affect the speed of your computer.
Batch Conversion
Although Windows 10 allows you to convert image file formats via the Paint application, it doesn't offer batch conversion options. However, IrfanView has the option to convert images into any other format in bulk. Also, it's pretty easy to convert images in bulk with IrfanView.
Batch Rename
Just like the Batch Conversion, IrfanView also allows you to rename multiple image files in just one click. To rename multiple files, you need to set the name per your wish and click on the 'Batch' button to rename those files.
Capture Screenshot
Another great feature of IrfanView is the ability to capture screenshots. Capturing screenshots is pretty easy with IrfanView. You can even set the application to capture multiple screenshots in fewer time intervals.
Plugins
Several plugins have been made available for IrfanView that makes the program more useful. You can easily install plug-ins on IrfanView to avail of features like OCR, Save for Web, Multimedia Video, and more. It's one of the best features of IrfanView.
So, these are some of the best features of IrfanView for PC. You need to start using the program to explore the hidden features.
Download IrfanView for PC (Offline Installer)
Now that you are fully aware of IrfanView, you might want to install the program on your PC. Please note that IrfanView is a freeware program and hence can be downloaded for free from the official website.
However, if you want to install IrfanView on multiple computers, it's best to use the IrfanView Offline Installer. The benefit of an offline installer is that it can be used multiple times and doesn't need an active internet connection during the installation.
Below, we have shared the latest download links of IrfanView for PC's latest version. The files shared below is free from any malware/virus, and it's completely safe to download and use.
How to Install IrfanView on a PC
Well, installing IrfanView on PC is pretty straightforward. You need to follow some of the simple steps given below. Here's how to install IrfanView on a PC.
1. First of all, double-click on the IrfanView installer file that you have downloaded. Select the installation folder and click on the Next button.
2. On the next page, select the extensions that you want. If you have no idea about this, then leave all boxes unchecked and click on the Next button.
3. On the Ready to Install screen, click on the Next button.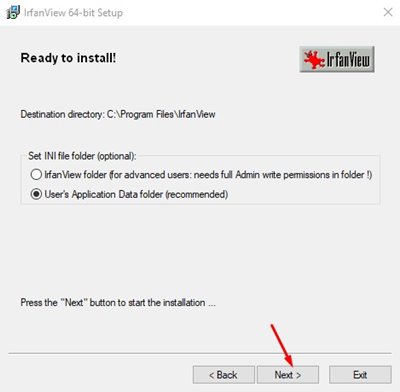 4. Once installed, open IrfanView from your desktop screen.
So, this guide is all about how to download IrfanView for PC offline installer. I hope this article helped you! Please share it with your friends also. If you have any doubts related to this, let us know in the comment box below.