TikTok, previously called Musical.ly, is a social media app for creating, sharing, and discovering short videos. TikTok was the app that made the concept of short-form (15 seconds) videos viral, and millions of users right now use it.
Even though TikTok is banned in many regions, users still look for ways to run video-sharing apps on their Android and iOS devices. The app basically serves as a platform for the younger generation to express themselves creatively by singing, dancing, or lip-syncing.
A few days ago, we shared a detailed guide on how to download TikTok on Windows. And today, we are going to share the same for Mac users. So, let's check out how to download TikTok for Mac.
Download TikTok for Mac
Unfortunately, TikTok is not available for PC platforms such as Linux, Windows, and Mac. But, the good thing is that a few workarounds let you run the viral video-sharing app TikTok on MacOS.
To download TikTok for Mac, you need to download & install BlueStacks for MacOS. For those who don't know, BlueStacks is one of the best Android emulators available for both Windows and Mac.
You can use the BlueStacks for macOS to download & install BlueStacks on your Mac computer. After installing the BlueStacks, you can access the Google Play Store to download & install TikTok on Mac.
How to Install TikTok on Mac?
It's pretty easy to download & install TikTok on Mac. You need to follow some of the simple steps we have shared below.
1. First, download BlueStacks for macOS. Once downloaded, open the BlueStacks installer.
2. Now, on the BlueStacks installer, double-click on the BlueStacks Icon to begin the installation process.
3. Now, on the BlueStacks Window, click on the Install Now button.
4. Follow the on-screen instructions and complete the BlueStacks installation on macOS.
5. Once installed, launch BlueStacks and click on the Let's go button.
6. Now, sign in with your Google account credential and click on the Play Store icon.
7. Search for TikTok and open the relevant result on the Play Store. Next, click on the Install button on TikTok's app listing page.
8. Once installed, you can use TikTok on your Mac. Just sign in with your TikTok account and use the mobile app on your Mac.
That's it! This is how you can download & install TikTok on your Mac.
Best Emulators for Running TikTok on Mac
Well, just like the BlueStacks, there are other Android emulators available for Mac as well. You can use those emulators to emulate the Android version of the TikTok app on macOS.
We have already shared a list of all available Android emulators for MacOS. You can check out that guide to find all options.
However, our testing found BlueStacks for Mac to be more stable. Bluestacks can run almost all video streaming and sharing apps for Android on your mac
Use TikTok Website on Mac
You can also watch and upload TikTok videos directly from its official website. For that, you need to open your web browser on Mac and visit tiktok.com.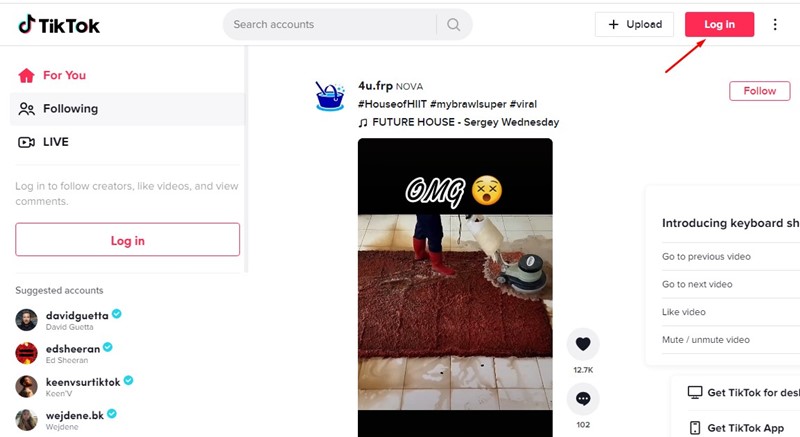 Next, log in with your TikTok username and password. You will be able to view the videos of others. Also, you will have an option to upload videos to TikTok from your Mac.
The only thing is that you can't use TikTok's built-in video editing tools on its web version. So, for the best TikTok experience, it's best to stick with the emulator method.
If TikTok is banned in your region, you must use VPN apps for TikTok. Quite a few best VPN services available on the web can unblock TikTok on MacOS.
So, that's all about how to download and install TikTok for Mac. The shared method will let you use TikTok on your Mac computer. If you need more help related to TikTok for macOS, let us know in the comments below.