If you are using Android 12, you might already know about the 'Material You' design. Material You, introduced with Android 12, gives users more control over how their phone looks and feels as the operating system generates a custom color based on the wallpaper.
This thing is done via a new theme engine named 'monet'. The 'monet' theme engine dynamically generates a palette of colors based on your phone's wallpaper. After generating the color pallets, the colors were used all over the operating system.
The good thing is that app developers can also use the color pallet generated by monet to theme their apps. Gboard is one such app that followed the same thing and introduced a Dynamic Color option.
Using Gboard as a default keyboard app on your Android 12 smartphone, you can now enable the Dynamic Color theme option. This feature is available only to smartphones running on the Android 12 operating system.
If you enable the Dynamic Color theme option on Google's Gboard, the keyboard app will change its color automatically based on the wallpaper you have set. This is indeed a great feature, and if you are using Android 12, you should enable it straight away.
Steps to Apply Dynamic Color Theme on Gboard for Android
Hence, in this article, we will share a step-by-step guide on how to automatically Change the Gboard theme color based on the Wallpaper you have set. The steps are going to be very easy; follow them as we have mentioned.
1. First, open the Google Play Store and search for Gboard. Next, open the Gboard app from the list of options and install the available updates.
2. Once done, open the Gboard app on your Android
3. On the Gboard Settings page, tap on the Theme option as shown below.
4. If your device is running on Android 12, you will find and select the Dynamic Color option.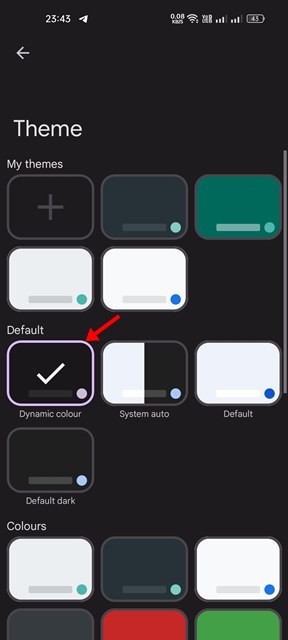 5. Now, you will see a prompt asking you to enable the key borders. Turn on the toggle and tap on the Apply button.
5. This will apply the dynamic color theme on your Gboard.
That's it! You are done. Now Gboard will automatically adapt to the colors used on your wallpaper. The key colors will change as you change the wallpaper on your device.
So, this guide is all about how to Automatically change the Gboard theme color based on Wallpaper on Android 12. I hope this article helped you! Please share it with your friends also. If you have any doubts about this, let us know in the comment box below.