While browsing the web from our smartphone, we often come across an image with a beautiful text that we want to use. Well, images with a little bit of text attract the most users, and they are perfect for advertisement purposes.
On desktop computers, it's relatively easy to identify fonts used in any photo or image. However, things become a little bit challenging when it comes to Android. On Android, you need to rely on third-party apps to identify fonts used in any photo or image.
So, if you are looking for ways to identify fonts on an Android smartphone quickly, then you have landed on the right webpage. In this article, we are going to share the best method to identify fonts on Android easily. Let's check out.
Also Read: How To Fully Customize Your Android
How to Easily Identify Fonts in Images on Android
To identify fonts on Android, we are going to use an app known as Find My Font. It's an app that lets you take a photo or load a gallery image to find free or commercial fonts used in the picture. Here's how to use the app.
Step 1. First of all, download & install the Find my Font app on your Android device.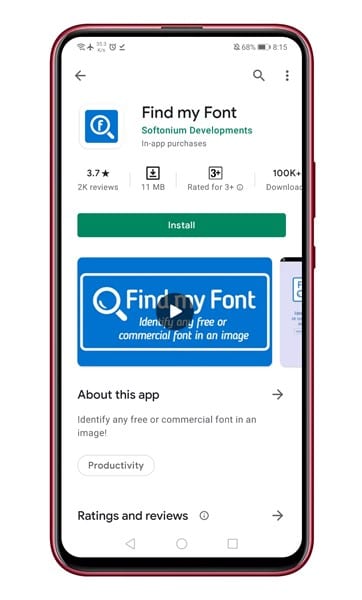 Step 2. Now open the app and grant the permissions.
Step 3. Now you will see the main interface of the app. Here you to capture a new picture or select an existing one from the gallery.
Step 4. After selecting the image, select the alphabets, and click on the right arrow button in the top right corner.
Step 5. Now enter the text to match and text to the preview field. Make sure to enter the alphabets that you have selected in the previous step. Once done, tap on the 'Search' button.
Step 6. Find my Font will now display all similar fonts. You can press the details icon behind the font name to download the font.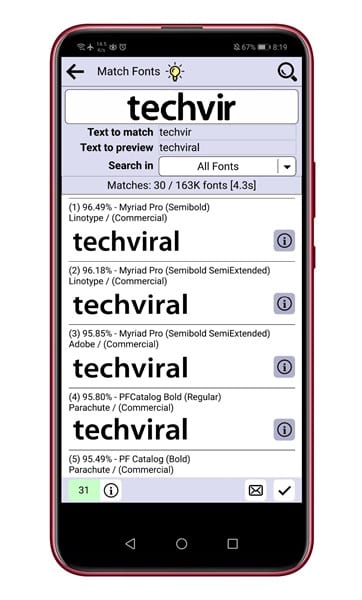 Step 7. You will be redirected to Find my font website. From there, you can find out more details about the font.
That's it! You are done. This is how you can identify fonts on Android.
So, this article is all about how to identify fonts used in any Image on Android. I hope this article helped you! Please share it with your friends also. If you have any doubts related to this, let us know in the comment box below.