Due to COVID-19 and the war against fake news, the Facebook-owned instant messaging app, WhatsApp introduced some new features. One of those being the ability to search through the messages on the web to verify whether the news is fake or not. Recently, WhatsApp introduced another feature which will benefit communications.
In today's world of social distancing, communication seems to become the key point. Lots of businesses and individuals were relying on video conferencing to carry out their daily work. This is the only reason, tech companies are showing a huge interest in video calling.
Recently, the most trusted WhatsApp features tracking website, WABetainfo spotted a new feature that allows users to add up to eight participants in a video call. Yes, you read that right! WhatsApp now allows users to make a video group call with up to 8 people.
WhatsApp lets you add 8 friends in a group video call
As spotted by WABetaInfo, WhatsApp will soon allow users to add up to 8 friends in video calling. However, the feature is right now available only on the beta version of WhatsApp. It will take a few more days or months to roll out in the stable version of WhatsApp.
So, if you can't wait until the stable rollout, you need to use the Beta version of WhatsApp. Below, we are going to share a method to enable video calling for up to eight participants in WhatsApp.
How To Enable WhatsApp's Group Video calling (8 Participants)
To enable video calling for up to eight participants in WhatsApp, you need to follow some of the simple steps given below. So, let's check out how to enable 8 People Video calling on WhatsApp.
Step 1. First of all, head to the Google Play Store and update your WhatsApp beta.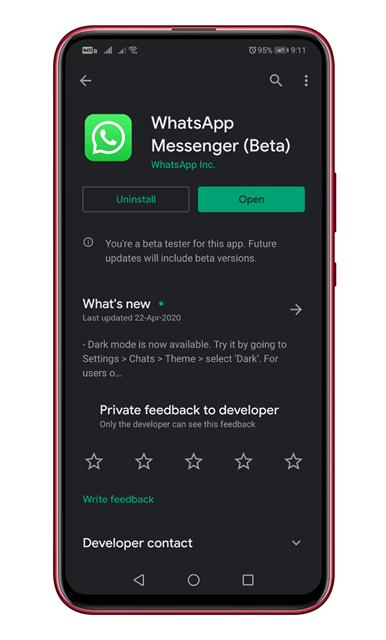 Step 2. Now open the WhatsApp app on Android.
Step 3. Now you need to start a video calling session with your friend.
Step 4. You need to tap on the 'Add participant' button located at the top-right corner.
Step 5. You will be able to add seven more participants on the video call conference.
That's it! You are done. This is how you can enable 8 people group video calling on WhatsApp.
So, this article is all about how to enable Video calling for up to eight participants in WhatsApp. I hope this article helped you! Share it with your friends also.