Let's admit it! We often find ourselves stuck in a situation that we want to avoid. Situations could be anything like a boring date or a useless conversation with friends. You might have come across several situations that you always wanted to avoid.
At that time, fake incoming call apps come to the rescue. These are prank apps that fake a call on your Android. These apps allow you to schedule a call before or get a call instantly just with the press of a button.
Also Read: How to Merge Duplicate Contacts On Android Using Google Contacts
List of 10 Best Fake Incoming Call Apps For Android
What's more important is that most of these apps allow users to feed in caller details manually. Later it all depends on using your creative and acting skills to get out of unwanted situations. This article will share some of the best fake incoming call apps for Android smartphones.
Fake call – prank is one of the best and top-rated fake incoming calls you can use on your Android smartphone.
The best thing about the Fake call – prank is that it lets you set the caller name, number, and photo to show in the caller ID. Not only that, but you can also set a custom ringtone for the fake incoming call.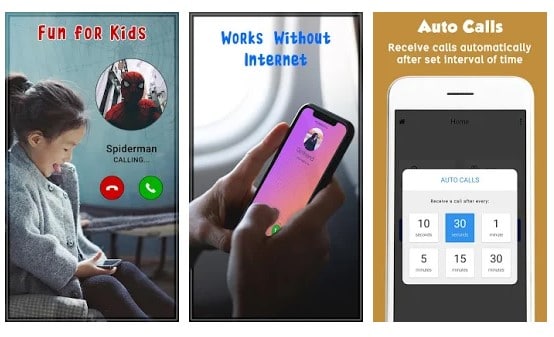 This app is for avoiding unwanted situations like a boring conversation with friends or relatives. With this app, you can easily create a fake incoming call in just a few taps.
Fake Call lets you schedule the call beforehand, triggered by a single tap. The most important thing is that it also allows users to record the voice beforehand that's automatically played when the call is received.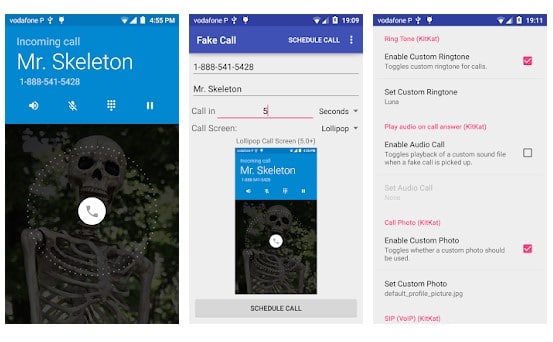 Fake Call from Nova apps is another excellent fake incoming call app that one can use on Android.
Although the app is not very popular, it still has many exciting features, like customizing caller name, number, photo, ringtone, etc. It adds a fake incoming call widget on the home screen, triggering the call.
Fake Call from Developers Point is another best prank call app on the list which can be used to avoid unwanted situations.
The great thing is that it not just generates fake calls, but it also generates fake SMS. If we talk about the fake calling features, the app allows users to set the caller ID, ringtone, vibration, etc.
GogoCall is not very popular, but it's still one of the best fake incoming call apps you can use today. The app is unique as it allows you to trigger a fake call by pressing the power button four times in a row.
It lets you set everything beforehand, and the moment you feel irritated, press the power button four times.
If you are searching for an easy-to-use Android app to schedule a call at your preferred time/day, then a Call Assistant might be the best pick for you.
The app is pretty easy to use, and it lets you schedule a call at your preferred time/day.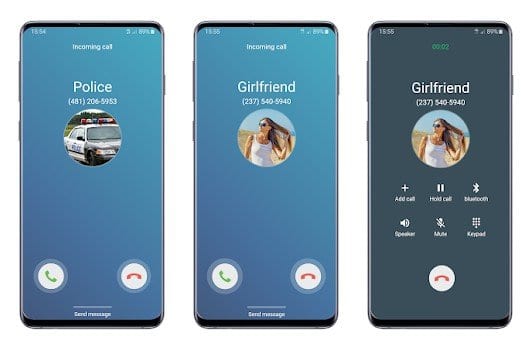 As you might have guessed with the name, Call Simulator is an Android app that lets you simulate an incoming call to your device.
The good thing about Call Simulator is that the call screen looks realistic. The app also enables you to record a voice beforehand that's automatically played when the call is received.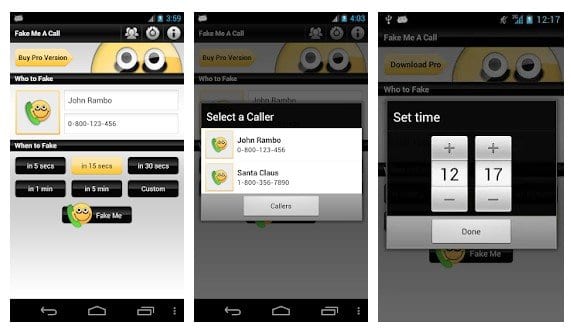 This app does exactly what it sounds. Fake Me A Call is similar to all other apps listed in the article.
With Fake Me A Call, you can create a fake call with your phone without actually being called. Before scheduling a fake call, the app lets you specify a fake caller, fake number, ringtone, picture, etc.
Well, Dingtone is slightly different from all others listed in the article. It offers a cheap phone call service for people with WiFi.
The app also provides you free calls just by watching ads. It's not a call simulator app or caller ID spoofer. However, you can use it to pull on a prank with your friend or family members.
With Fake Call iStyle, you can simulate a fake caller id to rescue yourself from any awkward situation. What makes Fake Call iStyle different is an iPhone-type fake caller screen.
The app is also highly customizable; you can choose the caller's name, number, and voice before triggering a call.
You can use these fake incoming calls to avoid awkward situations. If you know of any other apps like these, let us know in the comment box below. I hope this article helped you! Please share it with your friends also.