[dropcap]L[/dropcap]et's have a look at the method To Fix IMEI Number Lost/Corrupt Issue in Any Android as with that your cellular network will not work as they will not having the verification ID Of the device to confirm on the network that mostly arises when you root android. So have a look at the complete guide discussed below to proceed.
Android is a very intelligent device on which we continuously keep on trying new things like installing new apps and tweaks. And the exceptional thing you can do with your android is rooting, but the risk of losing the IMEI number increases too. However, while flashing out the custom ROM in our Android, IMEI file in our android gets corrupted and our device can't get any cellular range. As IMEI number of every mobile device is its identity to recognize that network on the cellular network and this identity is by default set by the maker of that device. I have seen many such cases where the user tries to do customization on their device and with a little mistake in the things can lead to this. And at that time they are helpless as on internet there are very few guides that can teach you to recover back your IMEI number.
But today I'm here with the solution for this as one of my friends got the same problem with his Note 3 as he was trying to flash different ROMs by which IMEI file gets corrupted and also he was not having the backup with him and then no SIM Cards worked on it. He told me the situation and I got the way after researching little for that and within 1-2 hours I fixed that issue and assigned the IMEI Number back to that device. Actually, that was possible with the root but device was already rooted so I was not worried about rooting it first. But surely in the steps, I'll teach that method also by which you will able to root your device also. So have a look at complete tutorial discussed below to proceed.
Also Read: Best Android Applications To Visualize CPU, RAM, and Battery
How To Fix IMEI Number Lost/Corrupt Issue On Any Android
The method is quite simple and easy but it will take some time to implement as you will need to root your device first as the apps that gonna assign you the IMEI number will only work when you have rooted android with you. So follow the below steps to proceed.
Also Read: How to Install Dolby Atmos On Android [Root & No Root] 2019
How to fix invalid IMEI after factory reset:
Step 1. First of all, you need to know the actual IMEI number of your device here that *#06# will not work as it will show 00 or null value. So you will have two option either you can refer your mobile packing box or you can remove the battery can note down the actual IMEI number. If you have two SIM card device then note the IMEI number for both.
Step 2. Once you have noted down the IMEI number, you need a rooted Android as Xposed installer can only be installed on a rooted Android, so Root your android to proceed.
Step 3. After rooting your Android device you have to install the Xposed installer on your Android, and that's quite the lengthy process and for that, you can proceed with our Guide to Install Xposed Installer On Android.
Step 4. Now download and install the app XPOSED IMEI Changer the app that will allow you to Assign the actual IMEI number of your android.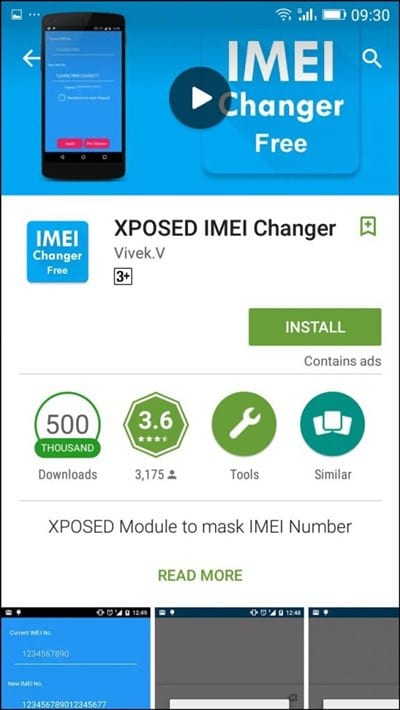 Step 5. Now enable the app XPOSED IMEI Changer in the Xposed installer. And then reboot the device as this will only work when you reboot your device.
Step 6. Now launch the app and you will see the IMEI screen changer option where you will have an IMEI changer field, there fill both the fields with the same IMEI number that you have noted as doing this will create one new IMEI file in your device where your noted IMEI number will get listed.
Step 7. Now click on the Apply button and restart your device. Now you will everything will be working perfectly as you have your IMEI number back. Cellular cards will be working on it now.
Also Read: Android Most Common Problems With Their Solutions
Using MTK Engineering Mode (invalid imei android solution)
Well, MTK Engineering Mode allows users to run Advanced Setup from Engineering Mode. You can execute several commands to your Android via MTK Engineering Mode. However, the app only works on devices with a Mediatek chipset. So, if your smartphone is powered by MediaTek chipset, then you can follow the given method to Fix IMEI Number Lost/Corrupt issue on Android.
Step 1. Find the original IMEI number of your smartphone. You could find the default IMEI number on your purchase bill. If you have lost your bill, then you need to remove your phone's battery to see the IMEI number.
Step 2. Note down the IMEI number and then enter the Engineer Mode. Well, you can dial *#*#3646633#*#* on your phone to enter the Engineer Mode. Or else, you can use the MTK Engineer Mode app.

Step 3. Now under the MTK Engineering Mode app, head to the MTK Settings > Connectivity > CDS Information.
Step 4. Under the Radio Information, you need to select Phone 1. Now, under the AT+ Line, you need to enter the following command and then tap on 'Send At Command'
AT +EGMR=1,7,"ENTER-IMEI-HERE"
Make sure to replace the ENTER-IMEI-HERE with the default IMEI number.
Step 5. If everything goes well, you will get the notification that the AT commands were successfully sent.
That's it, you are done! Now just restart your Android smartphone, and you will not get any error regarding the IMEI number like Invalid IMEI.
So the above guide was all about How To Fix IMEI Number Lost/Corrupt Issue on Any Android, Use the guide and the apps that we had discussed and you can easily create the IMEI file again by assigning the actual IMEI number to your device and even you can use the same to change your IMEI Number. Hope you like the guide, keep on sharing with others too. Leave a comment below if you have any related queries with this as the Techviral team will be always there to assist you.