If you have been using the internet for a while, you might know about malware and viruses. Malware comes in different shapes and sizes. Scammers and cybercriminals are always looking for ways to trap innocents. Security software exists for mobile and desktop operating systems to detect and stop scamming.
Since security is tight nowadays, cybercriminals use scarring or emotional pop-up techniques to trick users into installing their apps. Besides that, scammers nowadays ask users for payment for non-existent virus removal.
The same thing happens in the case of the Four Virus. It's a browser hijacker that convinces users to believe that their system is heavily damaged and redirects them to other security tools like PCSmartCleanup. Let's explore more about Four Virus and what it does.
What is Four Virus?
Four Virus is a browser hijacker or online scam that shows up on the web browser. The Four Virus itself is a security alert that tricks users into believing that viruses heavily damage their system. The existence of Four Virus is seen on Android, iOS, Windows, Mac, etc.
Now you all might be wondering how it enters the system. Well, it's a potentially unwanted program (PUP) that enters your computer and smartphone while downloading software from untrusted sites. Some software developers choose to bunder their software with a browser hijacker to display ads.
On Android smartphones, the pop-up originates from the javascript code in your browser that gets injected when you download software from third-party sources. So, Four Virus is not precisely a virus, which is why most security software fails to detect Four Virus.
Once hijacked, the PUP or ad-supported app starts browser redirects to sites that show alerts like:
"Your system is heavily damaged by (4) virus!"
"Your system is heavily damaged by Four virus!"
What's worse is that it also includes the model of the device you are holding. For example, it might show you alerts like
"Your Samsung Galaxy was damaged by Four Virus"
"Your iPhone was infected by (4) virus!"
If a user clicks on those alerts, the scam alert further tells users to take immediate action to remove those viruses and then asks them to install fake (malicious) security apps.
So, if your web browser is also redirecting you to the 'Your System is heavily damaged by (4) virus!" sites, then you need to remove the PUP or adware program. Follow some of the simple methods given below to remove 4 virus scams.
Ways to Remove Four Virus From Computer & Smartphone
1. On Computer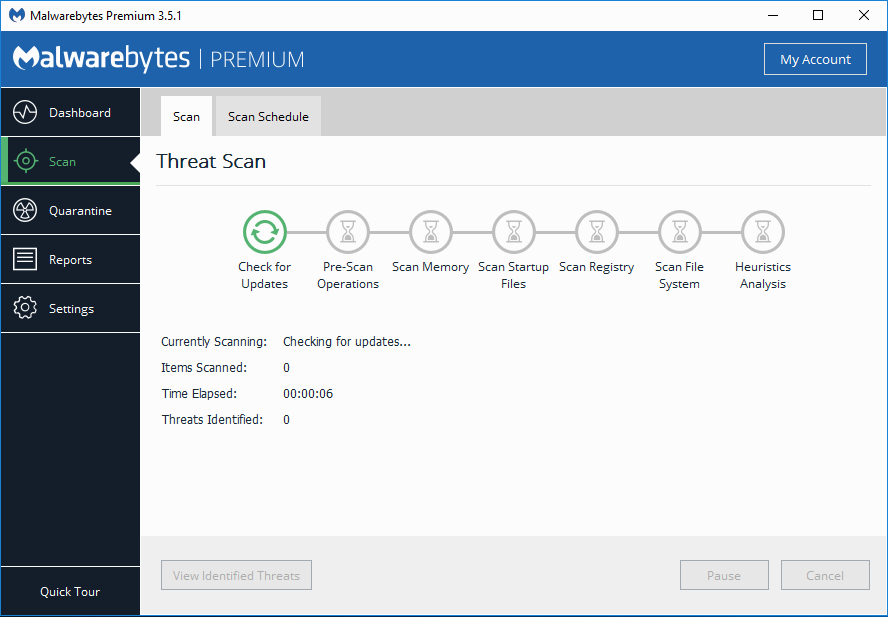 To remove Four Virus Scam alerts from your computer, you must use anti-malware and anti-adware tools. You can use Malwarebytes or Spyhunter to get rid of Four Virus alerts. Using Spyhunter and Malwarebytes is easy; users must install and scan their computers to remove the virus.
After removing the malware, users must remove the adware and PUPs from the system. To remove Adware and PUPs, download ADWcleaner and scan your computer. ADWcleaner will probably scan and remove all adware and potentially unwanted programs from your PC.
Users can also remove Four Virus manually through the Control Panel. However, this process takes much time to complete because users need to search for potentially harmful software on the control panel.
First of all, open Control Panel.
Click on Programs, then search for the Four virus or similar-looking software.
Once found, right-click and select 'Uninstall'
Since Four Virus is a browser hijacker, users must check the browser extension. So, follow some simple steps below to remove Four Virus from a Web browser.
Open Google Chrome. Click on the three dots and select Settings.
Now click on Extension and search for suspicious-looking extensions
If you find any suspicious extension, remove it, and restart the browser.
2. On Android
Removing Four Virus alert messages on Android is easy; users just need to open the Apps section. On the Apps, search for the 'Locate Four Virus' Entry. If you spot any similar entry related to Four Virus, tap on it and select 'Uninstall'.
Once done, head to Settings > Apps. On the Apps, tap on the web browser and then tap on 'Force Stop'. Once stopped, tap on 'Clear Data' and 'Clear Cache'. Once done, open the web browser again, and you will no longer get the 'Four Virus' alerts.
If the web browser still shows the "Your system is heavily damaged by (4) virus!" message, you need to Download & Install Malwarebytes Anti-Malware. Once installed, open the app and tap on 'Scan Now'. The process might take a few minutes to complete. Once completed, restart your Android device to fix the Four virus alerts.
So, this is all about the Four Virus scam and what it does. If you know any other method to get rid of (4) Virus alerts, let us know in the comment box below.