Google on Thursday announced that it has rolled out updates for the company's Maps app that bring a range of new AI-powered features, making it easier for users to plan and navigate confidently and offering a new way to search and explore.
Google Maps Gets Immersive View & Other AI Features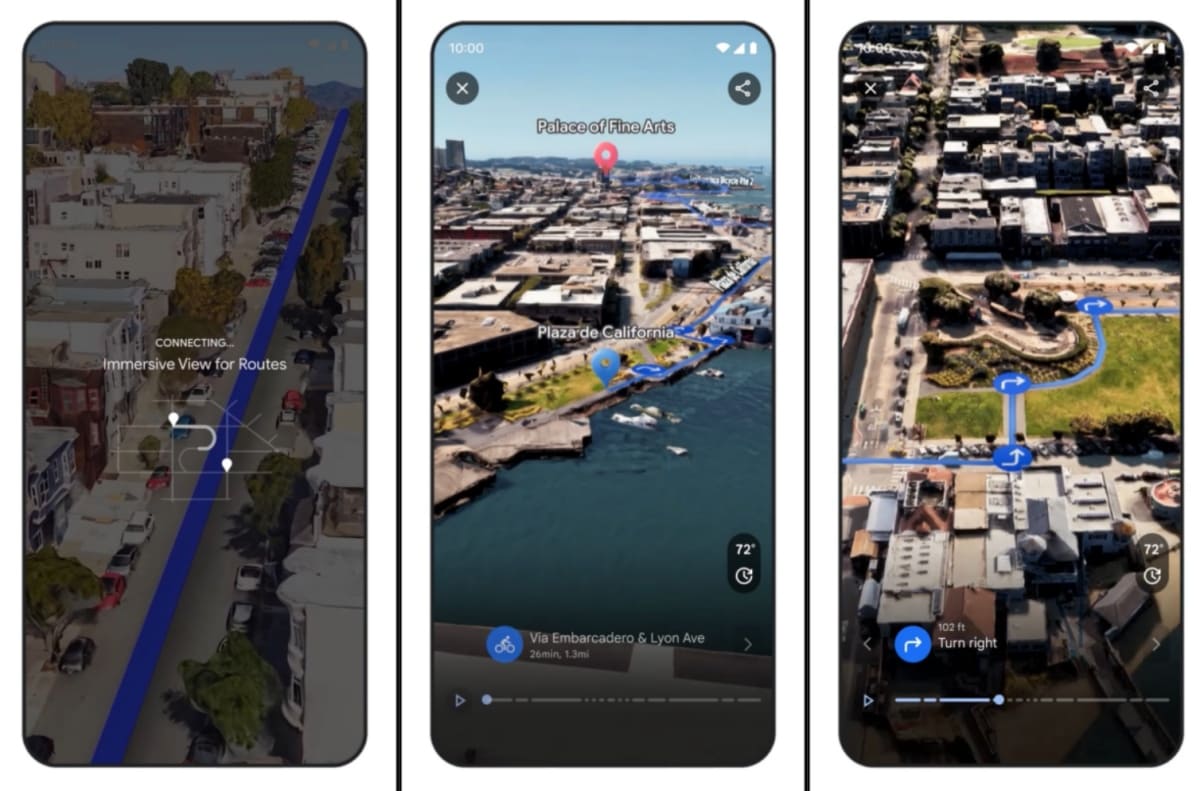 In its official blog post, Google announced that Google Maps is getting a new Immersive View for routes and an enhanced Street View experience, augmented reality (AR) integrated Lens in Maps, better-organized search results, and more.
"Google Maps is transforming how people explore and navigate, and AI continues to play a pivotal role in bringing how we're building innovative experiences for people around the world," Google wrote in the blog post.
Let's look at the new AI-powered features introduced in Google Maps.
Immersive View For Routes
At the I/O conference earlier this year, Google announced Immersive View for routes to give users an entirely new way to preview every step of their journey, whether driving, walking or cycling.
Starting this week, Immersive View for routes has begun rolling out in Amsterdam, Barcelona, Dublin, Florence, Las Vegas, London, Los Angeles, Miami, New York, Paris, San Francisco, San Jose, Seattle, Tokyo, and Venice on Android and iOS platforms.
"Say you want to bike along the water to the Palace of Fine Arts in San Francisco. Just request cycling directions, then tap the Immersive View preview to see your route in a stunning, multidimensional view from start to finish," Google wrote in the blog post.
A time slider can be used to see simulated traffic and weather conditions, which can help you easily avoid riding during rainy weather or heavy traffic.
Further, this feature allows users to see a 3D model for places, as it utilizes AI to fuse together billions of Street View and aerial images so you can know what a restaurant or landmark is like before you go.
This week, Google also announced the availability of Photorealistic 3D Tiles in the Google Maps Platform, which allows developers to create their own immersive experiences.
Lens In Maps
Lens in Maps (formerly called Search with Live View) uses AI and augmented reality (AR) to help you quickly acclimate yourself to your new surroundings.
Google says you can use this feature by tapping the Lens icon in the search bar and lifting your phone to discover information about nearby ATMs, transit stations, restaurants, coffee shops, and stores.
Starting this week, Lens in Maps will roll out to more than 50 new cities, including ​​Austin, Las Vegas, Rome, São Paulo, and Taipei.
More Detailed Map
Google announced in its blog post that the navigation map will soon reflect the real world even more accurately. In addition to updated map colors, you will also notice more realistic depictions of buildings and improved highway lane details. These updates will start rolling out in 12 countries, including the U.S., Canada, France, and Germany, in the coming months.
Meanwhile, the U.S., for the first time, will get to see high-occupancy vehicle (HOV) lanes along a route, and in Europe, AI-powered speed limit information is expanding to 20 countries. Both features start rolling out on Android, iOS, and for cars with Google Built-in in the coming months.
More EV Information
Starting this week, Google says EV drivers on Android and iOS will now see even more helpful charging station information, including whether a charger is compatible with their vehicle and whether the available chargers are fast, medium, or slow.
Google highlighted that since roughly 25% of all chargers in the U.S. are down at any given time, you will now be able to see when a charger was last used to help you avoid wasting time heading to a broken charger. These updates start rolling out globally on iOS and Android this week, wherever EV charging station information is available.
New Ways To Search
Google Maps, powered by AI and advanced image recognition models, now makes it easier to find specific things near you. For instance, when you search in Maps for particular things like the best place to find "animal latte art" or "pumpkin patch with my dog," you will get photo-first results of what you are looking for. These results are based on analyzing billions of photos shared by the Google Maps community.
This new way to search in Maps starts rolling out this week in France, Germany, Japan, the U.K., and the U.S. and will expand globally to more countries over time.