Gone are the days when you had to use a desktop computer or laptop to reply to emails or send messages on social networking platforms. You need a smartphone and a decent keyboard app to send messages without errors.
Since typing from mobile is never comfortable, you are prone to make mistakes. Let's admit it, sometimes we all have to reply to a message, post a status update, or create a resume from our smartphones. At that time, we try to avoid typing errors as much as possible.
Using Grammarly is the best way to avoid typing mistakes on Android. The Grammarly Keyboard app is available for Android, and it's one of the best grammar checker apps for Android you can use today.
What is Grammarly Keyboard?
Grammarly Keyboard is just a keyboard app for Android, much like Gboard. Once installed, the keyboard app for Android replaces your phone's default keyboard and provides you with an error-free mobile typing experience.
The Grammarly keyboard is compatible with all Android devices running on Android 7.0 Nougat and above. The Grammarly keyboard app can correct your typing mistakes, provide writing suggestions, suggest synonyms for words, give a detailed explanation of the correction, and more.
Steps to Use Grammarly on Android
You can use Grammarly Keyboard for free, but it has a premium plan. The free version is limited to a few features, but it can correct Grammar, Spelling, Punctuation, and Conciseness and provide you with Tone Detection. Here's how to use Grammarly on Android.
1. First, open the Google Play Store on your Android smartphone. On the Play Store, search for Grammarly, and install it on your device.
2. Once installed, Grammarly will ask you to set the app as the default keyboard app. Set Grammarly as the default keyboard app. Once done, tap on the Get Started button.
3. You will be asked to log in with your Grammarly account. You can create a new account or log in with your existing one. If you don't want to create an account, tap on the 'Not now button.
4. On the Setup Grammarly screen, tap the Add Grammarly Keyboard button and grant permission.
5. On the next screen, tap on the Switch Input Methods and select 'Grammarly' from the pop-up.
6. Now, you will be asked to select the keyboard theme. Switch between Light & Dark, and enable/disable the Key borders and Number row.
7. Once done, open the app which supports messaging or writing (Mail, SMS, WhatsApp, etc.). Now tap on the typing space to open the Grammarly keyboard.
8. Now, while typing a sentence, if Grammarly detects an error, it will correct it or show you a suggestion.
9. To know about the error, tap on the Grammarly icon beside the suggestion.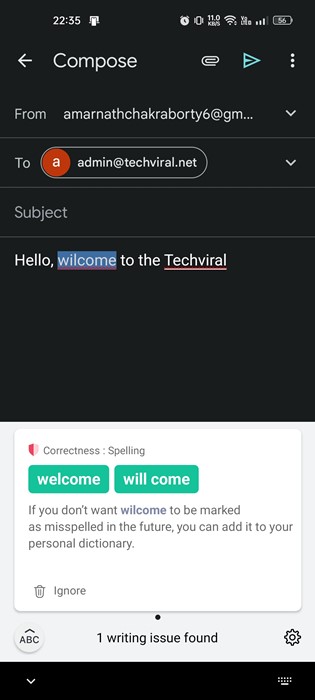 That's it! You have limited features on a Grammarly-free account. The premium version unlocks all valuable features such as full-sentence rewrites, word choice, plagiarism detection, style guide, snippets, and more.
Also read: 10 Best Grammarly Alternatives
So, this guide is all about how to download & install Grammarly on Android. We have also discussed how to use Grammarly on Android. If you need more help using Grammarly for Android, let us know in the comments below.