Facebook Messenger has always been the best messaging app for Android and iOS. It allows you to connect with all your Facebook friends. As of now, Messenger supports all sorts of communication options, like text messaging and voice and video calls.
If you actively use Facebook Messenger, you may know that a green dot appears beside your profile name whenever you go online. This feature tells other users that you are active on the app.
While the feature is useful, many users don't want anyone to spy on that green dot next to their profile icon. For that, they choose to hide their Active status for all contacts.
Facebook allows you to hide the Active Status for all contacts or selected people, but many users want to know how long the green bubble appears next to their name on Messenger.
How Long Does the Green Dot Stay on Messenger?
Even when you are not active on Messenger, your Facebook friends may tell you that you're active. If this often happens to you, you may want to know how long the green dot stays on Messenger.
Actually, a green dot appears next to someone's profile to indicate that they are currently active. So, if the green dot appears next to someone's profile, they are active on the app and probably engaged in chat, voice, or video calls.
However, you should note that the green dot remains on the profile until the Messenger tab is closed. For example, a person may use other browser tabs while keeping the Messenger tab open. In this way, Messenger will show the Active Status.
If the person closes the Messenger tab or the app, the green dot will disappear within three minutes. Yes, even if the person is not using Messenger, the green dot may still appear for up to three minutes.
So, if you don't want to appear online on Messenger, you need to close the Messenger tab or the application when you're not using it. Once you close the Messenger application or the tab, the green dot will disappear within 3 minutes.
It's also worth noting that Facebook doesn't mention the 3 minutes time frame anywhere. The green dot may disappear within a few seconds, after 1 minute, 2 minutes, or 3 minutes.
How to Turn off green dot on Messenger?
You need to turn off the Active Status if you want to get rid of the green dot next to your profile icon. It's easy to turn off Active Status on the Messenger app. For that, follow some of the simple steps we have shared below.
1. Open the Messenger app on your Android or iOS device.
2. Next, tap on your profile icon in the top-right corner.
3. This will open the Profile Settings page. Here you need to tap on the Active Status option.
4. On the Active Status, turn off the toggle for 'Show when you're active'.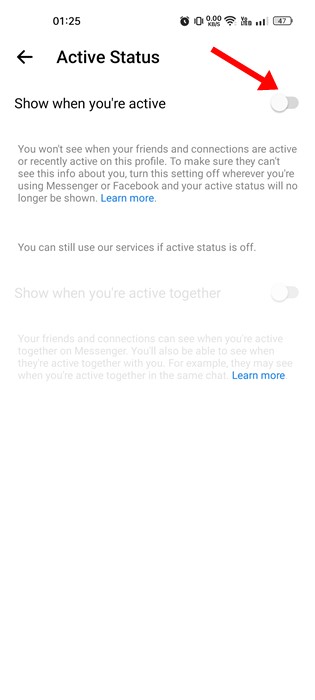 That's it! That's how easy it is to turn off Active Status on Messenger. However, note that if you turn off the Active Status, you won't be able to see when your friends and connections are active on your profile.
Can the green dot on Facebook be wrong?
No, the green dot on Facebook is accurate. If the green dot continues to show even after three minutes of closing the app/tab, chances are that your Messenger account is logged in on other devices.
You need to check whether Messenger is running in the background or opened in a browser tab. Also, make sure to check out other internet-connected devices with the Messenger app as well.
Messenger shows Green Dot Even when i am offline?
If you are offline but Messenger still shows the green dot, you need to check whether you have opened your Messenger account on any other device. The browser tab you use is still open, or the app is running in the background.
If everything is fine, you need to wait up to 3 minutes for the green dot to disappear. Alternatively, consider turning off the Active Status completely by following the steps we have mentioned.
So, this guide is all about how long does the green dot stay on Messenger. We have tried clearing all your doubts about the green dot in Messenger. If you still need more help, let us know in the comments. Also, if the article helped you, make sure to share it with your friends as well.