As we know apple(ios) is very much popular all over the world and more than a billion people are using apple devices today. Now smart devices like the iPhone are now most popular in the mobile world and almost all users use the internet on their iPhone but many of them don't know about checking data usage on iPhone.
So today we are discussing on same. The method to check internet usage on the iPhone device is very easy and simple. You just have to follow some of the simple steps that I have discussed in this post. Just follow up on the below content to proceed.
Steps To Check Data Usage On Your iPhone device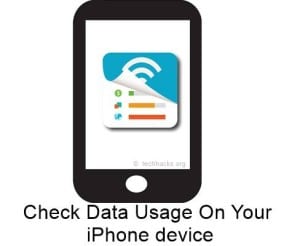 By tracking your data usage in your iPhone you can easily manage your data limits and can save the money which you have to pay after exceeding certain data limits.
Check Data Usage On Your iPhone device:
First of all, open your iPhone device.
Now at the home screen tap on the Settings option.
Now you will see the cellular option there in the settings.
Now there just scroll down to the Cellular Data Usage section and you will see your data usage there. Now always remember that the Current Period doesn't automatically reset in your device. Therefore if you want the accurate results from it then you have to reset the data usages there.
Now scroll down to the bottom of the page and tap on Reset Statistics if you want to reset your data usages there.
Now every time you subscribe or use a limited data network must clear it up to get the idea of Internet data being used in the iPhone.
That's it, now you can manage all your data limits according to your wish.
By this method, you can save the extra money that you sometime waste on exceeding data usage limits and this method will completely help you to manage all your data limits. Remember that you must reset the data usages time to time for better management. Hope you like the post. Don't forget to share it with your friends and leave a comment below if you have any related queries.