Today we will be sharing the method that will help you to enable the hidden feature of Android 6.0 that is Multi Window Mode which will make your Android fashionable. Go through the post to know about it. Well, if you don't have a smartphone running on Android 6.0, then you can follow the other two methods which had been described in the post.
[dropcap]G[/dropcap]oogle has packed a lot of features in its Android 6.0 marshmallow. And there are still many hidden features in this version of Android that is being apart from the normal users. But we are here to guide you to get best out of this cool OS. And today we will be discussing a cool feature that is Multi windows mode present in Android 6.0 but is not directly accessible and you need to enable this feature in your Android. And for that, you need a rooted Android that will give you the admin access on your Android and you can then enable this feature. So have a look on complete guide discussed below to proceed.
Also Read: Android N: What Will Be The Features Expected in Android 7.0
How to Enable Multi Window Feature In Android 6.0
The method is quite simple and depends on a cool app that requires root access to edit system files. So follow the steps below to proceed.
Steps To Enable Hidden Multi Window Mode In Android Marshmallow:
Step 1. First of all, you need to root your Android as the method that you will be following will work on rooted Android so visit the link: Root Any Android Device In Single Click.
Step 2. After rooting your Android, you need to download and install Root Explorer from Google play store. Now open the app and grant it the super user access.
Step 3. Now in the root explorer, you need to go to the directory /system/.
Step 4. Now in a system, you will find a file named as build.prop tap on the file to open it. Now in the file, you need to change the value of build type from user to userdebug.
Step 5. Now save the file and reboot your Android device to make the changes to the device that you had made.
Step 6. Now you need to enable the developer mode and this can be enabled by heading to Settings -> About Phone -> Build Number (Tap on build number 7-10 times and your developer options will get activated). Now after activating developer mode you need to go to  Settings > Developer Options and there  you need to enable the  Multi-window option there by simply taping in front of it.
That's it and you are done, now you can enjoy this cool multi-window feature on your Android and easily do multiple tasks on your Android with this multiple windows.
Also Read: How to Get Android 6.0 Boot Animation On Any Of Your Android
Using Build Prop Editor
Easily edit your build.prop or any other properties file on your Android device. BuildProp Editor comes with an intelligent code editor with syntax highlighting for multiple languages.
Step 1. You need to download and install Build Prop Editor on your rooted Android device, and open it and find ro.build.type. You need to edit the property Value from User to userdebug
Step 2. Now save it and it will ask you to reboot your device, simply reboot it!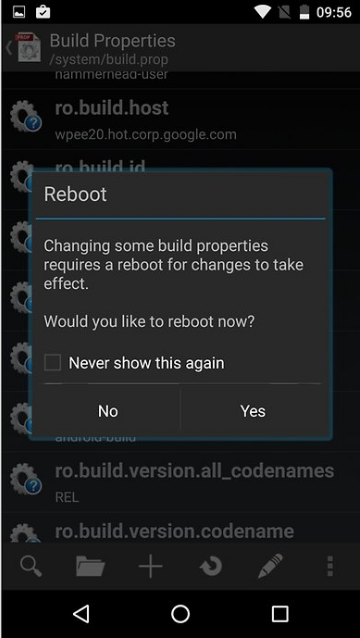 Step 3. Once reboot is completed, head over Settings>Developer option
Step 4. Now Find Multi-window mode and toggle it to "On"
That's it you are done! now you will see a square bracket in the upper right side of each app card that is currently running on your device.
Also Read: How to Enable One-Handed Mode in Android
Using Multi Window: Split Screen
Multi Window Is the app by which we can An App By Which You Can Create Shortcuts Of Your Installed Apps Icon Into Multiple Window Tray. And By Clicking On These Shortcuts, You Can Easily Switch From One Task To Another During Your Current Task.
Step 1. First of all download and install Multi Windows: Split Screen on your Android Smartphone.
Step 2. After downloading the app you will see the screen like below.
Step 3. You need to enable the Multi window mode. Simply swipe the button shown in the screenshot from left to right.
Step 4. You can add your favorite apps that you want to run in multi-window mode by simply tapping on the three dotted buttons.
Step 5. Now trying running two apps from the app itself. Like I have run YouTube and Music player in Multiple window tray.
That's it! you are done, this is how you can enable multi-window on almost any android device. This might not be the effective one. However, if you don't have rooted android device then this will help you.
Using Leena Desktop
Well, Leena Desktop UI is just like a launcher which can transform the look of your Android operating system. The launcher basically tries to port the desktop operating system in Android. So, with the desktop operating system, you can enjoy multi-window features. In short, you can enjoy a countless number of Windows with Leena Desktop UI.
Step 1. First of all, you need to download and install Leena Desktop UI on your Android device from the Google Play Store.
Step 2. Now you need to launch the app and you will be asked to grant few permissions. You just need to tap on the 'Allow' button to grant permissions.
Step 3. Once done, you will now see the main interface of the Leena Desktop UI. Here, you need to tap on the 'Settings' if you want to make any changes.
Step 4. Now you can open any app or feature and you will see that every app will appear on the window just like a desktop operating system.
So, this is how you can use Leena Desktop UI to Enable Multi Window mode on your Android device. The app works on the non-rooted Android device.
So the above is all about How to Enable Multi Window Feature In Android 6.0. So use the above guide and enable this cool hidden feature of your Android 6.0 to as multi-window feature by just editing some system files. Hope you like this cool trick, do share with other too. Leave a comment below if you have any related queries with this.