Learn how to remove duplicate contacts from your Android device. Very often, we create more than one copies of a contact which makes it really difficult to navigate through the contacts. Therefore, we bought you a method through which you can remove or merge all contacts which get repeated on your Android device. Go through the post to know about it.
Today many of you are using Android devices and as we all know Android is now one of the leading smartphone OS. As Android renders lots of innovations for its user. So we are here with a process by which you can merge out all your duplicate contacts on your Android device. Because sometimes when you restore contacts from various sources, then there is an origin of duplicate contacts and which is very disturbing.
Also Read: How to Smartly Automate Any Tasks on Your Android Phone
So for this, we are, here with  How to Remove Duplicate Contacts From Your Android Device. Using the method discussed below in this post, you can remove or merge all contacts which get repeated on your Android device. So read out the below method to proceed.
Merge/Remove Duplicate Contacts From Android
The method is very uncomplicated, and this can also be done with a cool Android app that will let you remove out all the duplicate contacts that are of same details. So proceed with some simple steps below.
Also Read: How To Access Your Computer Hard Drive From Android
Using App To Remove Duplicate Contacts
Step 1. First of all, you need to download and install a cool app that is Simpler Merge Duplicates.
Step 2. Now launch the app on your Android device and then this app will start scanning all the contacts on your Android device.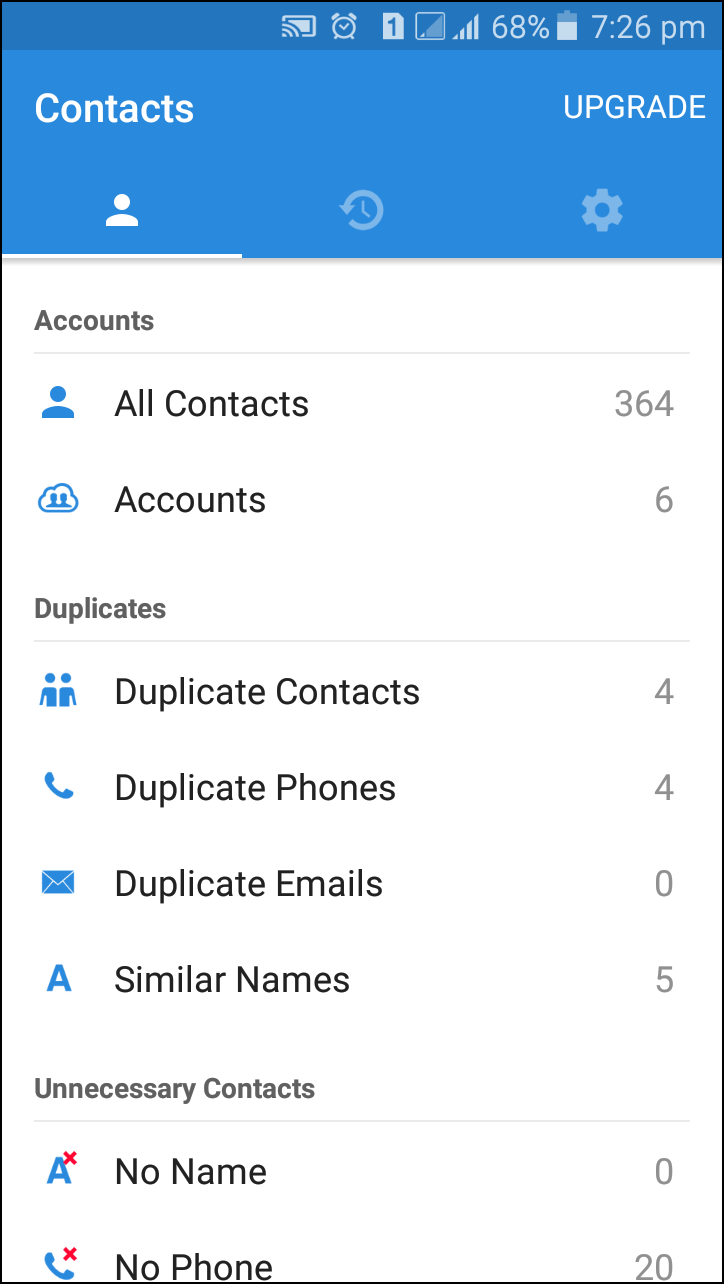 Step 3. Now you will see all the contacts that have their duplicate copies on your device.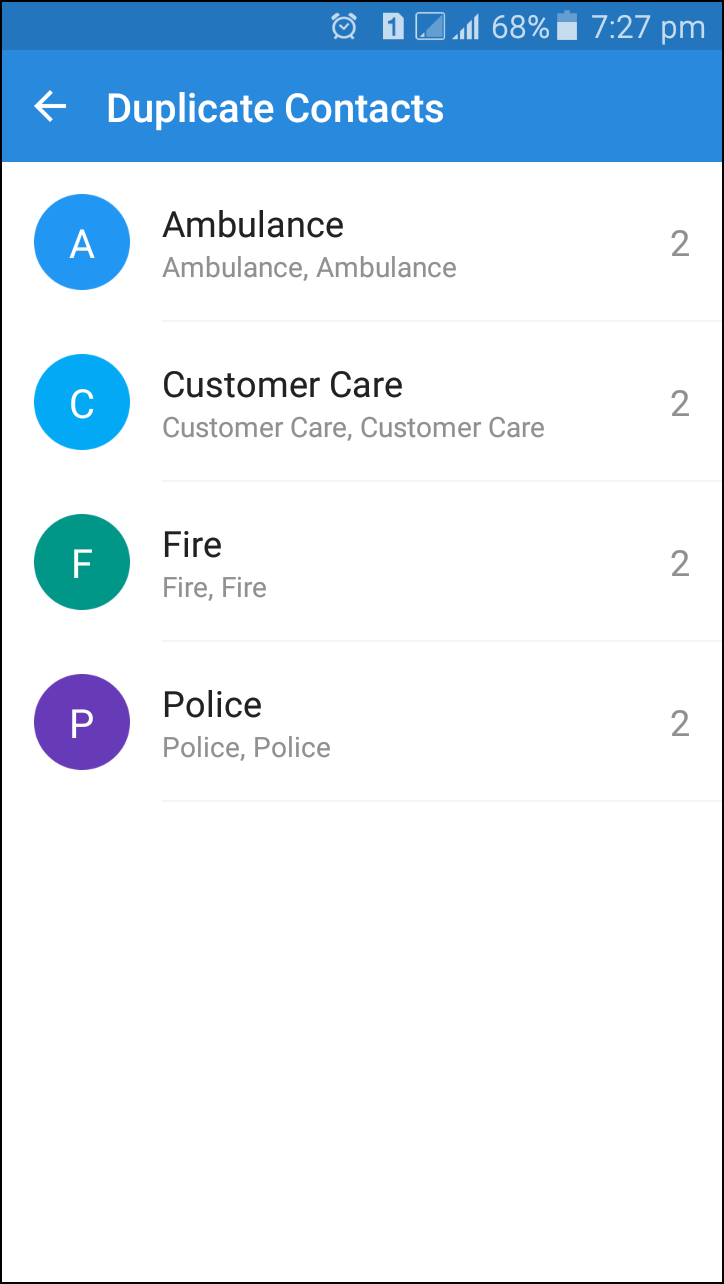 Step 4. Just click on merge option and all the contacts with similar details and name will get removed from your device and only the unique copies of every contact will remain there.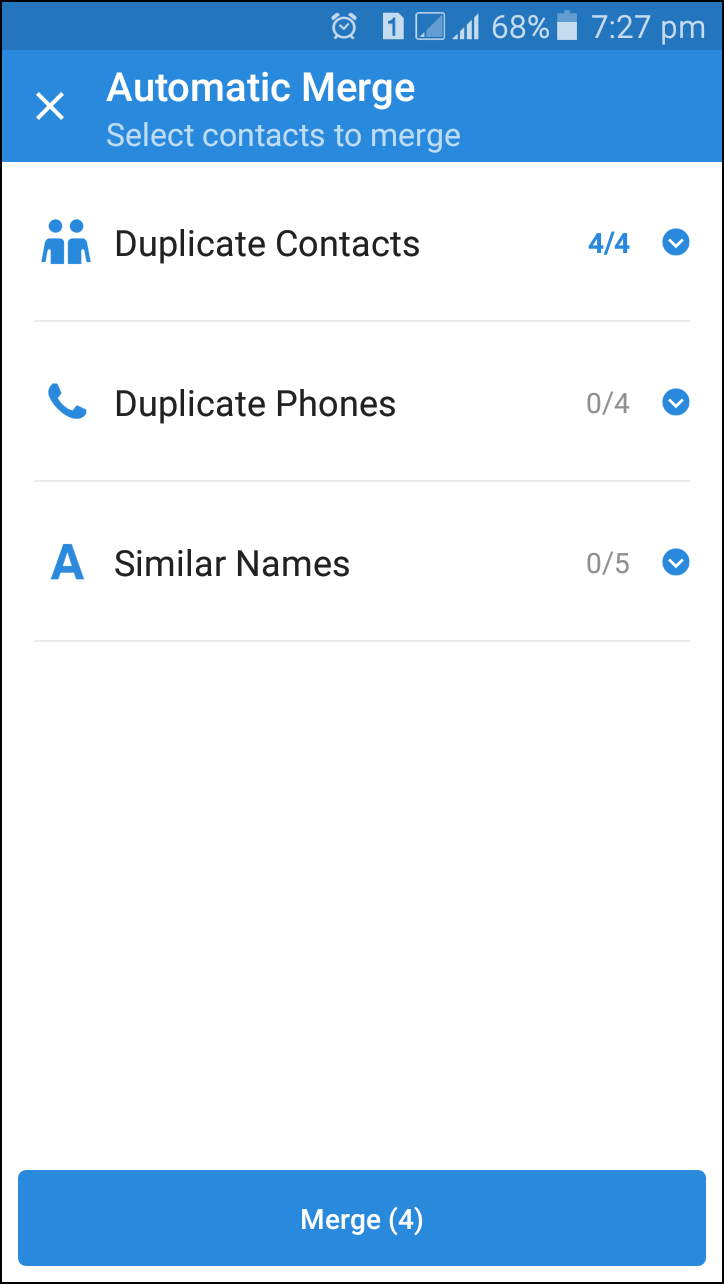 That's it!  You are done, your all duplicate contacts with multiple copies gets removed or merged, and you will now see only unique contacts in your device.
Also Read: How to View Call Statistics for Each Contact On Your Android
Using Gmail To Merge Contacts
If you don't want to install some third party app to remove duplicate contacts then using Gmail would be a handy choice. You must have enabled the contact syncing with Gmail to access this feature.
You need to open your Gmail account and from the drop down you need to select "Contacts" and all your contacts will be displayed.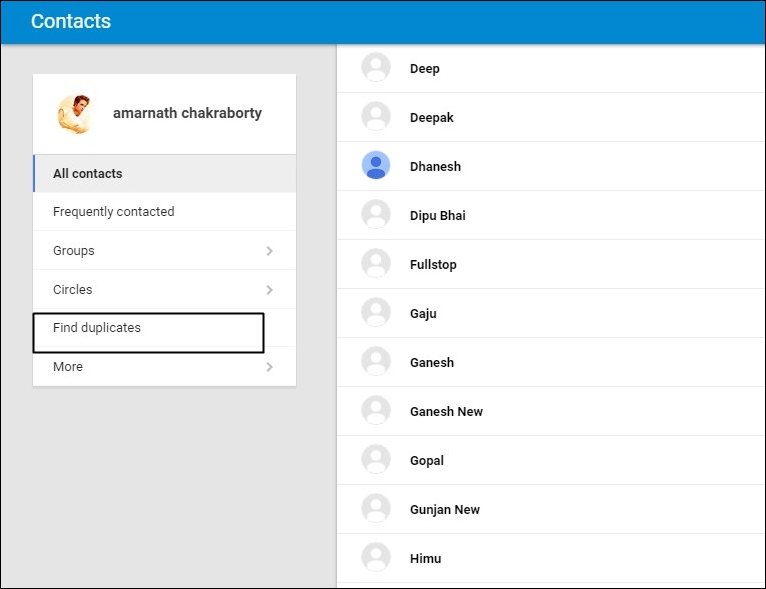 Now you need to click on Find Duplicates, and you can see all your duplicate contacts there. You just need to click on duplicate contacts and can delete it. Or you can simply merge it.
Also Read: How To Block Unwanted Calls And SMS On Your Android
Using Duplicate Contacts:
Simple tool to see and delete duplicate contacts. You can see a list of contacts sorted by name or by number and you can select which to delete. The duplicate contacts are automatically selected. The removed contacts are saved on vcf file on sdcard.
Step 1. First of all, download and install Duplicate contacts app on your Android smartphone. Launch the app.

Step 2. Now it will ask you to allow Duplicated contacts to access your contacts. Simply tap on 'Allow' to continue.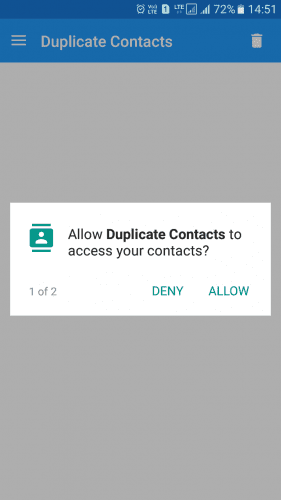 Step 3. Now in the next step, it will ask you to Allow duplicate contacts to access photos, media, and files on your device. Allow it to continue.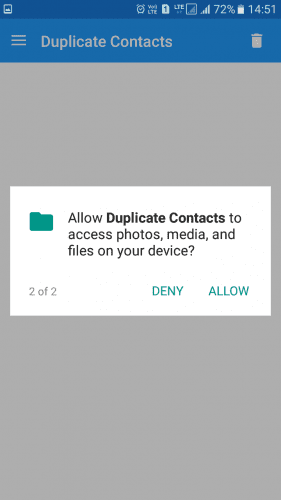 Step 4. Now you need to swipe the app from left to right and there select the option 'Show all'.
Step 5. Now the app will show you all the duplicate contacts. Here's what you will see if the app finds any duplicate contacts, you can delete it directly from the app.
Using Merge +
Well, if you are looking for a simple Android app that allows users to easily find and remove duplicate contacts, then Merge + might be the best pick for you. The app doesn't remove the duplicate contacts, instead, it merges them. So, with Merge +, you can combine duplicate contacts in your smartphone which could help you to clean the contact mess.
Step 1. First of all, visit Google Play Store and download Merge + on your Android smartphone. Or else, you can visit this link to get the download file.
Step 2. Next, open the app and then grant the permission to read your contacts.
Step 3. Once done, you will see the main interface of the app. Simply, tap on the 'Find Duplicates' option to start the scanning process.
Step 4. Now, you need to wait for a few seconds until the app scans for duplicate contacts. You can also do other stuff during the scan process because the app runs on the background.
Step 5. Once the scan process completes, it will show the duplicate files right on the notification bar. So, pull down the notification shutter and you will see the duplicate files.
Step 6. Next, you need to select the contacts which you want to merge. Just select the contacts and tap on the 'Merge' to merge duplicate contacts.
That's it, you are done! This is how you can merge duplicate contacts on Android with Merge +. If you have any other doubts, then make sure to discuss with us in the comment box.
Alternatives: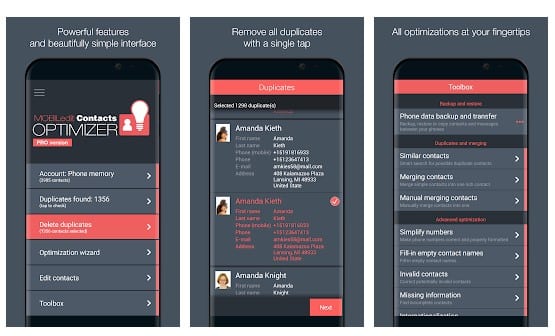 This application will deeply analyze your phonebook and bring it close to perfection. The built-in intelligence will surprise you. You can remove all duplicates and even find similar contacts
ZenUI Dialer & Contacts is an all-in-one contacts, dialer, and call log app that offers powerful phone call features enabling you to block calls from unknown callers and spam senders, use speed dial, link duplicate contacts, run smart search, view history with all important info and personalize your own theme on your dialer, call log, and contacts.
User-friendly and directly holds all the names and briefly repeated cursor ready to delete the duplicate contacts. A simple tool with which you can see the list of names sorted by name or by number and you can choose any deleted. Duplicate names are automatically chosen and saved contacts remove the VCF on the SDCARD files. You can recover these files. On your phone in the main menu of communication, there is the "Import from archive"
This is another best android app which can perform lots of things. Contacts & Dialer by simple can block calls, Merge all duplicate contacts with one tap. This app can also be used to take a backup of your contacts.
Contacts+ is the world's leading contacts (phone book) and dialer app, powered with caller ID, spam block, and contacts backup – all in one place. With this app, you can find and merge duplicate contacts.
Contact Remover is a very small tool to let you delete multiple contacts. Select one, many, or all. Search to identify contacts to delete. It helps you to find out the duplicate contacts and let you delete them easily.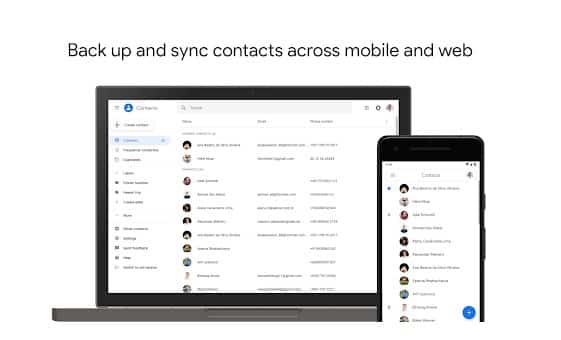 Well, this app is also known as Google Contacts. You can use this app to back up your contacts and sync them across all your devices. With the help of this app, you can safely back up the contacts in your Google Account to the cloud and can access your Google contacts from any device and of course you can clean up the duplicate contacts.
Also Read: How to Remove Bloatware (Pre-Installed Apps) From Android Device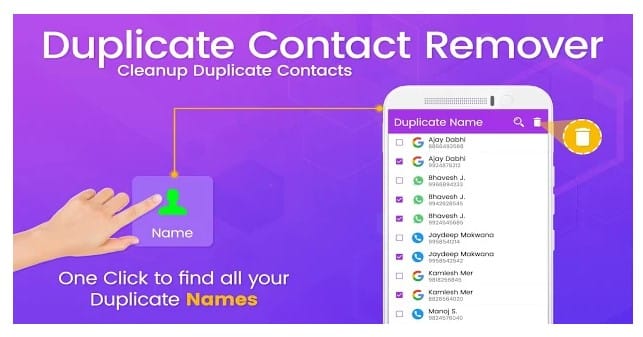 Contact Optimizer is another best duplicate contact removal app for Android that you can use today. Guess what? Contact Optimizer can scan and remove all duplicate contacts from your contact book in the simplest way possible. The user interface of the app is pretty good and it's definitely the best contact removal app that you can use today.
Cleaner is another best top-rated Android app on the list which can help you clean up the contact book mess. The app basically merges all duplicate contacts that's saved on your phone book. The app provides users three options to merge duplicate contacts like merge all duplicate contacts, find & merge contacts with similar names, find & merge contacts with a duplicate number or email.
Well, Simple Contacts is one of the best contact manager app that you can ever have on your Android smartphone. Basically, its a contact management option which offers users a few additional features like duplicate contact remover. You can use Simple Contacts to remove duplicate contacts stored on the contact book.
So above is all about How to Remove Duplicate Contacts From Your Android Device. With this method, you can solve out the problem of checking and deleting individual duplicate contacts in your device and consuming lots of time. This method will work for you, just find the duplicate contacts and merge them all and saves your precious time. Hope you like our work, don't forget to share it with your friends and leave a comment below if you have any related queries.