To date, USB 2.0 was used in most vices before USB 3.0 with a high-speed transfer rate was found and started to be installed in devices. And here, you will get the method to increase the data transfer speed in both versions.
This may be the case that you might be running your computer or laptop with the same USB 2.0 that theoretically offers 35 Mbps speed and not the USB 3.0 device that tends to provide an excellent rate of 625 Mbps if your device is not brought within these two to three years (that could carry USB 3.0). As a result, you might be frustrated while transferring up to huge files and videos to your device through USB 2.0, even using the pen drive that provides the highest possible transfer rate.
You cannot increase the speed of transfers by a considerable margin and out of the limits, but still, you could get double the transfer speed on USB 2.0 while using the Pendrive just by using up some methods. Hence you can find it easier to transfer large files in lesser time; to do that in real find the manner described in the article below.

Also Read: How To Remove Write Protection From USB or SD Card
Many claim their USB transfer speed is slow and can drop to kilobytes. So today, we are here with the solution to this issue. In this post, we have a method to increase Pendrive Data Speed. This method boosts your data transfer speed up to 50-100 Mbps, according to your system processor capacity.
How To Increase Pendrive Data Transfer Speed
Numerous factors can influence your data transfer speed of Pendrive, and we will be the target of all the elements to Increase Pendrive Data Transfer Speed. So firstly, look at the different factors that can affect the data transfer speed.
File Allocation Table Of Your Pendrive
Device policy.
Files type
OS and hardware performance.
Few others factors.
These factors are responsible for the data transfer speed of Pendrive. Now let's have a look at the methods to manage them all.
1. File Allocation Table Of Your Pendrive
This is the file system of your pen drive and is responsible for allocating memory to the data in Pendrive. So you need to delete these tables initially before transferring the data.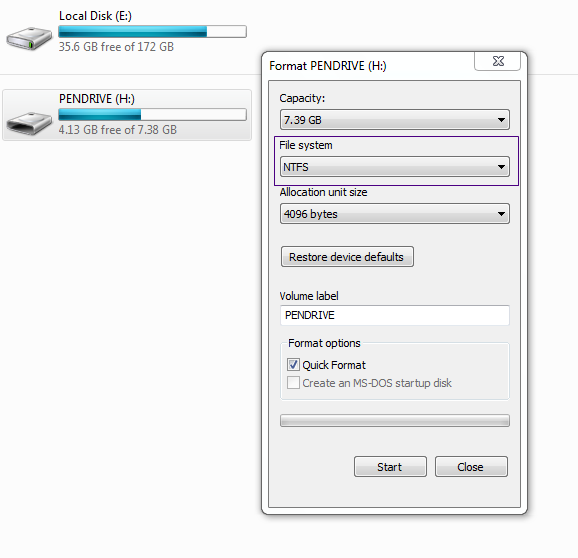 First, plug your Pendrive into the USB port of your computer.
Now right-click on the drive on My computer.
Now click on the properties and select format.
Now in the File System drop-down list, select NTFS.
Now click on format, and your Pendrive will now work better.
Please take all your data backups of your Pendrive before applying this method.
2. Device Policies
You can alter these policies for best use by the below steps. This method will help you to increase Pendrive speed. Follow these steps carefully to improve your overall Pendrive speed.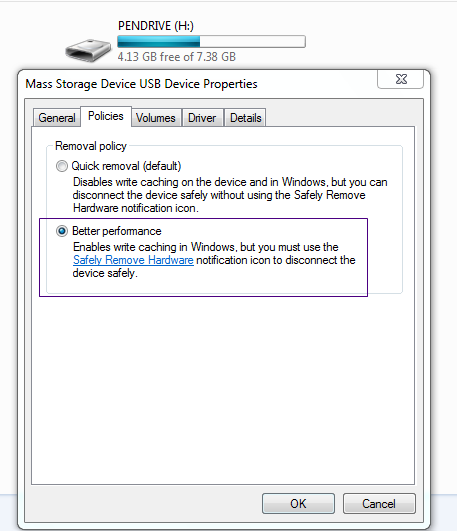 First, plug in your Pendrive in the USB port of your computer and right-click on a drive and select properties.
Select the hardware tab there, and a list of drives will now be displayed in the hardware tab.
Now select your drive and click on the properties.
Now at the following wizard, click on the change settings button.
Now click on the policy tab of the following wizard, tick the better performance option, and click the ok button.
This will now help your Pendrive to boost its performance.
3. Checkout Performance Of Your Computer
Your system performance can alter your USB data transfer speed, so it is better to have a complete look at your Pc performance. As much as your Pc works fast, the same will be the data transfer speed of your Pendrive.
4. Checking The errors
If you feel like you are getting a slow transfer rate because of some mistakes. Then you need to follow these steps, and it will resolve your problem of data transfer to a large extent.
1. First, you need to insert the Pen drive, right-click on it, and select the option Properties.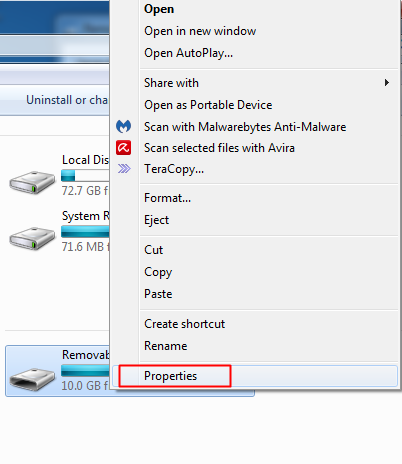 2. Now, you need to click "Tools" and choose the "Error-checking section."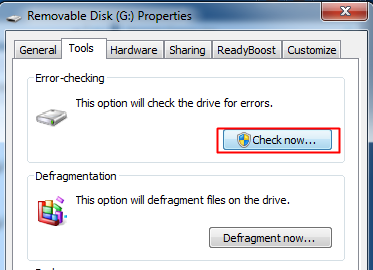 3. Now you need to select both options (Automatically fix file system errors & scan for and attempt recovery of bad sectors" and click the start button.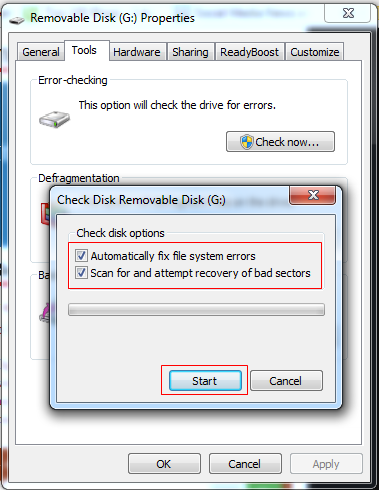 That's it! You are done; now it will scan for possible errors and fix them.
5. Teracopy
Teracopy is a program specially designed to move or copy your computer files at the very maximum speed. It is best to boost your data transfer speed within your USB drives and computer. Let's have a look at its features.
TeraCopy uses dynamically adjusted buffers to reduce time. In addition, asynchronous copy speeds up file transfer between two physical hard drives.
Pause the copy process anytime to free up system resources and continue with a single click.
In the case of copy error, TeraCopy will try several times and, in the worse case, skips the file, not terminating the entire transfer.
TeraCopy shows failed file transfers and lets you fix the problem and recopy only problem files.
TeraCopy can replace Explorer copy and move functions, allowing you to work with files as usual.
6. FastCopy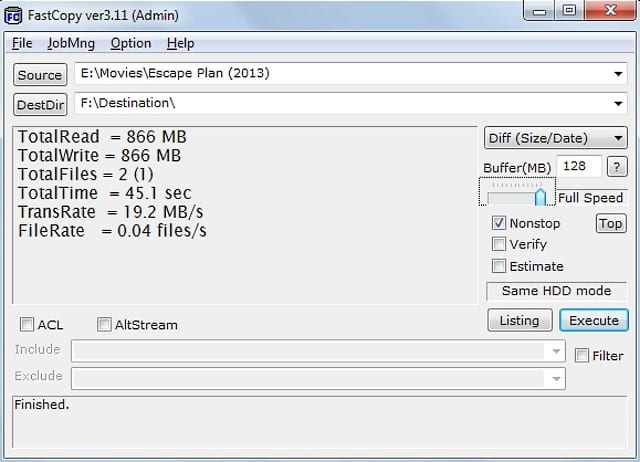 FastCopy is another excellent tool that offers a handful of features. This is one of the best file transfer tools on your Windows computer. This is similar to Teracopy. You will notice a significant increase in transfer speed after using FastCopy.
7. Ultra Copier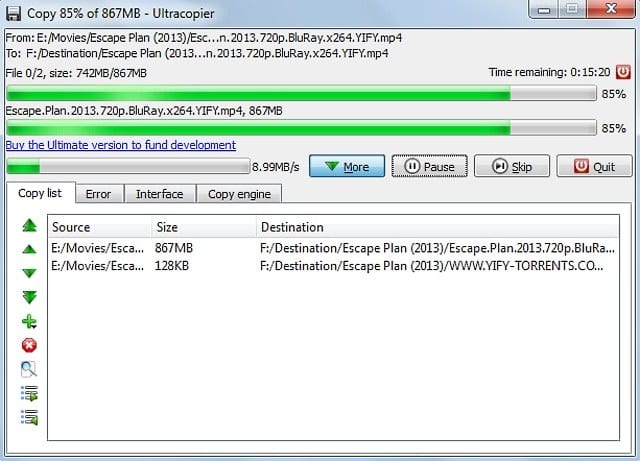 This is another best software for Windows file transfer. The mini-tool runs in the system tray, and with this, you can copy/move Windows files with a click or two.
With Ultra Copier, you can also transfer multiple files at once. In addition, the transfer speed with Ultra Copy is also excellent. So, this is another best tools you can have on your Windows computer if you want to increase the Pendrive transfer speed.
8. Format USB Drive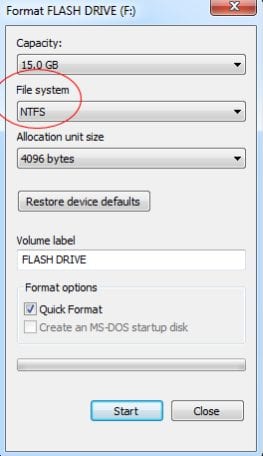 If the above-listed methods fail to speed up the USB drive, you must format it. Sometimes, a simple format seems to fix most of the USB-related problems. However, you will lose all data stored on the USB drive if you choose to format it. Therefore, creating a backup before formatting your USB drive is recommended.
Make sure to format the USB Drive in NTFS format. After the design, restart your computer and check.
9. Using USB 3.0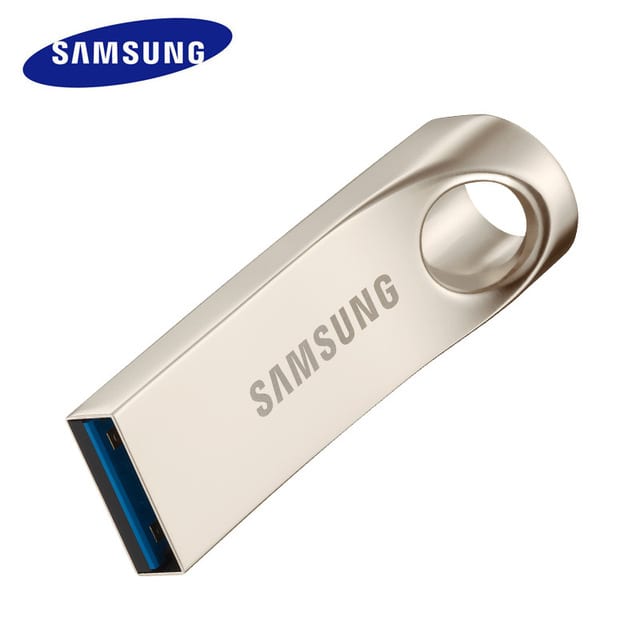 It's worth noting that the transfer speed depends on the type of files that you are trying to transfer. For instance, moving a few video files totaling 4GB will be much faster than sharing 4GB of a few hundred images.
However, if you want to be more fantastic, we recommend you use the latest USB 3.0 devices and a computer with USB 3.0 ports. With USB 3.0, you will experience a noticeable increase in transferring speed.
10. Upgrade Your PC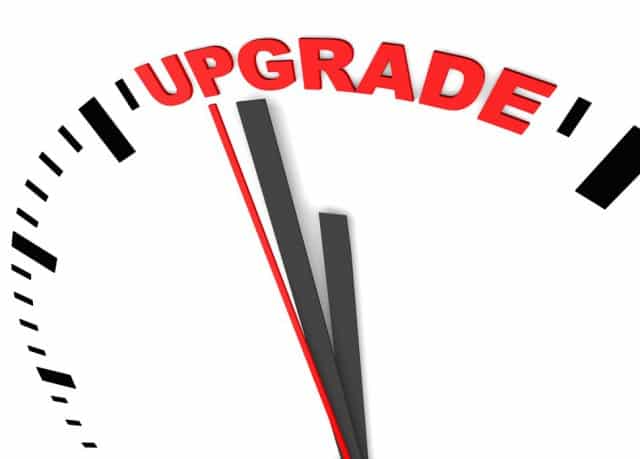 Well, your computer performance can significantly impact data transfer speed. Better RAM and a better processor will continually improve the USB data transfer speed. If you are planning to add more RAM to the computer, then make sure to check the RAM compatibility. Also, you can use some PC optimization tools like PC TuneUp, CCleaner, etc., to clean up the junk files. These things will undoubtedly lead to improved USB Data transfer speed.
You can effectively boost the data transfer speed of your USB or Pendrive and easily enjoy the high-speed transfer rate on your device. Leave a comment below about your experience with these methods, and don't forget this post with your friends.