Today, Instagram rolled out an Amber Alert to your Instagram feed that will allow you to see the details of missing children in your area and also let you share them with others.
Recently, Instagram's upcoming features have been seen by leakers, which include the most demanded "hiding your followers on the profile grid" and also a new feature to set crop display image on the grid.
Instagram Start Showing Details About Missing Children in Scrolling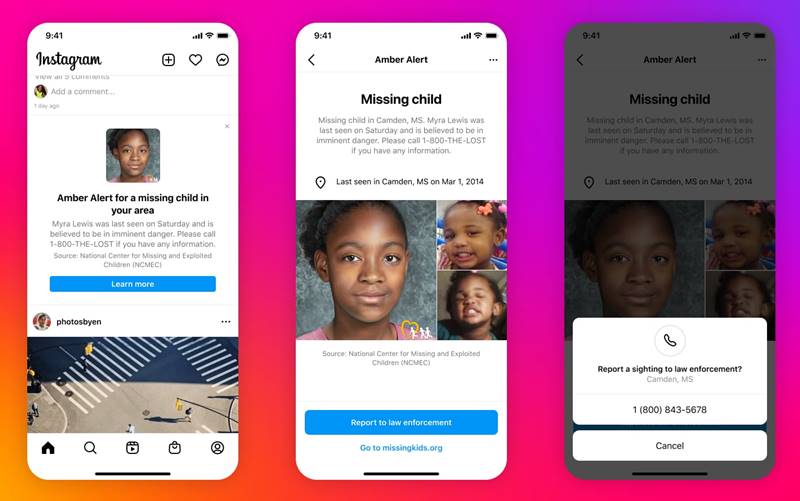 If you don't know, International Missing Children's Day is celebrated on 25 May, and in honor of it, Instagram now added Amber Alerts to their platform, which you will see while scrolling the feed.
For those unfamiliar with Amber Alert, it is a tool for locating lost or kidnapped children, which operates through TVs, text messages, and social platforms with the authorization of some law enforcement.
While this feature will provide more details after clicking on it & text alerts are required for that. The company also mentions that it will be location-based and show you lost children around your area.
It stated, "If you got one, there is an active search for a missing child nearby. To know who to show these alerts to, we use a variety of signals, including the city you list on your profile, your IP address, and location services (if you have it turned on)."
For this feature, Instagram partnered with organizations such as the National Center for Missing & Exploited Children (NCMEC) in the US & International, the UK National Crime Agency, and the Attorney General's Office in Mexico, the General Australian Federal Police.
In 2015, Facebook also released Amber Alerts into the News Feed. You can check the Guidelines for issuing AMBER Alerts.
These Amber Alerts will be available in 25 countries in the coming weeks, such as the US, the UK, Australia, Canada, Ukraine, Korea, Mexico, and many more countries across Europe, Asia, and South America.