Instagram finally started testing its new feature where users have to pay for a subscription to watch their favorite creators' exclusive content.
The new paid subscription feature is now available to a few content creators in the US. However, the feature is spotted in India with pricing details.
The content creators will charge their followers a monthly fee to watch their exclusive content, live videos, stories. There will be a purple badge next to the username that shows they are subscribed when they communicate with the creator.
Instagram Subscription Feature Now Available in The US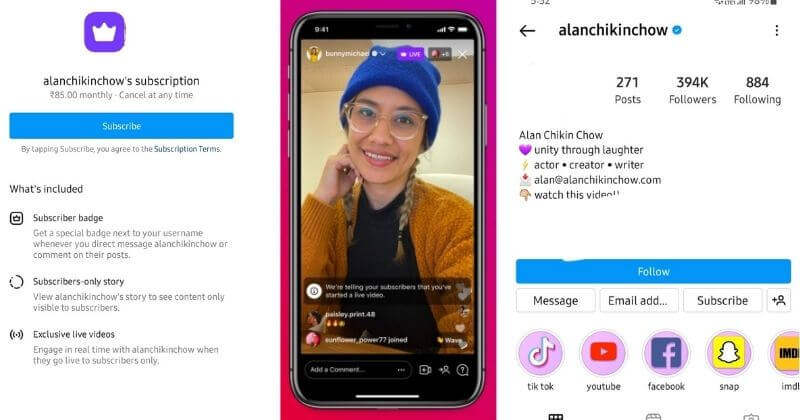 Recently Facebook has launched its subscription feature in that users can subscribe to any Facebook page to enjoy the exclusive content.
Also, Instagram and Facebook are not the only ones to do this; Youtube, Tiktok, Onlyfans, and many platforms have the same subscriptions Feature.
According to the tweet shared by a user Salman Memon (@salman_memon_7), we can see that Instagram is showing a new feature where users can subscribe.
Instagram Subscription has Now Available in India With
3 Prices* (*From 10 Creator Account i See These Prices*)
89/month
440/month
890/month
Persnoal Badges Is So Pretty
@MattNavarra@socialmedia2day @instagram @stufflistings @TechnicalMJTV @WFBrother @SaadhJawwadh pic.twitter.com/kmIqxvaXQX

— Salman Memon (@salman_memon_7) January 21, 2022
Instagram is showing an option to subscribe to the creator's accounts. Also, it displays the subscription prices in rupees, Rs. 89, Rs. 440, and Rs. 890 per month.
According to the reports, when a user subscribes to any creator's account, it will show an option to pay via in-app purchases on both Android and iOS. The prices in the US for paid subscription starts from $0.99 to $99.99 per month.
The app also shows the details of what's included in the subscription plan. There is subscribers-only stories, exclusive live videos, and subscriber badge.
At present, the subscriptions will be available only in the US, it will soon be available to other markets.