Instagram launched the ability to pin upto three posts or reels on your profile. The feature has been in testing for the last few months, and now the company has launched it officially.
The feature is similar to TikTok and Twitter; the three pinned posts will sit at the top of your Instagram grid. This new feature is now official and is called grid pinning. 
Grid Pinning feature is now rolling out to everyone. Adam Mosseri posted a tweet revealing the new feature. The tweet shows that now you can Pin Up to three posts on your profile.
Now You Can Pin Your Favorite Posts On Instagram Profile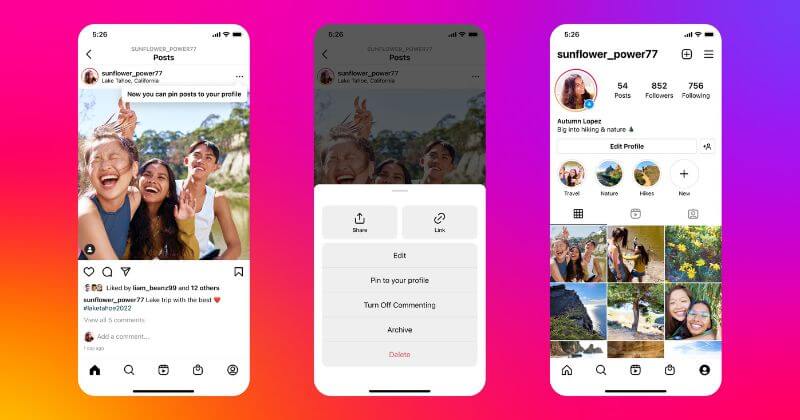 The three pinned posts on your profile can be photos, videos, or reels. It is similar to how we pin comments on the uploaded posts.
📣 New Features for Creators 📣

Some fun, new features built for creators that make it easier to engage and share:

– 90-second Reels
– Import audio in Reels
– Interactive stickers in Reels
– Grid pinning

Let me know what you think👇🏼 See you next week ✌🏼 pic.twitter.com/VrW5IWmWcZ

— Adam Mosseri (@mosseri) June 7, 2022
Instagram has been testing this option since April, along with other features for customizing profile displays. Like, such as adding the ability to re-arrange the entire post display on your profile grid.
How To Pin Posts On Instagram?
To pin a post on Instagram, first, select one of the posts or reels and then click on the three dots at the top-right corner of the post. Now, tap on the "Pin to Your Profile" option. That's it; now, visit your profile, and you will see those three posts with a white pin icon.
The feature is now rolling out for everyone; if you can't see it, simply update your app to the latest version. Or can wait for some time for the feature to be available.
Recently, Instagram has extended the time limit of recording reels for up to 90 seconds, from 60 seconds. Also, other features are introduced, including the ability to import your own audio, stickers on Reels (polls, emojis), and more.
Reels have also got templates that lets users to make Reel based on an existing Reel.