A few weeks ago, we shared an article discussing the upcoming WhatsApp features. Recently, WhatsApp confirmed 5 new features that will roll out to Android and iOS users by the end of this year.
Besides that, the company has recently introduced many new voice message features, such as the ability to control the playback speed, new waveform, out-of-chat playback, etc., which you can use now.
Message Reactions on WhatsApp
Now it looks like WhatsApp has rolled out the much-anticipated feature known as Message Reactions. On May 5, 2022, Mark Zuckerberg announced on Instagram that the Message Reactions feature will start rolling out from today.
The new feature will let users react to messages with relevant emojis. The functionality of the Message Reactions will be similar to how you respond to notices on Messenger and Instagram.
Steps to Get the Message Reactions on WhatsApp
We are as excited as you, but unfortunately, the feature is gradually rolling out to users; hence, it might take a few days or weeks to reach out to every Android and iOS user. When writing, the Message Reactions is not available on my WhatsApp app.
You don't need to change the WhatsApp Settings, as default will enable the feature. Meanwhile, you can try your luck at getting this feature by updating the app from the Google Play Store or App Store.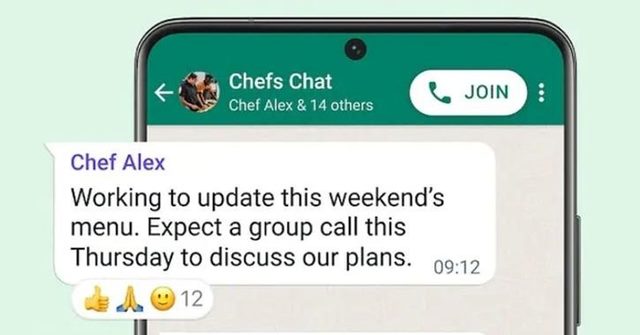 1. First, head to the Google Play Store or iOS App Store and update the WhatsApp app.
2. Once updated, open the WhatsApp app and open a chat.
3. Now press and hold the message you want to react to.
4. You will find a new pop-up with 6 emojis. It would help if you tapped on the emoji to react to the message.
5. The selected reaction will appear just below the selected message.
As of now, the app offers 6 emojis. However, over time, WhatsApp is expected to add more emojis and skin tones.
If you can't find the Message reactions, you need to wait a few more days or weeks. Or else, you can install the Beta version of WhatsApp to enjoy Message reactions and other upcoming features.
Message Reactions is one of the most-anticipated features of WhatsApp that just went live today. Let us know in the comment box below if you got this feature. Meanwhile, you can check out the other WhatsApp features expected to roll out this year.