If any of the users is irritating you on Social Media and you don't want to see them without blocking or unfriending them, below are all the ways you can easily do that on your accounts.
Most internet users also participate in social media networks like FB, Twitter, WhatsApp, etc. By using these systems, people connect and communicate with their friends, family or business mates, etc., and you usually have the option to either add or send the request to the people to start up the communication with them. But sometimes you may get annoyed by the appearance of a particular user or added user in your social media; hence you might want to either mute them, unfollow them, or remove them completely.
If the case is with your added family members or friends that you could either not remove or unfollow, then there is an option just to mute these users, get rid of the messages or notifications, and remain up the friends or the added user. Here in this article, we have discussed how you can easily mute people on social media; just go through it.
Also Read: How To Get Facebook Social Toolkit Premium For Free
Mute People on Social Media Without Unfollowing or Unfriending Them
The people on the other side won't come to know whether you have muted them or not, and they will still go on with their regular conversation options. So follow the below steps to proceed.
Also Read: How To Hide Facebook Profile From Other Users
1) For Twitter
Tap on any of the messages from the person you want to mute, and then click on the three-dot menu next to the like button. Here, when the menu options appear, you will find an option named Mute, and you guessed it right! You will have to select that up for performing the corresponding task.
Also Read: Here is How to Find out who Deleted you on Facebook
2) For Facebook
There is no such option as Mute on Facebook, but still, there is a method by which you can start getting fewer updates from a particular person who added you on Facebook. You will have to go to the recent updates option for these people and then select another alternative to receiving fewer updates. This will show up in their all posts, not directly altogether but with an amount of a gap that will make you feel good on Facebook.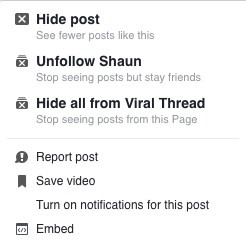 Also Read: 20 Important Websites That Every Google User Should Know
3) For LinkedIn
In the LinkedIn interface, you will have to pull down the arrow button on the person's ID whose conversation you want to mute for a few minutes. This will release up option "Hide The Particular Update," from where you will have to select it, and hence you shall not be disturbed for another 2 minutes by notifications from that person related to the ID.
Also Read: How to Use Google Cardboard In Android Phone Not Having Gyroscope Sensor
4) For Google+
To mute a page or a person on Google+, find any page or individual, then click on the arrow button at the bottom of the page. From the options that get out or release up, select the option to mute, and at last, you shall not get up the notifications for that selected page or the person.
Also Read: How to Turn Off Facebook Live Notifications
So, these were the different methods for the different social media by which you can easily mute up the people or the added users as friends, without even the need for unfollowing or unfriending them. Just apply the way that is required for the particular social media, as it has been discussed in the article, and get out the task done.