As of now, there are hundreds of music streaming apps available for Android smartphones. However, if we have to pick any one of them, we would like Spotify. Compared to other music streaming apps for Android, Spotify has more content, and it offers a great music and podcast streaming service for free.
However, the free account does have some limitations. You get to watch few ads between the songs in the Spotify free version. Although the premium plans are affordable, users still look for an alternate way to stream music for free.
There are actually multiple ways to block ads on Spotify. For example, you can add custom DNS like AdGuard to block ads. However, you would need to use a DNS changer app for that. The only downside with the DNS changer app is that Spotify has secured the majority of them.
Also Read: 10 Best Alternatives of Spotify That You Should Try
Steps to Mute Spotify Ads On Android in 2021
The remaining option is to mute the ads on SpotiThisthis art; we will share a detailed guide on how to mute ads on the Spotify Android app. Let's check out.
Note: The app listed below mutes the Spotify ads but don't block them. If you want to remove the ads from the app fully, you need to purchase Spotify Premium.
Step 1. First of all, head to the Google Play Store and search for the 'Mutify – Mute annoying ads' app.
Step 2. Open the app and tap on the 'Install' button.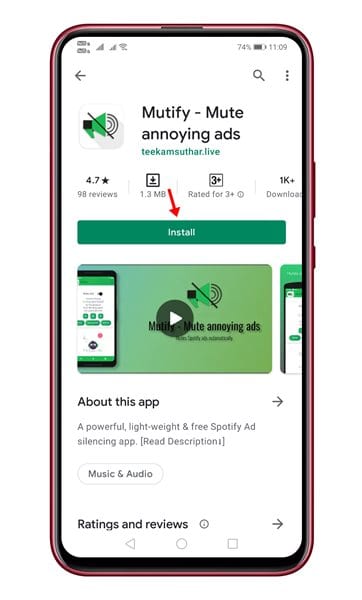 Step 3. Once downloaded, open the Spotify app on your Android device and tap on the 'Settings' icon.
Step 4. On the Settings, scroll down and enable the 'Device Broadcast Status' feature.
Step 5. Now open the Mutify app on your Android and turn on the 'Mute ads' option.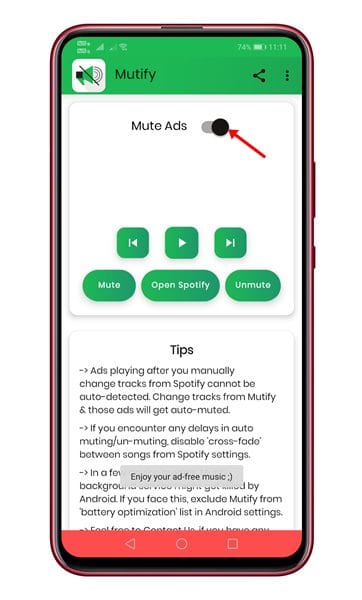 Step 6. Now just play the Spotify music, and Mutify will mute all ads.
Step 7. To mute the ads from the songs, you need to change the music from within the Mutify app instead of Spotify.
That's it! You are done. This is how you can mute the Spotify app on an Android smartphone.
So, this article is all about how to mute Spotify ads on Android devices. I hope this article helped you! Please share it with your friends also. If you have any doubts related to this, let us know in the comment box below.