As we all know, there could be various factors that are responsible for the slowdown of Android speed. However, the major one is the limited CPU clock speed. Therefore, we are going to share a method that will help you to overclock your Android device to boost performance. Go through the post to know about it
Today there are more than billions of people who are using Android devices. Moreover, many people have an issue about slowing down of their Android devices. As android slows down with time, here we would share you an interesting method to resolve that issue.
Look, there are lots of factors responsible for the slowdown of Android speed like low RAM, outdated processor, outdated storage technology, etc. Viruses and malware also play its roles in slowing down a device. However, out of all those, the major one is limited CPU clock speed which is responsible for your Android performance, and you can boost it up. Moreover, this can only be done by having superuser access on your device. So have a look at complete guide discussed below to proceed.
Also Read: How to Add Customized Gesture Controls to your Android Phone
Everything you need to know about the Overclocking
Well, Android overclocking means forcing the processor to perform at its maximum power. For example, if your Android's processor runs at 1.8Ghz, you can overclock it to boost the clock speed up to 2.0GHz or 2.1 GHz. Similarly, you can underclock your device as well to decrease the maximum clock speed. Lots of users choose to underclock the processor to save battery life. However, there are lots of risks attached to Underclocking and Overclocking.
Risk & Benefits of Overclocking
Well, if you choose to overclock your device, you can experience faster speed. After overclocking, you will notice a significant improvement in your phone's overall performance. If we talk about the risks, the biggest risk attached to Overclocking is the overheating issue.
Since Overclocking is a way to force your phone's processor to perform at its maximum level, you can expect overheating problems. Major overheating can even damage your phone's hardware. Apart from that, the battery consumption will also increase significantly.
Overclocking new devices is never recommended because it also voids the warranty. So, if you have an outdated device which is old enough to take risks, then you can overclock it.
Things you will need before overclocking
Well, before you choose to overclock your device, make sure that you have these things –
Rooted Android device
Fully Charged device
Backup of your files
Note: – Clocking CPU speed much can result in overheating your device and also this process can even damage your processor permanently. So do it at your risk as we will be not responsible for anything happened.
How To Overclock Your Android Device To Boost Performance
Step 1. First of all, you need a rooted Android and for rooting your Android follow the complete guide to Root Any Android Easily.
Step 2. Now after rooting your Android, you need to download and install SetCPU for Root Users on your Android device. Now after installing, launch the app and give it Superuser access.
Step 3. Now after this, you have to allow the app to scan the available speeds of a processor. After detection, you have to balance both the minimum and the maximum speed for your Android CPU switching.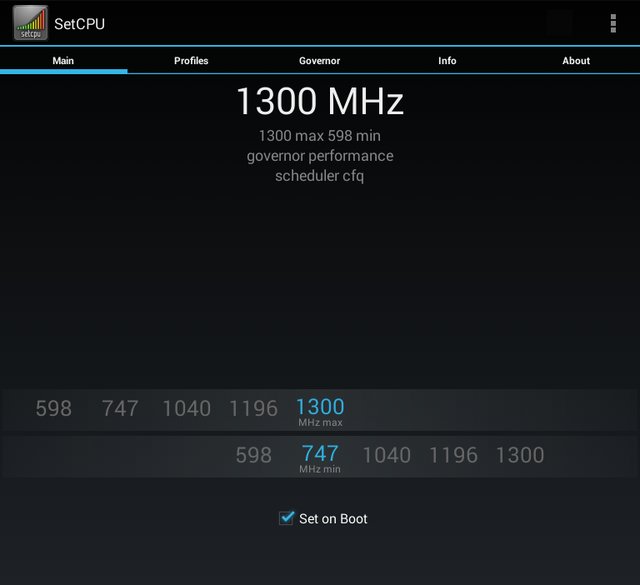 Don't click on "Set to Boot" until you feel that the speed is stable, as doing this can harm your Android.
Step4 . Now after this, you will be creating profiles so that you can set the times or conditions when SetCPU should overclock or underclock your processor speed.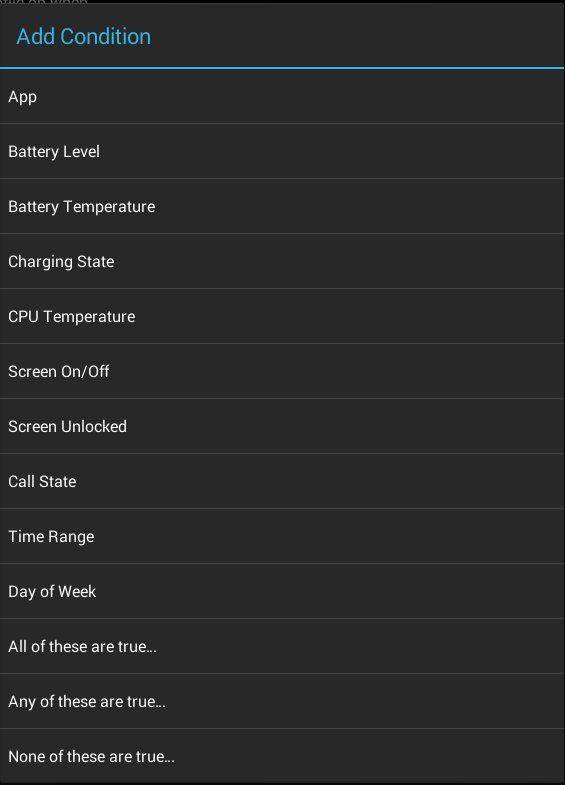 Step 5. I have taken the example of Battery charging, and you can set a profile to overclock your Android device while it is charging. You will be having a choice of various priorities for each created profiles
That is it! You are done, now your Android CPU is successfully clocked.
Also Read: How to Unroot Any Android Device In Single Click (2 Methods)
Other Apps To Overclock Your Android Device
#1 Kernel Adiutor (ROOT)
Kernel Adiutor (ROOT) is one of the best and top-rated Android overclocking app available on the Google Play Store. Guess what? with Kernel Adiutor (ROOT), you can easily tweak and monitor things like CPU frequency, governor, virtual memory, etc. Not only that, but Kernel Adiutor (ROOT) can also be used to backup, edit the build-prop, etc as well.
Performance Tweaker is still in the early access, but its worth a try. The app is much similar to the Kernal Adiutor app which has been listed above. With Performance Tweaker, you can easily tweak CPU Frequencies, CPY Hotplug, GPU frequency, etc. However, the app is a little bit complicated to use. Still, Performance Tweaker is one of the popular CPU tweaker apps that you can use right now.
#3 Overclock for Android
Android Overclock makes your device blazing fast and can save your battery life. It also allows you to set custom profiles, so you have full control over your device performance. Control CPU with profiles for charging, time, temperature, battery, a screen on/off and more.
The Faux kernel is another useful app if you want to tweak CPU voltage (Global/individual). This app provides users to control CPU governors, adjustments of CPU Min/Max frequencies and it also displays GPU frequencies in real-time.
Also Read: How To Use Microsoft's Cortana On Android (No-Root)
So above is all about Overclock Android To Boost Performance. This is the real Android hack that will work after rooting your Android that will surely boost up your CPU speed, and you can do multitasking with great ease. Hope you like this cool trick, do share with others too. Leave a comment below if you have any related queries with any of the step discussed above.