Who doesn't loves to listen to songs on their device? Everyone does. There are hundreds of music player apps available for Android devices. However, not all of them stand out from the crowd.
Music player apps for Android might support every audio file format, but they can't play lyrics of the playing song. Although you can set up Android to play lyrics automatically on a specific music player, it's a complicated process.
So, what about using apps that already support playing lyrics? In this article, we will list down a few best Android music apps that play songs with lyrics.
Also read: 10 Best Lyrics Apps For Android Device
List of Best Apps To Play Songs With Lyrics on Android
All of the apps listed in the article were free to download & use, but make sure to download these apps from trusted sources like Google Play Store. Let's check out the apps.
Musixmatch is one of the best music player app available for Android smartphones. It has the world's largest collection of song lyrics. Millions of people right now use the app.
With Musixmatch, you can play songs with lyrics from Spotify, YouTube, Pandora, Apple Music, SoundCloud, Google Play Music, and more.
Lyrics Mania is a music player app for Android that shows you the lyrics in real-time. Lyrics Mania can show you lyrics in a floating bar regardless of whatever music player you are using.
The MusicID feature of Lyrics Mania can even help you identify and get the song's lyrics playing near you.
According to the play store listing, Genius is right now the biggest collection of song lyrics with over 1.7 million songs. The great thing about Genius is that it comes with a built-in music player which can play music and show lyrics at the same time.
Not just that, but Genius also allows users to access millions of other music files. So, Genius is another best app that you can use to play songs with lyrics.
Well, SoundHound needs no introduction as it's one of the most famous music players with lyrics ever made. SoundHound is a music identifier app that can listen to and identify songs playing around you.
The exciting thing about SoundHound is that it can also show you the lyrics of the songs in real-time. So, SoundHound is the best app which you can use to play songs with lyrics on Android.
ALSong is both a music player and a real-time lyrics app for your Android smartphone. In addition, the app arrives with a built-in music player that can play songs stored on your device or via the internet.
The great thing is that it automatically identifies the songs and instantly shows you the lyrics. So, ALSong is another best Android app that you can use to play songs with lyrics.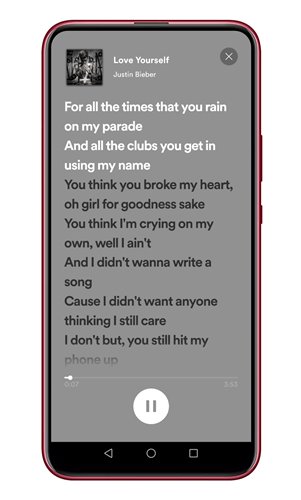 Well, Spotify is right now the leading music streaming service available for Android & iOS. The app allows you to listen to music and play millions of songs and podcasts for free.
It has both free and premium plans. The lyrics feature is available on both of the plans. You can follow our guide View Song Lyrics on Spotify to play lyrics on Spotify.
So, these are the few best apps to play songs with Lyrics on Android. I hope this article helped you! Please share it with your friends also. Also, if you know of any other such apps, let us know in the comment box below.