Sony's PlayStation 5 and Xbox Series X are the new Next-Gen consoles that are launching soon. Both the console are the talk of the town from the time it was announced. Now, for gamers, it might become hard to find which one better as both the consoles are having their own plus points.
So, if you are confused or want to know which console is better, then you are in the right place. Here we have tried to compare both the consoles and check out which next-gen console is better. However, it is hard to find the strength and weaknesses of both consoles. Let us check out the details.
Also Read: 10 Best Upcoming PS5 Games
PlayStation 5 VS Xbox Series X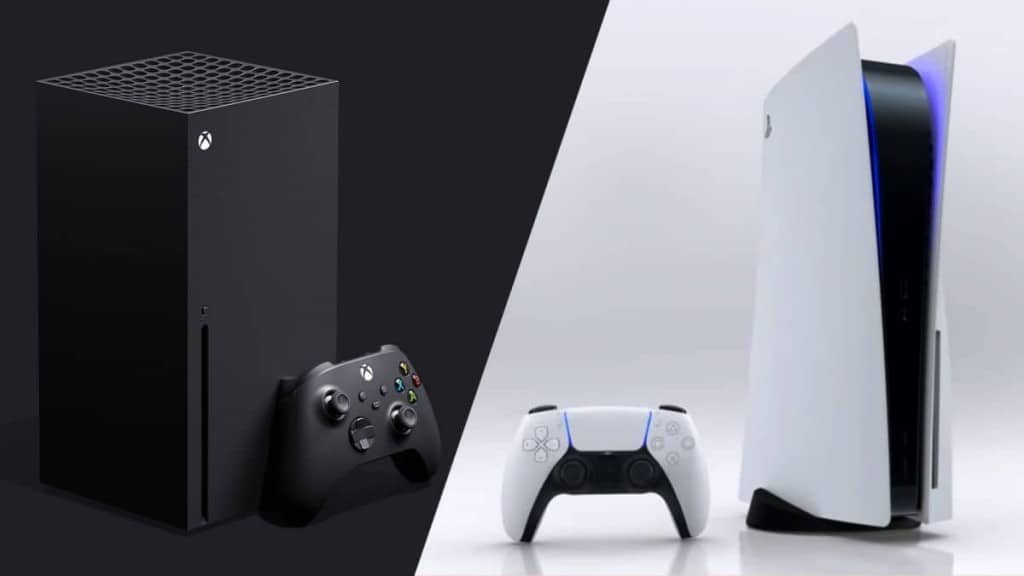 Everyone compares both the system, and all of us have different opinions. Even the companies Microsoft and Sony are asked about the competition in the interviews, but they say there is no competition between them.
As not all can buy both the consoles, to check which one is better. But, there are a few of them who can buy both the consoles and check, but who can only afford one can be confused as we need to see what we are getting for $499.
It's all about power, speed, and impossible levels of visuals. Both the consoles have almost the same internal specifications. First, here check out the specifications of both the consoles.
| Consoles | Xbox Series X | PlayStation 5 |
| --- | --- | --- |
| GPU | 12 TFLOPS, 52 CUs @ 1.825 GHz Custom RDNA 2 GPU | 10.3 TFLOPS, 36 CUs @ 2.33 GHz (variable frequency) |
| CPU | 8x Cores @ 3.8 GHz (3.66 GHz w/ SMT) Custom Zen 2 CPU | 8x Cores @ 3.5 GHz (variable frequency) |
| RAM | 16 GB GDDR6 w/ 320mb bus | 16 GB GDDR6 |
| Storage | 1 TB Custom NVME SSD | 825 GB Custom NVME SSD |
| Resolution | Up to 8K | Up to 8K |
| Frame Rate | Up to 120 fps | Up to 120 fps |
| Expandable Storage | 1 TB Expansion Card (matches internal storage exactly) | NVMe SSD Slot |
| Processor | 7nm Enhanced | TBD |
| Optical Drive | 4K UHD Blu-Ray Drive | 4K UHD Blu-Ray Drive (Not in Digital Edition) |
| Performance | 4K @ 60 FPS, Up to 120 FPS and 8K | 4K @ 60 FPS, Up to 120 FPS and 8K |
| Price | $500 | $500 (PS5); $400 (PS5 Digital Edition) |
| Release Date | November 10, 2020 | November 12, 2020 |
Details of PS5 vs Xbox Series X
Design
Both companies have different designs of their consoles. PS5 is very different in looks from its previous generation. It is the biggest console made by Sony for the first time.
On the other side, Xbox Series X looks like a gaming PC. We can say it is similar to how Apple does it with the iPhone. All the devices are the same with just different capabilities.  Overall, the design of both consoles is cool.
Graphics
If we talk about specifications, then we can say Xbox Series X has a little bit more powerful specs. But on talking about performance, it is hard to say which console is better. Xbox Series X GPU boasts 12 teraflops of computing performance.
Specifications
Xbox Series X
Microsoft Xbox Series X will work with all the Xbox controllers with all the games. It uses custom AMD internals by using Zen 2 and RDNA 2. This console will be more powerful than the Xbox One X.
Xbox Series X runs at locked 1,852GHz. It has a processor AMD Zen 2 CPU with 16 threads and eight cores. It supports 8K resolution and refreshes rates of 120Hz at 4K. Xbox Series X also offers DirectX ray-tracing capabilities. There is an internal storage of 1TB NVMe SSD, and you can expand it with an NVMe card. There is a standard RAM of GDDR6 variety with a 16GB upgrade.
So, if we see specifications wise, then we can say Xbox Series X is slightly better than PS5. But at last, we can see both the console performance and then can judge which is better.
PS5
PS5 is powered by a custom-built version of the third-generation AMD Ryzen chipset with eight cores and Zen 2 architecture and Navi graphics. The GPU offers 36 computer units and offers 10.28TFLOPs. The CPU runs at 3.5GHz. It is paired with 16GB of GDDR6 with a bandwidth of 448GB/s. PS5 supports features like ray tracing.
It has a screen resolution of up to 8K. And it also works at 120Hz refresh rates, which gives a smooth performance in the games if you have HDMI 2.1 display. PS5 also supports 3D audio while using the headset. The audio is delivered with the new Tempest Engine, which handles hundreds of sound sources. It can be compared to Dolby Atoms.
PlayStation 5 has a storage of up to 825GB with a raw 5.5GB/s. One of the best and exciting elements of PS5 is the DualSense controller. It has replaced the DualShock 4's technology. Overall, it works really well.
The DualSense Controller of PS5 has adaptive triggers. With which you can feel the tension of pulling the string of the bow or the gun. The controller has a headphone jack with an in-built microphone. With this, you can just send a voice message to a friend.
With all the new features, Sony has confirmed that the old DualShock 4 controller will not work with PS5 games.
Price
The price of Xbox Series x is $500. The price is the same as Xbox One, which was launched in 2013. However, if you feel it's too much, then you can go for Xbox Series S, which is for $300. The console is set to launch on November 10, and the pre-orders have already started from September.
Sony PS5 is releasing on November 12 in a few of the countries, and globally it is launching on November 19. The price of a PS5 with a disc drive is $500, and the PS5 Digital Edition is $400.
Almost both consoles have the same price, so we should not decide which console to buy based on the price of it. You can choose any of them as per your choice or check out the specifications.