The music streaming industry has undergone a massive change over the past few years. Today, you don't need to pay anything to listen to the music, as every music streaming service now has a free plan. Out of all music streaming services, it was Spotify that was the most popular and used by millions of users.
If you use Spotify to feed your thirst for music, you might already know about Spotify Playlists. You can create as many playlists as you want on both Spotify, free & premium, and you can even share them with your friends and family.
As an active Spotify user, you've likely deleted one or two playlists in the past and regretted doing so later. If this has already happened or happens with you very often, it's best to know how to recover deleted Spotify Playlists.
Things to Remember Before Recovering Spotify Playlist
Spotify provides you an option to recover deleted playlists, but there's a catch. You can only recover a playlist that has been deleted within the last 90 days. If you have deleted a playlist before 3 months, you can't get it back on your account.
Another important thing you should note is Spotify's playlist recovery option is only accessible from the web player. You can't use the Spotify mobile or desktop app to recover your deleted playlists.
Steps to Recover Deleted Spotify Playlists
You don't need to use third-party apps or message the Spotify Support team to recover the deleted playlists. You need to follow some of the simple steps shared below.
1. Open your favorite web browser and Spotify's Account Overview Page. Next, log in to your Spotify account.
2. On the right pane, click on the Recover Playlists option.
3. On the left, you will see the Recover Playlists page. The page will list all playlists that you can restore.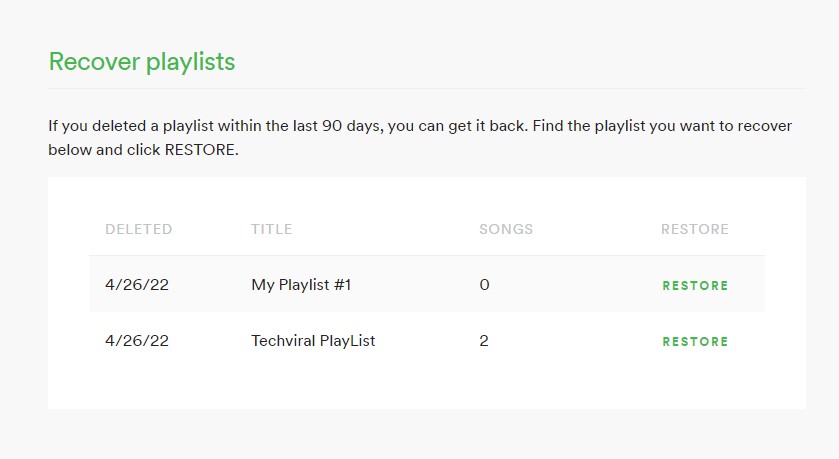 4. Click the Restore button behind the Playlist name to restore it to your account.
5. Once restored, the Restore button will change to Restored. This indicates that your playlists have been restored to your Spotify profile.
That's it! This is how you can recover lost or deleted Spotify Playlists on your desktop.
Also read: How to Save Data While Streaming Music on Spotify
So, that's all about how to restore lost or deleted Spotify Playlists in easy steps. You can only restore the deleted playlists within 90 days. If 90 days have passed, you have no option to recover the playlists. If you need any more help related to recovering deleted playlists on Spotify, let us know in the comments.