We do certain things on our smartphones that burn our data plan, and streaming media content is one of them. If we talk about music streaming, if you use Spotify, you can make some changes to save some data.
Spotify App for Android and iOS offers a few ways for you to save data while you enjoy your music on the go. In addition, if you are using the Premium version of Spotify, you get the option to save even more data.
Also read: How to Enable a Private Session on Spotify (Mobile & Desktop)
Steps to Save Data While Streaming Music on Spotify
So, if you are looking for ways to save data while streaming music on Spotify, you are reading the right guide. In this article, we will share some of the best methods to save data while streaming music on Spotify. Let's check out.
1. Enable the Data Saver
Spotify mobile app for Android and iOS has a Data Saver feature that sets the music quality to 24 kbit/s. This disables the artist canvases and appears in the Now Playing screen.
The Data Saver is a part of both free and premium versions of Spotify. Here's how to enable Data Saver in Spotify.
1. First of all, open the Spotify app on your Android/iOS device.
2. Now tap on the gear icon located on the top-right corner of the screen.
3. On the Settings, find and tap on the Data Saver option.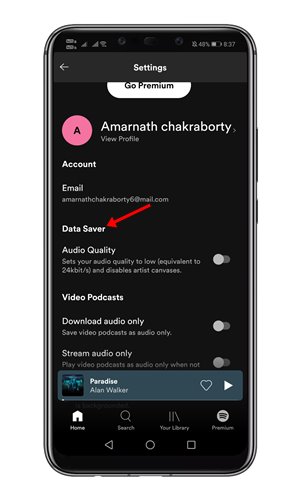 4. Now enable the switch behind Data Saver to enable the feature.
That's it! You are done. This is how you can enable data saver mode in Spotify.
2. Change the Audio Quality
Spotify provides you more control over the audio quality than any other music streaming app. Although the Very High Quality is available only to the Spotify Premium users, Spotify free users can still choose between Low, Normal and High.
So, if you are running short of mobile data, you can use the Lowe quality settings to save some data.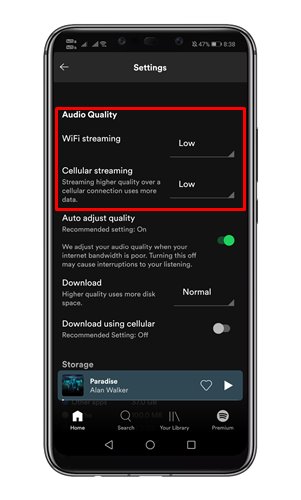 To change the Settings, Open Spotify > Settings > Audio Quality. Under the Audio Quality, you need to choose the audio quality for streaming over WiFi and Cellular. If you want to save data, it's best to choose the Low or Normal option.
3. Download For Offline Playback
Well, the Download Option is available only to Spotify Premium subscribers. The Spotify Premium app allows you to download playlists and albums for offline playback.
That means, if you listen to the same song every day, you can download it to listen later without connecting to the internet.
So, these are some of the best methods to save data while streaming music on Spotify. I hope this article helped you! Please share it with your friends also. If you have any doubts related to this, let us know in the comment box below.