Let's admit, we all are busy in our everyday life. In our busy schedules, we rarely find time to visit places or chill out with friends. Keeping yourself busy is a good thing, but we must find ways to calm our minds. Meditation is the best thing to do to ease our mind, but we don't have time for it either.
Since we all now have an Android smartphone, why not utilize sound apps to calm our mind. Many sound apps were available on the Google Play Store, which claims to calm our mind. These apps contain nothing more than relaxing sounds, which were scientifically proven to eliminate stress and calm our minds.
We have decided to compile a list of the best Android apps to calm our minds in this article. These apps will help you sleep better at night, which will make you more productive the next morning.
Also Read: Best Android Apps To Customize Notification Center & Status Bar
List of 10 Best Relaxing Sounds Apps For Android
Before exploring the list, please keep in mind that these are the best sound apps available on the Google Play Store. So, let's check out.
As the app's name says, Atmosphere: Relaxing Sounds is one of the best and top-rated Android apps that you can use to calm your mind.
The great thing about Atmosphere: Relaxing Sounds is that it brings a massive collection of calming sounds scientifically proven to relax your mind. On this app, you will find sounds from the beach, forest, and roadside area.
Sleep Sounds is an app known for its massive collection of high-quality soothing sounds. The app has over 200 different sounds that can calm your mind in no time.
The shooting sounds of the app claim to promote sleep and improve sleep quality. Also, the app has a timer feature that can be used to turn off the app automatically.
Relax Melodies is pretty much similar to the Sleep sounds app listed just above. It's one of the popular app available on the Google Play Store with over 50 million downloads. With Relax Melodies, you can discover many nature sounds, White Noise, Pink Noise, etc.
Not only that, but Relax Melodies also covers guided meditation techniques and brainwaves noise.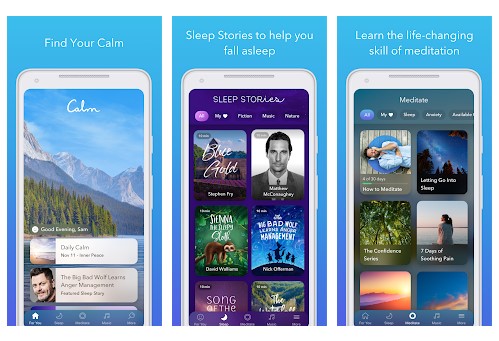 Calm is one of the leading Android apps for meditation and sleep. The app claims to lower your stress level and promote restful sleep.
Calm also offers you guided meditations, sleep stories, breathing programs, and much more to improve your overall health. Top psychologists, therapists, and mental health experts recommend the app.
Well, if you are searching for an Android sound app with an excellent interface, then Tide might be the best pick for you. Guess what? With Tide, you can quickly calm your mind in no time.
The app has almost everything needed to calm your mind and body, like relaxing sound, mind focus game, guided meditation, etc. Not only that, but the app also has inspiring quotes as well.
Sleepa is an Android app that's meant to promote sleep. To improve your sleep quality, the app offers you relaxing sounds.
If we talk about relaxing sounds, the app has a great collection of HD sounds mixed into the perfect relaxing ambiance to promote better sleep.
Ambience is for those searching for an Android app to minimize anxiety, insomnia, and the symptoms of tinnitus.
It basically uses a sound compiler to mask the distracting sounds around you. It has over 100 high-quality relaxing sounds, and all of them were free and unlocked by default.
Nature Sounds is a free Android app with a good collection of sleep and relaxation sounds. The app's interface is also excellent, and it offers a customizable atmosphere.
That means that you can combine multiple sounds to create a unique one. Additionally, there's a timer that automatically turns off the music at the set time.
It brings a collection of relaxing rain sounds that significantly improves your mood and help you relax. The app has many high-quality rains sounds like Perfect storm, Rain on Window, Rain on Leaves, Light rain, evening lake, rain on the roof, etc. You can combine multiple sounds as per your wish.
If you are searching for an ideal app for relaxing, sleeping, meditation, and concentration, then Relax Night might be the best pick for you.
It has lots of White noise sounds, scientifically proven to benefit the human body and mind. The app is excellent for relaxing, and it promotes sound sleep.
Can I enjoy the sounds of nature with these apps?
Yes, these apps have the best sounds of nature. You can download any of them to enjoy nature's relaxing sounds.
Why do these sounds make relaxing?
The sounds of nature, like running water, rain sounds, have soothing effects as they cover the whole spectrum of the sounds our ears can hear.
Are these relaxing sound apps free to download?
Most of them are free to download and available on the Play Store. With the premium plan, you can unlock more sounds.
These are the best Apps for Android that can relax your mind and promote better sleep. If you feel that the list misses any important apps, let us know in the comment box below. I hope this article helped you share it with others also.