Check out the 15 best RSS reader apps for Android smartphones in 2020. With these apps, you can easily follow your favorite blogs without spending anything.
RSS which stands for 'really simple syndication' or 'rich site summary' is nothing apart from just a simple text file with some basic information – Information can be something like a news article, how-to tutorials, or something else. RSS was designed to make the information transfer process easier between websites to the user in a form that's easily readable to users.
Now, you all might be asking about what's RSS Feed. Well, RSS Feeds is used to push anything from text, videos, gifs, images, and other media content that's available on any particular website. For example, if you subscribe to techviral's RSS feed, you will need an RSS reader to read all the content.
15 Best RSS Reader Apps For Android in 2020
RSS Readers becomes the most important thing for the viewers. To read RSS feeds, you need to have a tool that we call RSS Reader. Now, RSS Readers are available on different forms like RSS app, websites, or the one that delivers feeds via email.
So, in this article, we are going to discuss some of the best online RSS Reader that you can use in 2020. So, let's explore the list.
Well, the Old Reader is one of the best online RSS Reader which you can use. Talking about the RSS Reader, The old reader offers lots of modern features and users can easily add RSS Feeds from their favorite blogs. Not just that, but The Old Reader also allows users to add feed URLs for the source they want to subscribe to. The Old Reader also allows users to connect their Google and Facebook accounts to know what their friends are reading.
The great thing about Feedly is its interface which looks clean and well organized. Apart from that, the app is excellent for reading feeds of different websites or blogs that you have subscribed to. The homepage of Feedly is also filled with the latest news from everywhere. So, Feedly is another best free RSS Reader app for Android that you can use.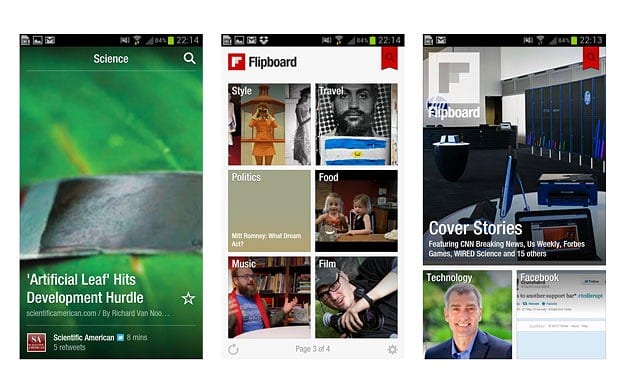 If you are looking for a free RSS Reader app for your Android smartphone, then Flipboard might be the best choice for you. Guess what? The interface of Flipboard is quite impressive, and it's nothing less than Feedly. Basically, Flipboard is a news aggregator, but you can easily transform your daily RSS feeds into a magazine-style reader.
If you are searching for an offline RSS reader app for your Android smartphone, then you need to give this app a try. FeedMe is one of the best and lightweight RSS reader app available for Android smartphones. With this app, you can easily add the RSS feeds of different blogs. Once done, the app automatically syncs the web content and lets you access the feed
Unlike all other RSS reader apps for Android, Flym also lets you add RSS feeds of different websites and blogs. What makes Flym different from its competitors is that it sends you notification of new articles. The app is extremely lightweight and it's definitely the best RSS feed app for Android in 2020.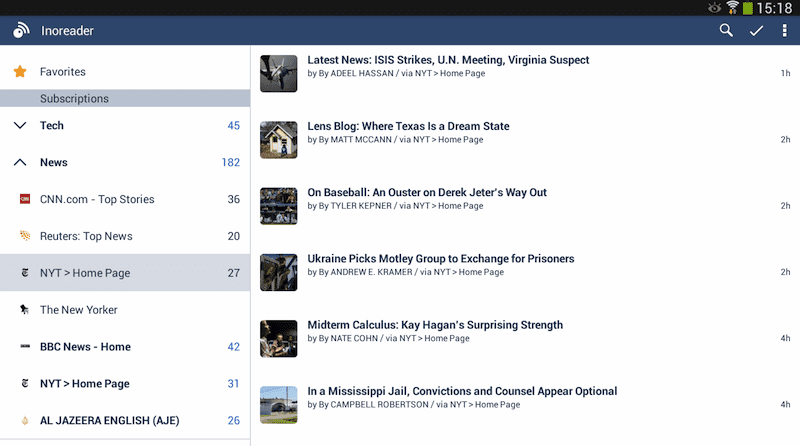 If you are looking for a simple RSS reader that can give you access to latest blog content, websites, magazines, newspapers, etc., then Inoreader could be a great choice for you. The app is super fast and its really very easy to use. If you purchase the premium version of Inoreader, then you can save articles for offline viewing.
Well, Newsfold grabs the feed from Inoreader and Feedly. On Newsfold, you can find almost all the content that you see on Feedly. However, the interface and navigation on Newsfold is more amazing, and it comes with a few unique features. Newsfold also has dark and light themes which improve the readability. Apart from that, Newsfold also brings in support for offline reading, add-free reading, etc.
If you are looking for a free and stunning RSS Reader, then you can try Palabre. The interface of the app is impressive and it has support for offline viewing. However, users don't get an option to add RSS Feed of any blog, and it just shows news content from various popular sites.
It is not actually an RSS Reader app, but it's more like a personalized news reader app. The app automatically recognizes what you like to read based on what you have already read. So, News360 gets better and smarter as you use and it will show you things that you would like to read. The interface of News360 is also pretty good and it has features like social media integration, offline reading, etc.
Well, Podcast Addict is an app that allows users to manage Podcasts, Radio, Audio Books, Live Stream, etc. The great thing about Podcast Addict is that it also allows users to manage RSS News Feeds. The app also offers tons of unique features like widgets, Android wear support, Android Auto Support, Full-screen reading mode for RSS news feeds, etc.
It's a news app for Android that brings the latest and trending news from different websites on your smartphone. The app also got the ability to add RSS feeds to different websites. With NewsBlur, you can also subscribe to news, subscriptions, etc.
Just like all other RSS Reader app, RSS Savvy also allows users to follow their favorite sites. The app arrives with a clean and well-organized interface and it allows users to organize their feeds across any number of configurable tabs.
As the name of the app says, Read – Simple RSS Reader is another best RSS Reader app on the list which is fast, beautiful, and easy to use. The Android app allows users to add RSS Feeds of their favorite blogs and podcasts. Not just that, but Read – Simple RSS Reader also allows users to bookmark articles.
Unlike all other RSS Reader apps, NewsTab can also be used to add any RSS feed, news site, blog, Google News Topics, Twitter hashtag, etc. What's more useful is that the app automatically adapts with your browsing habits to provide you smart news feeds with the best of everything you follow.
The app allows users to follow their favorite sites. The key thing about Readably is its user-interface and customization options. For instance, Readably provides users a dark mode which greatly reduces the eye strains while improving the readability. So, Readably is another RSS Reader app for Android in 2020 that you can use right now.
So, these are some of the best free RSS reader app that you can use on your Android smartphone. So, what do you think about this? Share your views in the comment box below. I hope this article helped you! Share it with your friends also.