Compared to every other mobile operating system, app availability is high on Android. Just take a brief look at the Google Play Store, you will find apps for every different purpose like the best contact apps and best download managers.
With proper apps, you can also schedule downloads on Android, much like what we do on desktop computers. In this article, we are going to share the best method that would help you to schedule Downloads on Android. So, let's check out.
Steps To Schedule Downloads On Android:
To schedule downloads on Android, users need to use a Download manager app known as ADM. ADM or Advanced download manager is one of the best and top-rated Android download manager app available on the Play Store, and it can be used to schedule downloads.
Step 1. First of all, download & install ADM on your Android smartphone.
Step 2. Once downloaded, open the app and grant the permissions.
Step 3. Now tap on the (+) button located at the bottom of the screen.
Step 4. The paste the link which you want to download and then tap on the 'Start' button.
Step 5. Now tap on the name of the download to pause it.
Step 6. Swipe the left menu and then tap on 'Settings'
Step 7. Under the Settings, you need to tap on 'Scheduler'
Step 8. Under the Scheduler, you need to enable the 'Download Files' option and then set the start & stop time.
That's it! You are done! Now the ongoing downloads will be started and stop at the set time.
Other Apps To Schedule Downloads
Just like ADM, you can use other download managers on Android to schedule downloads. Below, we have shared the three best Android download managers with the download scheduling features.
Well, IDM is one of the most advanced download manager apps that you can ever use on Android. The Play Store listing claims that IDM us 500% faster than normal download. The app got all features like pause & resume support, batch downloads, etc. It also lets you schedule downloads.
Features:
It automatically grabs videos, music, movies, etc from the web pages.
The download manager lets you hide the downloaded files.
The app also lets you limit the download & upload speed.
It is another best download manager app for Android with a download scheduling feature. The good thing is that Download Accelerator Plus is compatible with every version of Android. Apart from that, it supports pause/resume, batch downloads, etc.
Features:
The app supports direct download to SD Card.
You can schedule downloads on a later date or time.
The download manager for Android supports all file formats.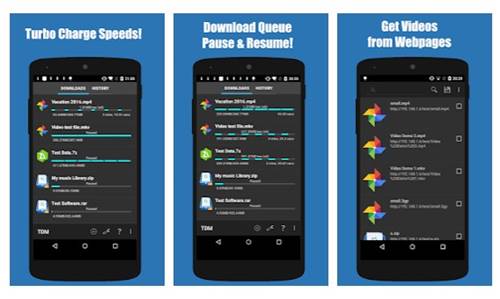 The good thing about Turbo Download Manager is that it can detect and download files from the webpages. You can use the download manager to download videos, audios, images, docs, zip, etc. Apart from that, it supports download acceleration with multi-thread. It also lets you schedule downloads at a later time.
Features:
Turbo Download Manager got the external web browser support.
It supports download acceleration with multi-thread (up to 10)
The download manager automatically detects and downloads files from web pages.
Conclusion
So, that's all about how to schedule downloads on Android. If you have any other doubts related to this, let us know in the comment box below. I hope this article helped you! Please share it with your friends also.