If we look around, we will find that almost every now holds an Android smartphone. Those days are gone when we utilized our smartphones only to make and receive calls & SMS. These days, we can do almost everything with our smartphones. Talking about the smartphones, without any doubt, it was the Android that's dominating the mobile OS section.
If you have been reading tech news for a while, then you might know about today's main concern – privacy. With each passing day, more and more peoples are paying closer attention to the Privacy settings while surfing the internet. Of course, nobody likes their personal data to be misused. So, its always better to password protect your entire browsing session.
If you have ever used a Samsung smartphone, then you might be well aware of the Samsung Internet Browser. The web browser is exclusively made for Samsung users and it comes built-in on Samsung smartphones. The web browser is speedy and packs lots of useful features.
Out of all essential features, the most important one is the ability to password protect the browsing session. Yes, you read that right! Samsung internet browser for Android got a password protection option in the private mode.
How to Secure Your Private Browsing with a Password on Android
Since the Samsung internet browser is now officially available for every Android smartphone, we are going to share a method to secure your private browsing with a password on Android. So, let's check out how to secure your private browsing with a password on Android 2019.
Step 1.  First of all, download & install the Samsung Internet browser on your Android and then proceed to the next step of setting the password on it. If you are already having this browser installed on your device then make sure that it is all up to date as the options to encrypt the browser is only available in the latest version.
Step 2.  After installing the Samsung browser on the device open it from the App drawer. Now on the home screen, tap on the three-dotted menu and then select 'Settings'.
Step 3. Under the Settings option, you need to tap on the 'Privacy'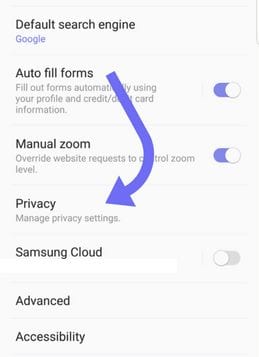 Step 4. Under the Privacy, you need to tap on the 'Secret Mode' and then set the password.
That's it, you are done! From next time when you need to do the private browsing, enable the secret mode and fill the password, then do your work.
Also Read: Best Graphics HD Game For Android That You Must Play Once
So, this is all about how to secure your private browsing with a password on Android. If you have any doubts related to this, let us know in the comment box below. I hope this article helped you share it with your friends also.