Along with the new design, Android 12 introduced many new features for the users. One such feature is the Privacy Dashboard which helps you keep track of the apps that can access your sensitive permissions such as camera, microphone, storage, call logs, etc.
Along with the privacy dashboard, Android 12 also introduced a mic/camera indicator that adds a green dot to the Status bar whenever an app accesses your phone's camera or microphone. In Android 12, we recently discovered another useful privacy feature that shows a prompt whenever an app pulls content from your clipboard.
What are Clipboard Access Alerts in Android 12?
If you are using Android 12, you can enable a privacy setting to see when an app access your Clipboard. This is a helpful feature that will help you detect apps that run silently in the background and copies your clipboard content.
Whenever an app tries to access the clipboard content, Android 12 will show you a message at the bottom of the screen telling you about an app that accessed your clipboard. After knowing the app name, you can revoke the clipboard permission or uninstall the app on your device.
Steps to See When Apps Reads Your Clipboard on Android
Hence, if you are interested to see when apps access your clipboard on Android, you have landed on the right page. Here we will share a step-by-step guide on finding apps that access your clipboard on Android 12. Let's get started.
1. First of all, pull down the notification shutter and tap on the Settings gear icon. Alternatively, open the App drawer and select the Settings app.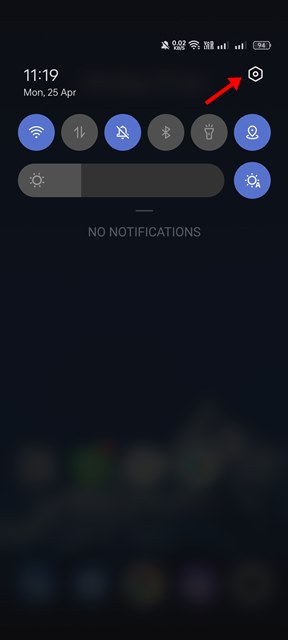 2. On the Settings app, scroll down and tap on the Privacy.
3. On the Privacy Screen, scroll down and enable the Show clipboard access option.
Important: The name – Show clipboard access might vary from device to device. In some phones, it is the 'Alert me when apps read the clipboard' option that you need to enable.
4. After enabling the feature, you need to start using your Android as you do.
5. Now, whenever an app tries to access the clipboard, Android 12 will show you an alert like this.
That's it! After knowing the app name, if you feel that the app shouldn't be accessing your clipboard, you can open the App list and uninstall the app.
Android 12 brings many new features, many of which are focused on privacy. With this clipboard privacy feature, you can easily detect apps running silently in the background and accessing your clipboard. You can also disable camera & mic access in Android 12 to secure your privacy further.