If you are someone who prefers to work on the go, you might be already using Google Docs. Google Docs is often considered the best Microsoft Word alternative due to its ability to edit and manage documents on the go. Since Google Docs is a web-based Document editing tool, you can access your saved documents from any device with an active internet connection.
Unlike the Microsoft Office suite, which requires a premium subscription, you can use Google Docs for free without purchasing anything. Apart from regular document editing features, Google Docs also offers you a few other essential features like Document sharing, management features, etc.
While using Google Docs on our desktop web browser, we recently discovered another feature that could boost productivity. You can draft up and send emails right inside a Google Docs document without closing the document or opening a web browser.
Steps to Send Emails Straight From Google Docs on Desktop
This feature can speed up your workflow and help you keep a record of all emails you have sent related to a project you are working on. It is especially useful for those who multitask.
So, if you are interested in sending emails from Google Docs, you have landed on the right page. In this article, we will list down some of the simple steps to send emails straight from Google Docs document. Let's check out.
1. First of all, open your favorite web browser and open a Google Docs document.
2. On the document, you need to click on the spot where you want your email draft to appear.
3. Next, click on the Insert menu, as shown in the screenshot below.
4. From the drop-down menu, click on the Building Blocks and select the Email draft option as shown below.
5. An email table will appear on your selected spot. You need to fill in all the fields like CC, BCC, Subject, and the message.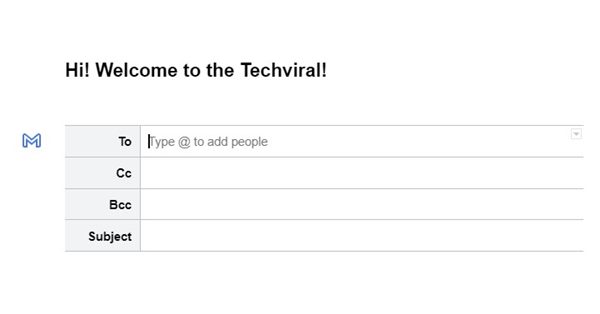 6. Once done, click on the Blue M icon as shown in the screenshot below.
7. Now, you will see a pop-up window where you will see a preview of your composed email. You can edit it if you want or click on the Send button to send the Email.
Important: The feature won't show you the replies that the email receives. So, if you get a reply to your email, you need to open Gmail and check it manually. It won't appear on Google Docs.
That's it! You are done. This is how you can send emails straight from Google Docs.
If you wish to send an important email but don't want to leave the document editing, you can use this method to send emails straight from Google Docs. I hope this article helped you! Please share it with your friends also. If you have any doubts related to this, let us know in the comment box below.