When it comes to privacy and security, Signal Private messenger seems to be the best choice. Compared to all other instant messaging apps for Android, Signal offers users more security and privacy feature.
You can check out some of the privacy features in this article – 5 Best Features of Signal Private Messenger You Should Know. Actually, some of the essential privacy features were kept hidden from the users. If you explore the Signal Private Messenger's settings page, you will find lots of options over there.
Although some options will confuse you, they are there for some reason. While using Signal App, we discover another best privacy feature known as 'Relay all Calls'
What is Relay Calls in Signal?
In the past, Signal calls always relayed the media streams that were sent through the app. Since IP Addresses can often be used to determine the location, anyone could initiate a Signal call with you to know your location.
By default, Signal attempts to establish a P2P connection while you initiate or receive a call from someone in your contacts. However, if you receive a call from someone not on your contact list, Signal relays that call through its server.
The Always relay calls option allows users to relay all calls through the Signal server to avoid revealing the real IP Address to your contact. However, on a downside, relayed calls results in reduce call quality.
Also Read: How to Run Signal Private Messenger On Windows 10 PC
Steps to Relay Calls to Hide IP Address in Signal
If you are interested in enabling the hidden privacy feature on your Signal app, follow some of the simple steps given below.
Step 1. First of all, open the Signal Private Messenger on your Android.
Step 2. Now tap on the profile photo.
Step 3. On the Settings page, tap on the 'Privacy' option.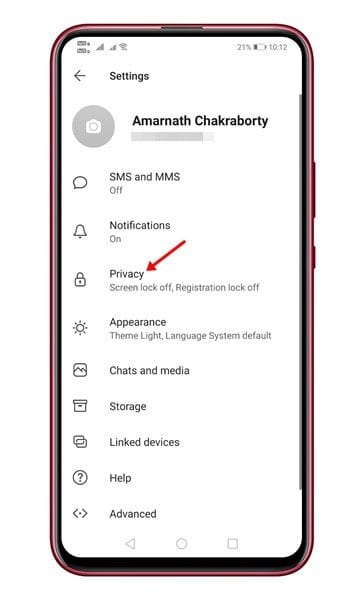 Step 4. On the Privacy page, scroll down and enable the option 'Always Relay Call.'
Note: You might experience reduced call quality after enabling the feature. If you are not happy with the changes, you can disable the feature from the Privacy page.
That's it! You are done. This is how you can relay all calls in Signal private messenger.
This article is all about how to hide your IP Address while making calls on Signal Private Messenger. I hope this article helped you! Please share it with your friends also. If you have any doubts related to this, let us know in the comment box below.