Indeed, Signal doesn't have a comparable user-base when put against WhatsApp, Telegram, but it does bring some useful features. Also, compared to WhatsApp and Telegram, Signal is more secure, and privacy focussed.
For a detailed comparison between WhatsApp, Signal & Telegram, check out the article – . Recently, WhatsApp updated its privacy policy, and users from all across the world have started to look at its alternatives.
Also Read: WhatsApp vs Signal vs Telegram: Security & Features
5 Best Features of Signal Private Messenger You Should Know
So, if you are also looking for the same, it's best to start using Signal Private Messenger. It has all features that users look for in an instant messaging app. Below, we have listed five excellent features of Signal Private Messenger.
1. Block Screenshot
With Signal Private Messenger, you can restrict users from taking screenshots of chats or any other thing within the app. Since it's a privacy-focused instant messaging app, Signal offers this feature so that no one can gather information via screenshots without your consent. To enable the feature, tap on the three dots, select Settings. On the Settings, tap on the Privacy, and enable the 'Screen Security' feature.
2. Blur Faces
Signal Private Messenger also got a unique feature that allows you to protect your identity. If you often share your images with others but feel unsafe, you can utilize the Blur feature. To blur Faces on the Signal app, select the picture and tap on the 'Blur' icon located on the top.
3. Disappearing Messages
Disappearing Messages or Self-destructing messages is a must-have for all private and secure messaging app. Signal also has a disappearing message feature, which makes a message disappear after the recipient has read it. To send disappearing messages, open a chat, and tap on the 3-dot menu. From the list of option that appears, select 'Disappearing messages' and set the timer.
4. Set up a screen lock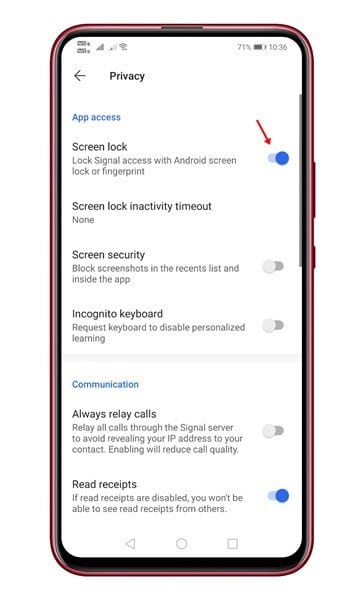 WhatsApp and Telegram also have this feature. Screen Lock is a feature that makes the app more secure as you will need to access the app through a PIN or Fingerprint lock. To set up a screen lock in the Signal app, head to the Settings > Privacy > Toggle Screen lock to On.
5. Send One-time Viewable Image
Signal Private Messenger has a unique feature that allows you to send images that can be viewed only once. Once viewed, the image will disappear from both ends. Just open the picture and tap on the 'infinite icon' located on the bottom to use this feature. Tap on it to chat it to '1x'. Once done, send the image, and it will be auto-deleted after it's viewed once.
So, these are some of the excellent features of Signal Private Messenger. I hope this article helped you! Please share it with your friends also. If you know any other Signal tricks, let us know in the comment box below.