If we look nearby, we will find that everyone loves to listen to music. If you are a music lover like me, you might know about Spotify. Spotify is one of the leading music and podcast streaming services launched on 7th October 2008.
Spotify has its app for iOS and Android users, but due to specific reasons, the Spotify official app is restricted in some countries. This is why music lovers from all across the world search for Spotify Premium Apk on the internet.
However, we have good news for Indian users. Spotify is now officially available on the Google Play Store and Microsoft Store. The music streaming service was previously unavailable in India, but it was now available for download on the iOS and Android app stores.
Spotify Officially Launched In India: How To Install & Pricing
We have installed the app and confirmed that the Spotify Subscription page is live, and users can purchase the premium packs using Credit Cards, Debit Cards, and UPI. Here we have shared a short tutorial on how to download & install the app on Android, along with the pricing details.
1. First, visit the Google Play Store and search for Spotify. You can also click on this link to open the Spotify App on Google Play Store. Download & install the app on your Android smartphone.
2. Wait until the app installs on your Android smartphone. Once installed, tap on 'Open'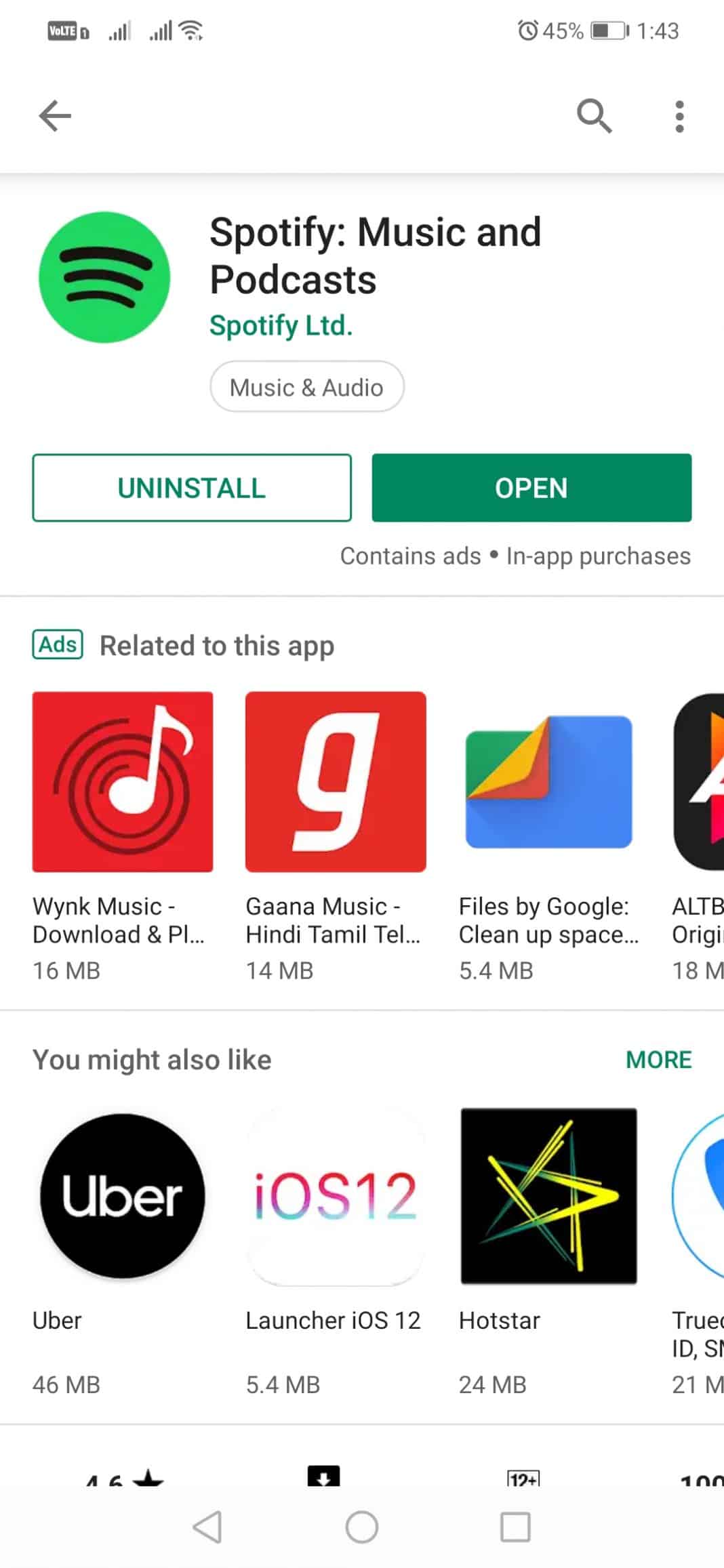 3. Now, you will be asked to create an account. Just fill up the required detail and then tap on 'Continue'
4. You will be asked to select the type of music you like. Select the language and move to the next page.
5. On the next page, you will be asked to select 3 or more artists you like. Select the artists of your choice to move to the next page.
6. Now, wait for a few seconds until Spotify finds music for you.
Spotify Premium Subscription Plans
Spotify provides lots of other features on its premium plans. With a Premium plan, you can avail features like offline music playback, unlimited skips, 3x better sound quality, etc. What's more interesting is that the premium plans start at just Rs. 13. Here are the pricing details and a tutorial on purchasing Spotify Premium App.
1. Open the Spotify app on your Android smartphone and then click on the 'Premium' icon at the bottom of the screen.
2. Now, you will see an interface like the one below. Here you need to tap on the 'Get Premium' option.
3. Now, you will be redirected to another webpage. There you will see the Premium plans. Spotify offers a 30-day free trial period under which you can access premium features for free.
4. If you want to opt for a prepaid plan, scroll down and find the option Get a prepaid plan. It has 6 Prepaid plans ranging from 1 day to 1 year.
5. If you are a student, you can opt for a student plan that is much cheaper than standard plans.
So, these are the pricing details of Spotify Premium. If you have any other doubts, then discuss them with us in the comments.
The monthly subscription rate of Spotify Premium is a little bit expensive compared to its competitors. Saavn Pro monthly subscription rates start at Rs 95, whereas Google's Play music is available for Rs. 99 per month. So, what do you think? Can Spotify premium breathe in this competitive marketplace? Share your opinions in the comments.