Telegram is one of the first instant messaging apps to offer a paid subscription. If you are reading tech news regularly, you may know that Telegram recently launched its premium subscription. And following Telegram, Snapchat is also in talks to introduce a paid subscription called Snapchat Plus.
This article will discuss the Telegram Premium subscription and how you can get it on your Android device. Before exploring the Telegram Premium, please note that the company has no annual plans; you must pay for the premium features monthly.
What is Telegram Premium?
Telegram Premium is a subscription-based service that adds and unlocks new features to the Telegram app. Depending on your location, the price of Telegram Premium might cost you between $4 to $6, and there's no free trial.
Now you all might be wondering, is Telegram Premium worth it? The answer to this question depends on how you use the instant messaging app. If you use Telegram to download files, Telegram Premium might be no use to you.
However, if you often contribute in groups and rely solely on Telegram to communicate with your friends & family members, you can consider purchasing a Telegram Premium subscription.
Features of Telegram Premium
Telegram Premium offers you many exciting new features like 4GB uploads, faster downloads, creating more chat folders, voice-to-text conversion, premium stickers, and more.
We have already shared a detailed guide listing all the key features of the Telegram Premium. You can check out our guide – Telegram Launches its Premium Subscription With Many New Benefits to know all its features.
You need to check this official Telegram page for more detailed information on each Telegram Premium feature.
Steps to Subscribe to Telegram Premium
If you're wondering whether Telegram has a separate app for Telegram Premium, no, there isn't any. To subscribe to Telegram Premium, you must use the official Telegram app. The steps to subscribe to Telegram Premium are the same for both Android & iOS; here's what you need to do.
1. First, open the Telegram app on your Android or iPhone.
2. On Android, tap on the hamburger menu in the top-right corner. On iPhone, you need to tap on the Settings icon in the bottom right corner.
3. From the list of options that appears, tap on the Settings (Android).
4. On the Settings page, scroll down and tap on the Telegram Premium.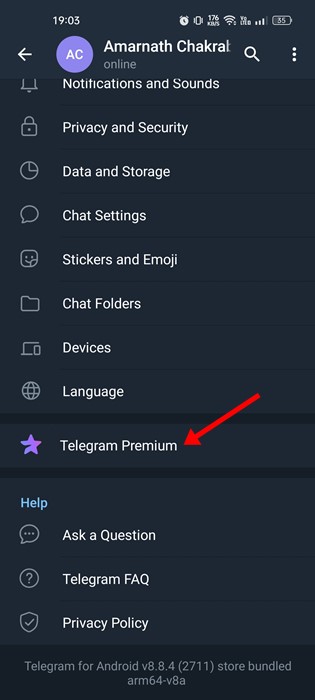 5. On the next screen, you will see all the features of Telegram Premium.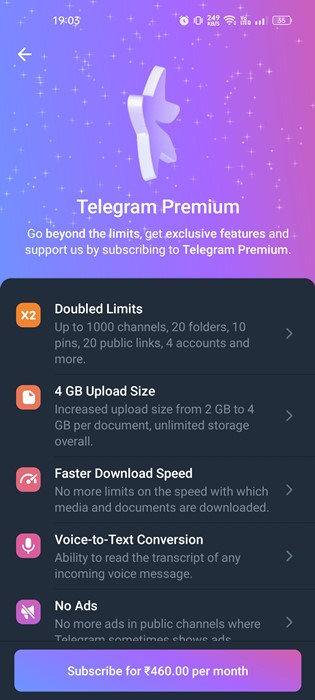 6. Tap on the Subscribe button at the bottom.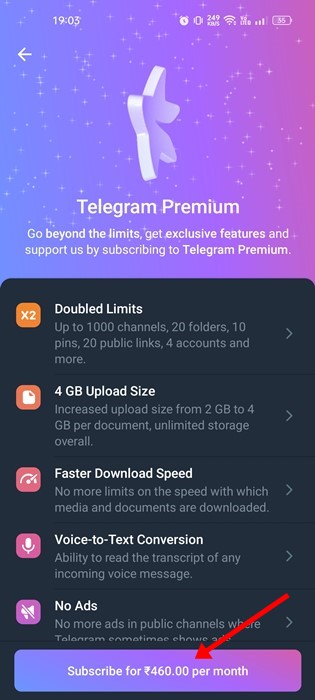 7. Now, you will be asked to enter the payment details. To change the payment method, tap the arrow button beside your billing detail. Enter the details and tap on the Subscribe button.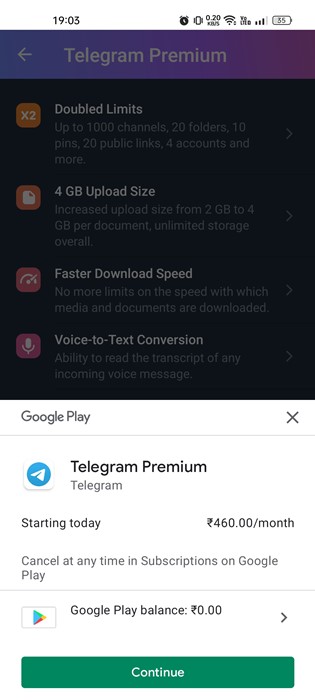 That's it! This is how you can subscribe to Telegram Premium. Once subscribed to Telegram Premium, a profile badge will appear beside your account name on the Profile Page.
Also read: How to Share Your Live Location with Friends on Telegram
So, that's about how to subscribe to Telegram premium in easy steps. If you are not interested in Telegram, you can use other instant messaging apps such as WhatsApp, Messenger, etc. If you want to ask us anything about Telegram Premium, let us know in the comments.