Telegram has rolled out some amazing features in the latest update of the app. The Whatsapp's rival Telegram got new features like uploading profile videos, share a file up to 2GB, improved people Nearby, and much more. The music player is also redesigned especially for Android users.
Telegram now lets you send 2GB File, Upload Profile Videos & Other Features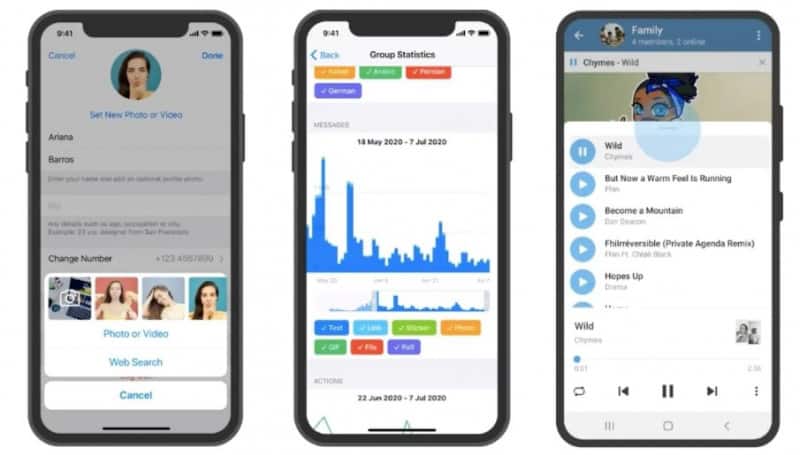 The desktop version of Telegram has got an update of signing in up to three accounts at the same time. However, the Mobile version of the app has got support for multiple accounts from 2017.
In the latest update of Telegram, the users got new features like:
Upload Profile videos
Share media files of up to 2GB
People Nearby and thumbnail
Group stats for groups with over 500 members
Redesigned Music player for Android users
Upload Profile Videos:
The Telegram users can now upload the video to profile. One can also choose the frame which they want to show as their static profile picture in the chats. To improve the quality of the video, you can use media editor on the app. To the media editor, "Soften Skin" option is added which helps you to edit the videos before you upload it as your profile. You can also add animated stickers to your profile video.
Telegram now allows you to send media files up to 2GB size. Before the update, it supported sharing limit up to 1.5GB files.
People Nearby And Thumbnail
The app added a feature to show the distance of people who are contacting you through People Nearby section. To start your conversation, the app will show you the greeting sticker. Telegram also brought mini-thumbnails which shows you what media is there in the message directly from the notifications.
The user can also do filter chats with an unknown person who is not in the contact list. This chat automatically gets archive and mute the new changes from people. Do this by going to the Privacy and Security settings of the app.
Group stats for groups with over 500 members
For all of the users who have a group of over 500 members, the apps have added the Group Stats feature. This feature helps the owners to view all the top members in the groups.
Redesigned music player for Android users
All the Android devices have got the redesigned music player. The player has got new icons and expandable tracklist. Also control looping, shuffling, or reverse the particular track. You can also crop and rotate the videos directly from the integrated video editor.