Here we have listed all the things that must be properly done for the safe root of your android. Therefore, before rooting your android device must read and implement the things to avoid mishappening.
Android rooting is the process of allowing users of Android Phones, tablets, and other devices running the Android mobile operating system to get the full control and authority within Android's system. When you root an Android smartphone it enables you to act as the administrator of the android phone. And there are lots of more things that user can do after rooting android. Therefore, if you are going to root your android device then have some patience and firstly read the things that you have to do before rooting your android device. As if anything went wrong while rooting your android them your device will get bricked and you then have to either rush to the service center or will need to flash stock ROM. So protection is better than cure. So have a look on all those things below.
Also Read: All About Android Rooting (Advantages and Disadvantages)
10 Things To Do Before Rooting Your Android Device
Here I have listed all the things that must be properly done for the safe root of your android. And if you follow all these then you can simply root your device without facing any trouble during the complete process. So proceed with all these methods below.
Also Read: How To Remove Stock Apps In Android Without Rooting
#1 Take Complete Backup Of Your Android Data
Rooting Android will have processes like factory resetting and that will delete all your data,  so to avoid it you must firstly take the complete backup of your android data and also the app data and for that, you can follow our post where we have listed Top 8 Best Android Apps To Backup/Restore Data.
#2 Enough Battery Before Rooting
Android rooting process will lead to lots of battery consumption and if low battery interrupt the process then your android can be bricked so better is to have enough battery backup before rooting it. And the battery must be charged up to 80%.
#3 Necessary Drivers For Your Android In Your PC
Any rooting tool that works on your PC to root your android will only work perfectly if the respective android's USB drivers are installed on that PC. So before proceeding for rooting search on the internet for your make of your android.
Also Read: Top 15 Best Antivirus For Your Android Smartphone In 2016
#4 Better Know About Your Android Model Details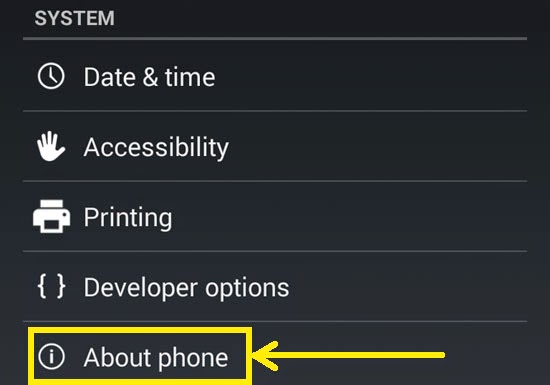 While rooting you will come across need of files like SuperUsersu and much more that is different for every model of android. And if you flash any wrong file then it will damage your android stock ROM and your device will get bricked. So better to know about your android model to get the correct files for it.
#5 Learning how to get into Stock Android Recovery.
Getting into Android Stock Recovery is easy and you can do that with few button combinations like pressing the power key, Volume + and Home button simultaneously. So you should learn how to get into stock Android recovery before you root your device. This is to make sure that if anything wrong happens then you can wipe your phone.
#6 Restore Smartphone's Firmware
Restoring Smartphone's firmware is the best thing you can do before rooting because if something went wrong, you will always have the option to go back to how you were before. There were different software available on the internet like Odin etc. The software depends on what phone you have.
Also Read: How to Take Lens Blur Photo With Your Android Camera
#7 Disable Antivirus And Firewall in your PC
Programs like antiviruses and firewall can interrupt the rooting process and that can brick your android smartphone. So better is to turn them off before proceeding with rooting.
#8 Methods For Recovering If Your Device Get Bricked
Before rooting you must know the method to how to unbrick your android device as if your device got brick then your android will only stick to boot animation and it will take the longer time to rush to customer service center to get your device flashed. So better is to know the method to Unbrick your android and that you can search on google and get all the important files before rooting so that you can Fix it by your own.
#9 Choosing Out The best Way To Root
Now proceeding to the main part that is the best way to root your android and that you can get by following our post below.
#10 Method To Unroot Android After Rooting
Rooting voids the android warranty and also expose your android for certain security threats and if you want to Unroot your android then you can simply go to Your SuperUser or Kinguser app and then restrict all permissions or your can either flash your stock ROM. Kingo Root offers the feature to Remove Root.
Also Read: Best Android Hacks You Can Do Without Rooting Your Phone
So above is all about Things To Do Before Rooting Your Android. Follow all these instruction before proceeding to root your android device. Hope you like our work, keep on sharing. Leave a comment below if you have any related queries with this.
COMMENTS
AUTHOR