If you are using Windows 10, you have a new sound format called Spatial Sound. When you enable spatial sound using Dolby Atmos, you will have a more immersive audio experience.
You can use the Dolby Atmos Surround sound on your Windows 10 in easy steps. If you do so, the audio will feel that it is playing around you instead of through the speakers.
While it's pretty easy to enable spatial sound on Windows 10, if you want to use Dolby Atmos surround sound, you need to set it up manually.
Steps to Use Dolby Atmos Surround Sound on Windows 10
Hence, this article will share a few simple steps to use Dolby Atmos Surround sound on Windows 10. The steps will be very easy; follow them as mentioned below.
1. First, download the Dolby Access App on your computer.
2. Once installed, open it on your computer. Now on the setup screen, select the option that suits your needs.
3. If you've picked "With my Headphones" then you will see a prompt asking you to check the system audio hardware spatial requirements. In most modern computers, the hardware is all compatible with this feature. However, if your PC lacks it, you can't enable the use Dolby Atmos.
4. Microsoft has provided this Dolby feature to the users, and they need to buy it. Particularly it has a 30-day free trial option.
5. Next, select the "Configure PC Settings" button and then select "Dolby Atmos for headphones" in the Spatial sound format box.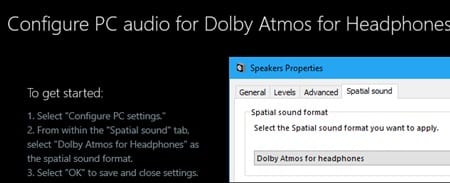 6. The feature will be enabled, and you will be able to enjoy the real crisp and rich sound on your headphones
That's it! This is how you can enable and use Dolby Atmos Surround Sound on Windows 10.
So, this guide is about how to use Dolby Atmos Surround Sound on Windows 10. If you need more help enabling Dolby Atmos sound, let us know in the comments below.