Dropbox is one of the best online services through which users can back up their important data. This online version of the storage service requires registering and making an account.
While Dropbox is best in the cloud storage section, it can be pretty expensive if you've used up the free storage. If you've used the free allotment, you can create another free account to avail more storage; however, the problem is that you can't run two dropbox accounts on Windows.
Yes, you can purchase the business package to use multiple accounts on one device, but it's a bit expensive. So, the easiest and more affordable way to use multiple dropbox accounts on one PC is by using the Dropbox desktop client for the primary account and signing in to a secondary account using a web browser.
This way, you will be able to manage two dropbox accounts on a single device. If you don't want to rely on the regular method, you can create multiple user accounts on your Windows to use multiple dropbox accounts. Here are the two best ways to use Multiple Dropbox accounts on one PC.
Steps to Use Multiple Dropbox Accounts on One PC
Well, as we all know Windows operating system allows users to create Guest accounts. The best thing about the Guest account on Windows 10 is that you will get a new panel to operate from the start. So, with a completely new Windows 10 Account, you can quickly run multiple Dropbox without any issue. So, here's how you can use Guest logins to run Multiple Dropbox accounts on the Same PC.
1. First, click on the Start button, and on the search bar, type in User Accounts and open it.
2. In the next window, choose the option 'Manage Another Account'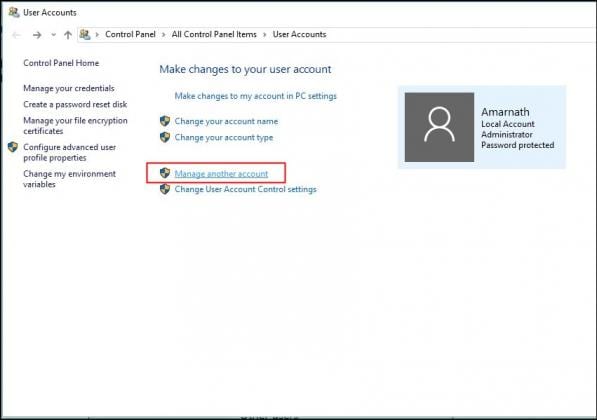 3. Under Manage Accounts, select the option 'Add a new user in PC Settings'. This is where you can add another guest account.
4. In the next window, select the option 'Family and Other Users' from the left-hand side panel, and on the right, select 'Add Someone else to this PC'
5. Now, you will be asked to enter the email ID of the person you want to add. Make sure to select the option 'I Don't have this person's sign in information'
6. In the next window, fill in the fields and then click on 'Add a user without Microsoft account'
7. After creating the secondary account, download and install the Dropbox Windows app. Once installed, log in with the other Dropbox account.

That's it! This is how you can create a secondary Windows 10 account to run multiple Dropbox accounts. If you have any other doubts, then discuss them with us in the comments.
So, this is the easiest way to use multiple dropbox accounts on one device. If you know any other ways to run multiple dropbox accounts on Windows, let us know in the comments below.