WhatsApp might not support some old iOS versions in the upcoming months, and now it is also confirmed by WhatsApp officials.
Previously, Meta-owned WhatsApp is getting a feature like Facebook for its Desktop version. Request Account Info feature allows you to ask for your account information.
Last year, the same type of rumors spread, but they got down due to their fake layout. But now, it seems to get accurate but does not affect many iPhone users.
iOS 10 and iOS 11 Are No Longer Supported by WhatsApp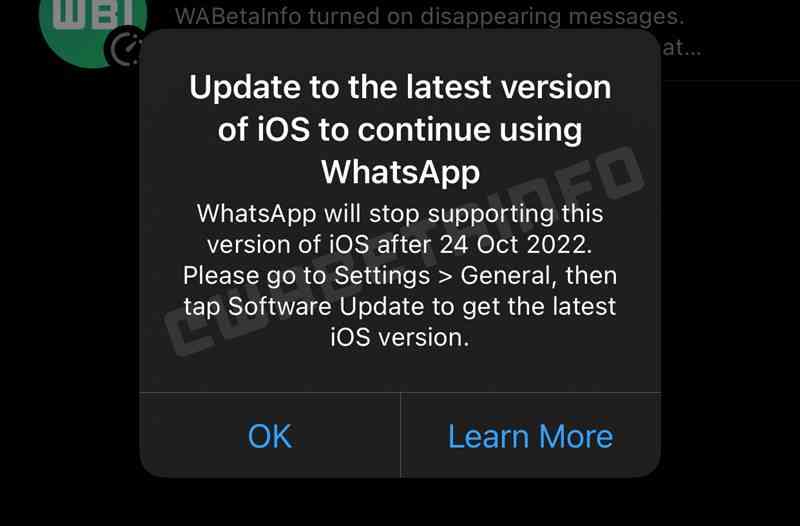 According to a report from WABetaInfo, iOS 10 and iOS 11 will lose support from WhatsApp, and the iPhone, which will get the effect are iPhone 5 & iPhone 5C.
And the iPhone user who uses iOS 11 or earlier also not be capable of WhatsApp updating.
As the screenshot mentions, "Update to the latest version of iOS to continue using WhatsApp," where the iOS update instructions are also given for the latest version.
There is also word of the date when it will stop supporting, October 24, 2022. But, confirms said it is still in implementation.
The confirmation is also spotted on the support page on WhatsApp. The Download and Installation instructions already showing the minimum requirements for iPhone's operating system are iOS 12 and newer.
Besides Android, it still requires the same OS 4.1 and newer, but after the Android 13 release, we might see the same limitations for Android users.
I'm still assuming who uses iPhone 5 or 5C, but they were pretty handy and iOS 11. There is an Apple user for uses, so they must have to upgrade.
The iOS 12 or later and iPhone 6 or later users are still capable of WhatsApp on their iPhone.
Ahead, Apple is aiming for its iOS 16 in WWDC 2022, which might come with some new upgrades, and also, this iOS upgrade will stop supporting some old iPhones.